Correct Frame Plate Orientation When Installing Reese Dual Cam Sway Control
Question:
Just ordered this item, I copied the inst. it seems there are two ways the FRAME PLATE can go on they give the measurments for the dual cam HP fwd mount hole but none for the back mount hole. which one is wright.I have the square trunnion bars. FIG 6 and FIG 8 Which one has the advantige.
asked by: Rhett D
Expert Reply:
Neither orientation has a benefit over the other. Reese gives the optional bracket placement in the event that there are any obstructions on the trailer tongue that would prohibit mounting the bracket as shown in Figure 6. The important considerations are that 1) the center point of the bolt that attaches the yoke to the frame plate be 19-3/8 inches rearward of the center point of the coupler for trunnion-style spring bars (as shown in the instructions). This measurement will remain the same regardless of which orientation you choose. 2) The orientation of the frame plate should be the same on both sides of the trailer frame.
expert reply by: Mike L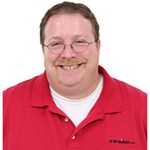 Have a question for the experts? click here.
Product Page this Question was Asked From
Reese Dual Cam High-Performance Sway Control





8 reviews
Retail: $299.58
Price: $184.95

Questions and Comments about this Question
I purchased the Reese Dual Cam for my 14 Featherlite 3110 Aluminum open car hauler. The brackets that mount to the frame cannot be mounted in either position. Theres a cross brace and A frame gusset that it hits. It would fit if the lip on the inside of the bracket was cut off, and bolted to the aluminum channel. Is that the route I should take? Is there a procedure? Does Reese offer an alternate bracket?
comment by: Brian S - 2/3/2013
It is not a good idea to modify those brackets in any way. Your best bet would be to call the trailer manufacturer first and see ii they even recommend this kind of a set up on an aluminum frame trailer. Some trailer builders do not. You could also check out the Equalizer and Blue Ox WD systems. They have sway control systems that are very effective and may be more friendly to your frame design.

Patrick B - 2/13/2013
More Answers about Weight Distribution