Recommendation for Weight Distribution for a 2003 Chevy Blazer Towing a Two Horse Trailer
Question:
I have a 2003 Chevy Blazer and a Sundowner 2-horse bumper pull trailer which weighs about 3,200 lbs. I need to tow this trailer with two horses, total weight would be about 5,500 lbs. I am told with this WDS my Blazer can tow 6,500 lbs. We are also installing an electric brake controller. Will this work safely?
asked by: Rachel I
Expert Reply:
According to the research I have done, the 2003 Chevy Blazer had a max towing capacity of 5,700 pounds (2-door, 2 wheel drive LS model which had the highest). The trailer hitches we offer for the Blazer have a max towing capacity of 6,000 pounds when using weight distribution. I recommend checking the owners manual or contacting a Chevy dealer to determine the official towing capacity of your Blazer before towing.

When choosing a weight distribution system, you will want one that has a tongue weight capacity range that encompasses the tongue weight of your trailer, loaded and ready to tow. The tongue weight of a trailer is usually 10 to 15 percent of the gross trailer weight. That would put your tongue weight between 550 and 825 pounds.

I recommend the Reese Weight Distribution System with Shank, # RP61009. This system uses round bars with cam ends. It comes with the required shank so you would just need the appropriate size ball like # 19286 (2-5/16 inch diameter) or # A-90 (2 inch diameter). I have included a link to the installation details for reference.

This system does not come with sway control but I highly recommend it for the horse trailer. Horses have the tendency to move around in the stalls which can lead to trailer sway. If you want to add sway control later, you would need Reese Dual Cam High-Performance Sway Control, # RP26002. I have included a link to the installation details for this kit as well.

Or, you can get them all together in one package (you would still need a ball). Take a look at Strait-Line Weight Distribution System with Sway Control, # RP66088. With this system you get the weight distribution with dual-cam sway control and the shank.
expert reply by: Michael H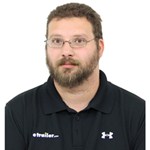 Have a question for the experts? click here.
Products Referenced in This Question
Hitch Ball with 2-5/16" Diameter and Medium Shank, 12,000 lbs GTW - Chrome





46 reviews
Retail: $17.13
Price: $12.49

Product Summary:
Hitch Ball
Standard Ball
12000 lbs GTW
Class IV
Chrome

Product Specs:
2-3/4 Inch Shank Length
2-5/16 Inch Diameter Ball
1-1/4 Inch Diameter Shank

more information
Hitch Ball with 2" Diameter and Medium Shank, 10,000 lbs GTW - Chrome





56 reviews
Retail: $18.20
Price: $10.92

Product Summary:
Hitch Ball
Standard Ball
10000 lbs GTW
Class IV
Chrome

Product Specs:
2-5/8 Inch Shank Length
2 Inch Diameter Ball
1-1/4 Inch Diameter Shank

more information
Reese Dual Cam High-Performance Sway Control





8 reviews
Retail: $299.58
Price: $184.95

Product Summary:
Sway Control Only
Electric Brake Compatible
Dual Cam

Product Specs:
Shank Not Included

more information
Reese Weight Distribution System w Shank - Round Bar - 12,000 lbs GTW, 1,200 lbs TW





1 reviews
Retail: $648.89
Price: $399.95

Product Summary:
WD Only
Electric Brake Compatible
700 lbs
800 lbs
900 lbs
1000 lbs
1100 lbs
Round Bars

Product Specs:
Fits 2 Inch Hitch
Includes Shank
Up to 12000 lbs GTW

more information
Strait-Line Weight Distribution System w Sway Control - Round Bar - 12,000 lbs GTW, 1,200 lbs TW





3 reviews
Retail: $929.22
Price: $574.95

Product Summary:
WD With Sway Control
Electric Brake Compatible
700 lbs
800 lbs
900 lbs
1000 lbs
1100 lbs
Dual Cam
Round Bars

Product Specs:
Fits 2 Inch Hitch
Includes Shank
Up to 12000 lbs GTW

more information
Product Page this Question was Asked From
Pro Series RB2 Round Bar Weight Distribution Kit with Shank, 1,200 lbs TW / 12,000 lbs GTW





10 reviews
Retail: $444.11
Price: $309.95

Product Summary:
WD Only
Electric Brake Compatible
700 lbs
800 lbs
900 lbs
1000 lbs
1100 lbs
Round Bars

Product Specs:
Fits 2 Inch Hitch
Includes Shank
Up to 12000 lbs GTW

more information
More Answers about Weight Distribution