Recommendation for Weight Distribution and Sway Control When Towing a 4,000 Pound Trailer
Question:
At what weight do I need a weight distrabution hitch. My trailer gvw is 4000 lbs.I am towing with a full size 1/2 ton.
asked by: John
Expert Reply:
Weight distribution is a good idea when the gross trailer weight is 50 percent or more of the vehicle weight or if you are experiencing sag at the rear of your truck. Weight distribution, as the name implies, takes the weight of the trailer and transfers to all the axles of both the towing vehicle and the trailer.

For a trailer weighing 4,000 pounds with a tongue weight at 400 to 600 pounds (10 to 15 percent of the gross trailer weight), I recommend Pro Series RB2 Round Bar Weight Distribution Kit, # 49569, which comes with a shank so you would just need a properly sized ball like # A-90 (2 inch diameter) or # 19286 (2-5/16 inch diameter). This kit does not include sway control.

If you are experiencing trailer sway, I recommend going with a system that includes dual-cam sway control. Dual-cam sway control is a pro-active system that stops trailer sway before it starts. For a weight distribution with sway control, I recommend Strait-Line Weight Distribution System, # RP66087. I have included links to the installation details for this system, along with a link to our weight distribution FAQ article for reference.
expert reply by: Michael H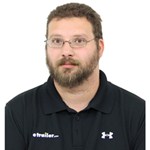 Have a question for the experts? click here.
Products Referenced in This Question
Hitch Ball with 2-5/16" Diameter and Medium Shank, 12,000 lbs GTW - Chrome





52 reviews
Retail: $17.13
Price: $12.49
Product Summary:
Hitch Ball
Standard Ball
12000 lbs GTW
Class IV
Chrome

Product Specs:
2-3/4 Inch Shank Length
2-5/16 Inch Diameter Ball
1-1/4 Inch Diameter Shank

more information
Pro Series RB2 Round Bar Weight Distribution Kit with Shank, 800 lbs TW / 10,000 lbs GTW





1 reviews
Retail: $444.11
Price: $273.09
Product Summary:
WD Only
Electric Brake Compatible
500 lbs
600 lbs
700 lbs
Round Bars

Product Specs:
Fits 2 Inch Hitch
Includes Shank
Up to 10000 lbs GTW

more information
Hitch Ball with 2" Diameter and Medium Shank, 10,000 lbs GTW - Chrome





72 reviews
Retail: $18.20
Price: $10.92
Product Summary:
Hitch Ball
Standard Ball
10000 lbs GTW
Class IV
Chrome

Product Specs:
2-5/8 Inch Shank Length
2 Inch Diameter Ball
1-1/4 Inch Diameter Shank

more information
Strait-Line Weight Distribution System w Sway Control - Round Bar - 10,000 lbs GTW, 800 lbs TW





2 reviews
Retail: $929.22
Price: $574.95
Product Summary:
WD With Sway Control
Electric Brake Compatible
500 lbs
600 lbs
700 lbs
Dual Cam
Round Bars

Product Specs:
Fits 2 Inch Hitch
Includes Shank
Up to 10000 lbs GTW

more information
Product Page this Question was Asked From
Pro Series Friction Sway Control Kit - Economy - by Draw-Tite, Reese and Hidden Hitch





34 reviews
Price: $54.95
Product Summary:
Sway Control Only
Electric Brake Compatible
Bar-Style Friction

Product Specs:
Shank Not Included

more information
More Answers about Weight Distribution