Troubleshooting Static Display on Wireless Backup Camera Monitor with Engine Running, 2008 Dodge Ram
Question:
I installed The PK015737 on my 2008 Ram Quad cab PU. Intitially, the camera worked perfectly. However, shortly after installation, the monitor is static and jumpy when the truck is running. Works fine when engine is off. The transmitter is located behind the right rear tail light assembly Any sugestions?
asked by: C D
Expert Reply:
Like most consumer electronic devices, the Peak Performance Wireless Back-Up Camera, # PK015737, is made so that it will accept interference in accordance with FCC regulations. This sounds like what is happening. If your 2008 Dodge Ram has any bluetooth technology or other similar wireless connectivity technology, that could be interfering with the monitor, causing the problem you are experiencing.

You can also try to move the transmitter to see if it is picking up residual electricity from the wiring behind the taillight. You can also try moving the monitor power supply to a different port, if you have more than one available.

Finally, the vibrations of the truck running may reveal any flaw such as a loose or broken connection in the wiring, causing the poor display on the monitor. You could go back and check the wiring to make sure everything is connected properly. I have included a video review for this camera for reference.
expert reply by: Michael H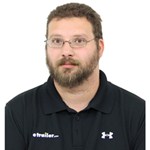 Have a question for the experts? click here.
Video/Article/FAQ this Question was Asked From
Article or Video
Questions and Comments about this Question
First, ditto to observations of Michael H. - I agree. - Recently installed a backup camera in my wifes SUV and had lots of screen static from ignition firing with engine running. - What I did to correct this were two fold. First, I wrapped the wire furnished with the backup camera to shield it when adjacent to or near the vehicles wiring harness, and moved the hot feed connection from the fuse box to a lower center of dash plug connection ignition on source. What I used to wrap the backup camera wire wa the exterior sheath of household Romex 12-2 wire, and then taped it evey 6 with electrical tape. I made sure that the wire was shielded at the drivers door rocker panel and all the way past the fuse box. That the new hot wire feed to the monitor was pull tied up an away from the fuse box.This did solve my problem. Now the picture is crystal clear with engine running and no static distortion at all.
comment by: CN - 4/10/2013
Thank you for the additional info. Should come in handy.

Patrick B - 4/23/2013