Wiring an 8x10 Triton Aluminum Snowmobile Trailer with Lights that have Separate Ground Wires
Question:
I am rewiring a Triton 8x10 aluminum snowmobile trailer,its 15+ years old so I think it is best to replace everything.It has 7-2 round marker lights2 amber and 2-6 oval tail lights.Looks like you have everything I need,but my question is about the 35 4 flat wiring harness,and about the ground wire.Do I simply run a ground wire to each light marker and tail and run it back to the ground wire that is with the harness and ground them to the trailer? Dont know if I am making it more complicated than it has to be,just woundering since the marker lights and the tail lights have a ground wire if I should ground them separate than the ground wire from harness.
asked by: Scott W
Expert Reply:
Wiring the grounds for your tail lights and the 35 ft. Wishbone 4-Way Trailer Wiring Harness with 42 inch Ground Wire, item # A35W42B, is fairly simple.

The 42 inch ground wire provided with the harness is normally attached to the trailer frame near the coupler. Doing this makes the trailer frame a convenient point to ground all of the other ground wires for your taillights and makes it possible to use lights that are grounded through the mounting hardware. This is demonstrated in our Trailer Wiring and Light Replacement video, see link.

On your aluminum frame trailer, I would recommend running a dedicated ground wire down each side of the trailer frame, from the end of the 42 inch ground wire, for the best possible ground connections. This will eliminate any problems with the ground connections and the dissimilar copper and aluminum metals and corrosion. An appropriate length of 12 Gauge Black Primary Wire, item # 12-1-1, would be a good choice. You could then use quick splices, item # 562, to connect each of the ground wires from the trailer lights to the dedicated ground wire.

For the best, longest lasting connections of your trailer lighting, I recommend using a soldering iron, item # BTSI30 and solder, item # FL0803484, to make all of the connections to your trailer lights.
expert reply by: Bob G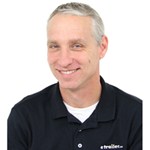 Have a question for the experts? click here.
Products Referenced in This Question
12 Gauge Black Primary Wire - per foot





1 reviews
Retail: $0.35
Price: $0.34

Product Summary:
Wiring
Accessories
12 Gauge
1 Wire

Product Specs:
Wire
Single Wire

more information
Quick Splice Wire Connector - Yellow - 10-12 AWG (Qty 1)





2 reviews
Retail: $0.82
Price: $0.63

Product Summary:
Wiring
Accessories
12-10 Gauge

Product Specs:
Wire Connectors
Quick Splice

more information
DISCONTINUED - Soldering Iron - 30 Watt
Retail: $6.00
Price: $5.99

DISCONTINUED - Solder Spool - 1/8"
Price: $12.99

Product Page this Question was Asked From
35 ft. Wishbone 4-Way Trailer Wiring Harness with 42" Ground Wire





52 reviews
Retail: $14.95
Price: $12.95

Product Summary:
Trailer Connectors
Trailer End Connector
35 Feet Long

Product Specs:
Plug and Lead
4 Flat

more information
More Answers about Wiring