Does Thule Transporter Combi Enclosed Cargo Carrier, # TH665C Require a Threaded Hitch Pin
Question:
I just looked over the installation instructions bc I wanted to be sure this would work easily with the RV and the 2 Class II hitch on the RV. Aside from the fact that the RV has a rear-mounted spare that extends out approximately 15 total from the hitch hole and would require a hitch extension, I believe there is another problem. What is the size of the hole in the hitch stinger bar that s into my 2 hitch and must this be secured with washers and bolts, something not easily removable if I want to remove the Thule when not needed? I have a locking 3/8 hitch pin that I use with the existing cargo carrier I have, making it fairly easy to remove when I do not need it and I dont want something that must require a wrench to remove and that has a number of parts that can be easily lost. Thank you very much for your answers.
asked by: Dorrin B
Expert Reply:
First, the Thule Transporter Combi Hitch Mounted Enclosed Cargo Carrier, # TH665C, extends out 7 inches from the center of the hitch pin hole, so unless the spare tire is removed from the back of the RV, it will not clear the tire.

The standard hitch pin hole size for a 2 inch receiver (Class III or higher) is 5/8 inch diameter. For a 1-1/4 inch receiver (Class II and lower) it is 1/2 inch diameter. Since this cargo carrier can be used in either size, it uses a 1/2 inch design but it also has a larger threaded portion that matches the threads on the shank of the carrier. Your 3/8 inch pin will fit through the hole, but it will not be a snug fit, and Thule does not recommend it. Also, one purpose of having the thread pin is that it acts as an anti-rattle device, pulling the shank to the side of the hitch to reduce rattle.

You might be interested in the Rola Tilting Enclosed Cargo Carrier, # 59110. This is really 2 carriers in one. The enclosed portion can be removed leaving a flat, open cargo carrier. It uses a standard 5/8 inch diameter hitch pin like # PC3. I have included a link to the installation details and a video review of this carrier below.
expert reply by: Michael H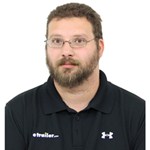 Have a question for the experts? click here.
Products Referenced in This Question
Rola Tilting Enclosed Cargo Carrier for 2" Trailer Hitches




15 reviews
Retail: $693.97
Price: $524.95

Product Summary:
Enclosed Carrier
Tilting Carrier
Molded
250 lbs

Product Specs:
13.5 Cubic Feet
Fits 2 Inch Hitch
Class 3

more information
Pin and Clip For Class III, IV and V Trailer Hitch Receiver





114 reviews
Retail: $10.40
Price: $5.16

Product Summary:
Pins and Clips
Hitch Pin

Product Specs:
Fits 2 Inch Hitch
Fits 2-1/2 Inch Hitch
5/8 Inch Diameter

more information
Product Page this Question was Asked From
Thule Transporter Combi Hitch Mounted Enclosed Cargo Carrier - Tilting





6 reviews
Price: $529.95

Product Summary:
Enclosed Carrier
Tilting Carrier
Molded
150 lbs

Product Specs:
13 Cubic Feet
Fits 1-1/4 Inch Hitch
Fits 2 Inch Hitch
Fits 1-1/4 and 2 Inch Hitch
Class 2
Class 3

more information
More Answers about Hitch Cargo Carrier