Base Plates, Tow Bar, Safety Cables, Lighting, and Supplemental Braking for a 2010 Jeep Wrangler
Question:
I have a 2010 jeep wrangler jk-x . everything is stock on the vehicle. does the tow bar bracket come with removable tow bars? one more thing does it come with the instructions on installing the kit? thank you.
asked by: Dennis
Expert Reply:
The Roadmaster XL Base Plate Kit, # 1432-1, comes with the brackets that attach to the 2010 Jeep Wrangler frame, and removable arms that attach to the brackets. These arms attach to the tow bar which is sold separately. The base plates do come with detailed installation instructions.

For a tow bar, you will need one that is compatible with XL style base plates. I recommend the RoadMaster Falcon 2, # RM-520. This is an RV mounted tow bar which offers more stability than a car mounted tow bar. I have included a link to a video review below.

I also recommend safety cables and a light kit as required by law. For safety cables, I recommend the Single Hook, Coiled Safety Cables, # RM-643. For a temporary lighting solution, use the Magnetic Towing Light Kit, # C-ATL20A. These lights have a magnet that will stick to a flat metal surface and plug into a 4-flat on the tow vehicle. For a more permanent solution, I recommend the Tail Light Isolating Diode System with Wiring Harness, # 38955. I have included an installation video and demonstration video of this kit below.

You might also be interested in a supplemental brake kit for the Wrangler. The easiest to use and install is the Roadmaster Even Brake Portable Proportional Braking System, # RM-9400. This unit installs quickly so you are ready to go in minutes. It engages the towed vehicle brakes proportionally to how much the towing vehicle is braking, reducing wear of both the towing vehicle and towed vehicle brakes.

Finally, you will need to check with the manufacturers for instructions on the proper procedure for towing your vehicles because some vehicles must be equipped with a transmission lube pump, an axle disconnect, drive line disconnect, or free-wheeling hubs before they can be towed.
expert reply by: Michael H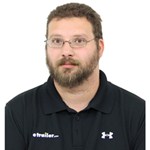 Have a question for the experts? click here.
Products Referenced in This Question
Tail Light Isolating Diode System with Wiring Harness




51 reviews
Retail: $34.90
Price: $31.60

Product Summary:
Splices into Vehicle Wiring
Diode Kit

Product Specs:
Universal
Tail Light Mount

more information
Magnetic Towing Light Kit, 20 ft. Long Cord





9 reviews
Price: $41.95

Product Summary:
Bypasses Vehicle Wiring
Removable Tail Light Kit

Product Specs:
Universal
Magnetic Mount

more information
RoadMaster Falcon 2 Tow Bar - 6,000 lbs





9 reviews
Retail: $732.05
Price: $590.00

Product Summary:
Hitch Mount Style
Telescoping
Standard
Steel
6000 lbs

Product Specs:
Roadmaster EZ
Roadmaster MX
Roadmaster XL
Roadmaster Standard
Stores on RV

more information
RoadMaster 68" Single Hook, Coiled Safety Cables - 6,000 lbs





34 reviews
Retail: $64.95
Price: $44.95

Product Summary:
Tow Bars
Accessories
64 Inch Long
6000 lbs

Product Specs:
Coiled Cable
Safety Cables
Cables

more information
Roadmaster Even Brake Portable Proportional Braking System





1 reviews
Retail: $1,555.60
Price: $1,249.00

Product Summary:
Brake Systems
Proportional System

Product Specs:
Portable System
Recurring Set-Up

more information
Product Page this Question was Asked From
Roadmaster XL Base Plate Kit - Removable Arms





17 reviews
Retail: $429.95
Price: $399.00

More Answers about Base Plates