Electric Radiator Fan Recommendations for a 2003 GMC Sonoma
Question:
I have a 2003 GMC Sanoma Pick-Up 4.6 V6 i now have a stock fan with a clutch and is very nosy. I would like to use electric fan Quieter but not sure what CFM is needed. I have A/C and automatic transmission.
asked by: Sonny
Expert Reply:
Adding an electric fan or fans is subject to how much space you have in the engine compartment. The first thing I would check is if your 2003 Sonoma has a fan driven by a serpentine belt (a belt that turns the pulleys of several components) or if it has its own belt.

If the fan is attached to the pulley for the water pump, you will not be able to remove it though the blades may be able to be removed. So if you find that your fan or blades can be removed and you can add an electric fan, I would look to see what area has the most space for a fan. If mounted in front of the radiator, you will need a pusher fan that pushes air through the radiator. These are the most efficient. If you have to mount the fan on the other side of the radiator, you will need a puller fan.

For a pusher fan, I recommend # D18214 with 2,100 CFM which is sufficient for your truck. This fan can actually be used as a pusher or puller fan. For a puller fan, I recommend # D16116 with 2,024 CFM which is more than enough for your Sonoma. I have included some FAQ articles linked below that explain a little more about radiator fans and electric fans.
expert reply by: Michael H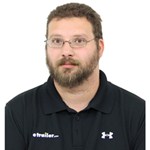 Have a question for the experts? click here.
Products Referenced in This Question
Derale 16" High-Output, Extreme Curved-Blade Electric Fan - 2,024 CFM
Retail: $287.45
Price: $170.95

Product Summary:
Electric Fans
High-Output Fan

Product Specs:
2024 CFM
16 Inch Diameter

more information
Derale 14" High-Output, Electric, Single Radiator Fan - 2,100 CFM
Retail: $242.02
Price: $140.95

Product Summary:
Electric Fans
High-Output Fan

Product Specs:
2100 CFM
14 Inch Diameter

more information
Product Page this Question was Asked From
Derale 14" High-Output, Electric, Single Radiator Fan - 2,100 CFM
Retail: $242.02
Price: $140.95

Product Summary:
Electric Fans
High-Output Fan

Product Specs:
2100 CFM
14 Inch Diameter

more information
More Answers about Radiator Fans