Parts Needed for Adding a Charging Circuit for a Trailer Battery while Towing with a 2008 FJ cruiser
Question:
Hi, Have converted from 4 pin to 7 and everything is working fine. Question is, is all I need is #10 wire and inline circuit breaker? Do I have to do anything at the fuse block on the Fj? and Will the in-line circuit breaker prevent my truck battery from being run down? or do I need something to prevent drainage?
asked by: dana
Expert Reply:
You have it figured out. You will need an appropriate length of 10 Gauge Wire, item # 10-1-1, and a 40 amp circuit breaker, item # PK54540, to provide 12 volt power to the trailer connector at the rear of your FJ. This will provide a maintenance charge to the trailer battery while towing the trailer. You will not need to make any changes at the fuse block on your vehicle. The 12 Volt power wire connects to the number 4 position inside your 7-way connector, see the photo in the trailer wiring diagrams FAQ linked here.

The power wire is connected from the trailer connector to the Auxilliary side of the circuit breaker and from the Battery side of the circuit breaker to the positive terminal of the vehicle battery. You should remove the ground cable from the vehicle battery before connecting the power wire from the circuit breaker.

The inline circuit breaker will protect the vehicle and trailer from any type of short circuit or power surge that may occur, but will not isolate the battery from the trailer connection when the the trailer is connected to the vehicle. Most people simply unplug the trailer from the back of the vehicle when they get to their camping destination, to keep the vehicle battery from being discharged.

We do offer the Tow Ready Battery Isolation Solenoid, item # TR118665, which will shut down the connection from the vehicle battery to the trailer connector when the vehicle ignition is off. It would be a good idea to install the battery isolator if you plan to leave the trailer connected to the vehicle for extended periods, when the vehicle is not running. The isolator also installs inline with the power wire to the trailer connector. You will need a switched ignition source to attach to the 12 volt source on the isolator and the isolator needs to be mounted to the vehicle chassis for a ground connection.
expert reply by: Bob G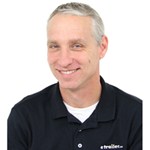 Have a question for the experts? click here.
Products Referenced in This Question
10 Gauge Primary Wire - Blue - per Foot




5 reviews
Retail: $0.94
Price: $0.59
Product Summary:
Wiring
Accessories
10 Gauge
1 Wire

Product Specs:
Wire
Single Wire

more information
Pollak Circuit Breaker - Cycling/Automatic Reset - 40 Amp - Straight Mount Bracket





3 reviews
Price: $4.09
Product Summary:
Wiring
Accessories
40 Amp

Product Specs:
Circuit Breaker

more information
Tow Ready Battery Isolation Solenoid





5 reviews
Retail: $19.22
Price: $18.95
Product Summary:
Wiring
Accessories

Product Specs:
Battery Accessories
Solenoids

more information
Product Page this Question was Asked From
Adapter 4 Pole to 7 Pole and 4 Pole





100 reviews
Price: $23.95
Product Summary:
Wiring Adapters
Multi-Function Adapter

Product Specs:
Plug and Lead
4 Flat
7 Blade
4 Flat

more information
More Answers about Wiring