Replacement Trailer Tires for 15 Inch Wheels to replace 7.00-15 Tire Size On A 15X5.5 Wheel
Question:
I am about to order 4 of your trailer tires Karrier ST225/75R15, load range D your 10256 I believe, and I have TWO questions. my rims are 15x5.5 6 bolt EZ Loader on which Ive been running various brands of 700x15 bias ply LT tires for many miles and yrs with mixed results. Will the above tires fit well on these rims? I recognize the height difference, its the rim width I am concerned about. Secondly, regarding inflation pressure, when I leave WI for Key West each Dec, the temperature is generally between -20 and +30F. By the time I get to S FL temp is generally in the 70s. Given that tire pressure increases about 1 psi for each 10 degree rise in temp, my tire pressure would be roughly 72 psi in FL if I start out from WI with cold tire pressure at the recommended 65 psi. But if its -20 in WI and 80F in FL, the tire pressure in FL could be 75 psi! Is this OK? i.e., all tire mfrs say set tire pressure when cold, but how cold is cold?! Or are all tires built to handle a 10+ psi increase on the road? Will greatly appreciate your thoughtful response to these questions.
asked by: Bruce J
Question:
Thank you very much Jeff, you responded very thoughtfully and knowledgeably, which has not always been the case with others recently. After reading in several travel trailer forums this morning that ST rated radial tires often fail prematurely, (granted, in some cases due to overloading &/or inadequate inflation pressure) I've pretty much decided to replace my four Liberty LT 700x15 D tires (2 of which are beginning to fail after 3 yrs and 13,000 miles. And yes, they are Chinese made, but precious few LT or ST tires aren't these days) with another set of LT tires. Given your comments about rim width, I'll stick with 700x15 size to accommodate my galvanized steel EZ Loader rims. My 25' boat, with full gas and water tanks and provisions for living aboard for 3 mos (yeh, it gets a little snug by the 3rd mo!), weighs about 3 tons, the trl one ton, for ~8000 lb on the 4 tires. I know Load Range D should be adequate, and is what I've always run, but is there any reason not to go with your Kenda 700-15 LT load range E tire (K391M)? One final question; I've never had my trl wheels balanced. Should I?
asked by: Bruce J
Have a question for the experts? click here.
Products Referenced in This Question
Karrier ST205/75R15 Radial Trailer Tire - Load Range C

20 reviews
Code: AM10244
Retail:$104.95
Price: $70.95
Tires and Wheels
Tire Only
Radial Tire
Load Range C
205/75-15
more information >
Kenda Light Truck Tire K391M - 7.00-15 LT - Load Range E

13 reviews
Code: AM10414
Retail:$139.95
Price: $129.95
Tires and Wheels
Tire Only
Bias Ply Tire
Load Range E
7.00-15
more information >
Karrier ST225/75R15 Radial Trailer Tire with 15" White Wheel - 6 on 5-1/2 - Load Range D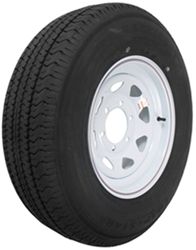 42 reviews
Code: AM32664
Retail:$167.95
Price: $146.95
Tires and Wheels
Tire with Wheel
Radial Tire
Load Range D
225/75-15
15 Inch
8 Spoke Wheel
6 on 5-1/2 Inch
Steel w Powder Coat Finish
Kenda
more information >
Hopkins Tire Pressure Monitoring System - Wireless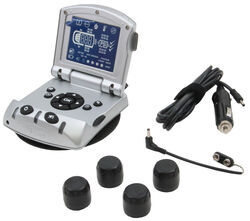 Tools
Vehicle Tools
Tire Inflation and Repair
more information >
Product Page this Question was Asked From
Karrier ST225/75R15 Radial Trailer Tire - Load Range D
Tires and Wheels
Tire Only
Radial Tire
Load Range D
225/75-15
more information >
More Answers about Tires and Wheels >