Troubleshooting Running Lights Not Working on a Trailer Towed by a 1985 Volkswagen Vanagon
Question:
I recently wired in a trailer vw converter and 4 wire harness to my 1985 VW vanagon westfalia to haul a very small trailer. The trailer also needed a new set of lights so I went to install them and I cannot get the running lights on the trailer running running lights on the car work fine. The Left , and right turn lights and brake lights work fine on the trailer. Just no running lights. The running lights at the vehicle harness are fine on my wire testing using a light tester. When the running lights on the vehicle are on my trailer harness actually tests positive for all wires having power with My light tester just before the trailer lights the yellow wire, Left brown, the green and right brown wires all show that they have power going to them although the brand new trailer lights do not turn on at that time. And I believe only the brown wires should be showing power when only the running lights are on. The brake pad was definitely not depressed. Any thoughts or solutions? Thanks, I also used a metal brush on a drill to scrape the trailer ground location before I installed it. The VW ground is on a painted metal surface, installed with a self drilling screw. Year: 1985 Make: Volkswagen Model: Vanagon Westfalia Engine: gasoline 1.9 L
asked by: Pat
Expert Reply:
The problem could be with the trailer connector. If you used the 4-Pole Trailer End Connector, # 18004, that you have referenced, it may be causing problems. Your 1985 VW Vanagon requires the Upgraded Circuit Protected Taillight Converter Hardwire Kit with 4 Pole End, # 119175KIT. Your Vanagon has separate turn and stop lights, what is called a 3 wire system. Most trailers use a two wire system so a converter like the # 119175KIT is required to convert the 3 wire system down to a 2 wire system. I have included a video below showing an installation of this harness.

Regarding the trailer lights not lighting up, the lights themselves also have a ground. If there is not an obvious ground wire, most lights ground through the mounting studs. You will need to make sure those grounding points are free of dirt and corrosion. Also, if you added a plastic license plate holder, that could cause a similar bad ground problem. I have included a video below on testing for a correct ground and another that features replacing taillights.
expert reply by: Michael H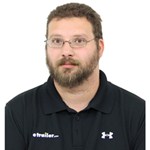 Have a question for the experts? click here.
Products Referenced in This Question
Upgraded Circuit Protected Taillight Converter Hardwire Kit with 4 Pole End (Includes Testers)





166 reviews
Retail: $43.74
Price: $35.44

Product Summary:
Trailer Hitch Wiring
Converter
3 Wire System
Universal Fit

more information
Product Page this Question was Asked From





6 reviews
Retail: $6.06
Price: $5.99

Product Summary:
Trailer Connectors
Trailer End Connector
1 Foot Long

Product Specs:
Plug and Lead
4 Flat

more information
More Answers about Wiring