Can Friction Sway Control, # 3400 be Used on a Lifted Ford F-350 4x4 and Enclosed Race Trailer
Question:
i have a ford f350 4x4 and it is raised up i pull a 24ft enclosed race trailer i was wondering if the drawtite 3400 would work for me? i have a draw bar system but the truck is to high with a large hitch! thank you!
asked by: David S
Expert Reply:
You can use the Friction Sway Control, # 3400, on your Ford F-350 (installation details linked below). You will need to use the Sway Control Adapter Bracket, # RP26003, that fits on ball mounts compatible with 2 inch receivers. This plate is 3/8 on an inch thick so a ball with a long, 1 inch diameter shank might be needed to hold the bracket to the ball mount.

Another possibility is to use a standard weight distribution and sway control system with a shank that has a deep drop like Weight Distributing Shank, # RP3344. This shank provides a drop of up to 8-3/4 inches for round bars and 8 inches for trunnion bars. I have included a link below to measuring for weight distribution. Our highest rated 2 inch system is an 800 to 1,500 pound tongue weight capacity system like the Strait-Line Weight Distribution Hitch System, # RP66130.

You will need to find a system that has a tongue weight capacity range that encompasses the tongue weight of your trailer. In other words, you want your trailer tongue weight to be about in the middle of the systems tongue weight capacity range.

If your truck has a 2-1/2 inch receiver, the best option is going to be the Reese Strait-Line Weight Distribution 1700 for Titan 2-1/2 inch Receivers, # RP66075, and Titan Weight Distributing Shank, # RP54977, with a 5-3/4 inch maximum drop.
expert reply by: Michael H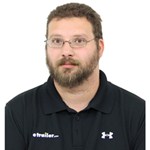 Have a question for the experts? click here.
Products Referenced in This Question
Reese Sway-Control Bracket for 2" Ball Mounts - Class III and IV





29 reviews
Retail: $45.33
Price: $29.95

Product Summary:
Weight Distribution
Accessories

Product Specs:
Sway Control Parts
Adapter

more information
Reese Weight Dist Shank - Drop Only - 11" Long - 7-5/8", 8-5/8" Drop - 1,400 lbs TW





8 reviews
Retail: $252.29
Price: $151.95

Product Summary:
Weight Distribution
Accessories
Replacement Parts
1400 lbs TW
14000 lbs GTW

Product Specs:
Trunnion - 7-5/8 In Drop
Round - 8-5/8 In Drop
Shanks
Fits 2 Inch Hitch

more information
Reese Titan Weight Dist Shank - Trunnion Only - 5-3/4" Drop, 8-1/4" Rise - 1,700 lbs TW





1 reviews
Retail: $220.28
Price: $134.95

Product Summary:
Weight Distribution
Accessories
Replacement Parts
Trunnion - 8-1/4 In Rise
1700 lbs TW
17000 lbs GTW

Product Specs:
Trunnion - 5-3/4 In Drop
Shanks
Fits 2-1/2 Inch Hitch

more information
Strait-Line Weight Distribution w Sway Control - Trunnion Bar - 17,000 lbs GTW, 1,700 lbs TW
Retail: $1,235.24
Price: $759.90

Product Summary:
WD With Sway Control
Electric Brake Compatible
1100 lbs
1200 lbs
1300 lbs
1400 lbs
1500 lbs
1600 lbs
Trunnion-Style Bars

Product Specs:
Fits 2-1/2 Inch Hitch
Shank Not Included
Up to 17000 lbs GTW

more information
Strait-Line Weight Distribution w Sway Control - Trunnion Bar - 15,000 lbs GTW, 1,500 lbs TW





3 reviews
Retail: $939.70
Price: $535.96

Product Summary:
WD With Sway Control
Electric Brake Compatible
900 lbs
1000 lbs
1100 lbs
1200 lbs
1300 lbs
1400 lbs
Dual Cam
Trunnion-Style Bars

Product Specs:
Fits 2 Inch Hitch
Shank Not Included
Up to 15000 lbs GTW

more information
Product Page this Question was Asked From





7 reviews
Retail: $204.73
Price: $128.95

Product Summary:
Sway Control Only
Electric Brake Compatible
Bar-Style Friction

Product Specs:
Shank Not Included

more information
More Answers about Weight Distribution