Adding 7-Way Trailer Connectors for Trailer Lights and Trailer Accessories
Question:
I want to be able to control the trail lights to make left turn signal, right turn signal, brake signal, running lights, power an electric winch, and a way to deactivate the disc brake that is a surge brake when the car goes to reverse through the solenoid that controls the back up lock out. Will a 5-pole flat connector be able to do all these? Should I go for a 7-pole connector for RV? Thanks in advance for any info
asked by: Jay C
Expert Reply:
A 5-Flat trailer connector would be good for left turn, right turn, brake, running lights, and electric brake lockout, so it would not have enough functions for your application. I have included a link to a trailer wiring FAQ below that contains information on the various connectors and the functions they provide.

A 7-Way is the better way to go. You will have all the functions listed above plus a 12 volt function and an additional accessory function that can be used for reverse lights or another function, in this case it can be connected to the lock out control as you have specified. For all the functions to work on the Adapter 4 Pole to 7 Pole Vehicle End Trailer Connector, # 30717, you have referenced, you will have to hardwire the remaining wires. The blue wire would need to go to a brake controller, the black wire would connect to the vehicle battery via a 40 amp circuit breaker, # PK54540, the yellow wire will connect to the vehicle reverse lights, and the white wire will ground to the vehicle frame.

You will then need to attach a 7-Way on the trailer. You can use the 7-Way Molded Trailer Wire Connector, # H20046. On it the white wire is ground, red is left turn and brake, brown is right turn and brake, green is for taillights, blue is for the brakes, black is the 12 volt power, and yellow is accessory (brake lock out control for your application).

I do not recommend using the 7-Way, or any trailer connector, to power an electric winch as the wiring is not a large enough gauge for safe operation. Instead, they make special wiring kits for winches. Depending on the capacity and type of winch you have, we have several wiring kits available. I have included a link to them below.
expert reply by: Michael H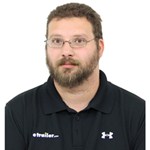 Have a question for the experts? click here.
Products Referenced in This Question
7-Way Molded Trailer Wire Connector, 8' Long





147 reviews
Price: $24.95

Product Summary:
Trailer Connectors
Trailer End Connector
8 Feet Long

Product Specs:
Plug and Lead
7 Blade

more information
Pollak Circuit Breaker - Cycling/Automatic Reset - 40 Amp - Straight Mount Bracket





1 reviews
Price: $4.09

Product Summary:
Wiring
Accessories
40 Amp

Product Specs:
Circuit Breaker

more information
Product Page this Question was Asked From
Adapter 4 Pole to 7 Pole Vehicle End Trailer Connector





95 reviews
Retail: $24.48
Price: $17.45

Product Summary:
Wiring Adapters
Single Function Adapter
1 Foot Long

Product Specs:
Plug and Lead
4 Flat
7 Blade

more information
More Answers about Wiring