Installing a Brake Controller from Scratch on a 2000 GMC Safari Van
Question:
Is the 2000 GMC Safari prewired for direct connection of an electronic brake controler. I have a Prodigy P2 that I want to use with this vehicle. I would need the correct wiring harness and controller dash mount.
asked by: Tom G
Expert Reply:
In order to install the Prodigy P2 brake controller, # 90885, you will need to hardwire it using a 4 and 7 Way Installation Kit, # ETBC7. If you do not have a 4-Way already on your 2000 GMC Safari, you will need to install one first. You will need Draw-Tite Wiring, # 18252. This is a basic hardwire harness. Yellow is for left turn and brake, brown is for running lights, green is for right turn and brake, and white is the ground. I have included a video showing how this harness is installed.

With a 4-Way installed, plug it into the back of the 7-Way. Ground the 7-Way, and attach the yellow or purple wire to a reverse light wire. Next, use the included duplex cable and attach the black wire in it to the black wire on the ETBC7 and the white wire to the Blue wire in the ETBC7. Then route the duplex cable under the vehicle and up through the engine compartment. Attach the black wire to a 40 amp circuit breaker and from there to the positive battery terminal. Route the white wire through the firewall.

The white wire will attach to the brake controller blue wire. The black wire on the brake controller will get route through the firewall and connect first to a 20 or 30 amp circuit breaker (see instructions for which size to use) and from there to the positive battery terminal. The white wire on the brake controller will get routed through the firewall to the negative battery terminal. The red wire on the brake controller will get connected to the stop light switch above the brake pedal. You will need the wire that carries a signal ONLY when the brake pedal is pressed.

To mount the brake controller, use the Mounting Pocket, # 7686, or the Replacement Bracket, # TK5904. I have included a link to an FAQ on installing a brake controller from scratch and a video showing installation of an ETBC7 kit.
expert reply by: Michael H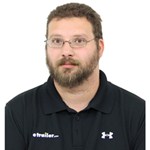 Have a question for the experts? click here.
Products Referenced in This Question
4-Pole Hardwire Kit Including Circuit Tester




49 reviews
Retail: $16.61
Price: $15.69
Product Summary:
Trailer Hitch Wiring
No Converter
2 Wire System
Universal Fit

more information
Mounting Pocket for Tekonsha Prodigy Proportional Brake Controller





36 reviews
Price: $10.99
Product Summary:
Brake Controller
Replacement Parts

Product Specs:
Mounting Bracket

more information
Tekonsha Prodigy P2 Trailer Brake Controller - 1 to 4 Axles - Proportional





466 reviews
Retail: $167.24
Price: $124.95
Product Summary:
Proportional Controller
Electric
Electric over Hydraulic
Digital Display
Vehicle Mount

Product Specs:
Automatic Leveling
2 - 8 Brakes
360 Degrees

more information
Universal Installation Kit for Trailer Brake Controller - 7-Way RV and 4-Way Flat - 10 Gauge Wires





283 reviews
Retail: $85.98
Price: $65.73
Product Summary:
Brake Controller
Accessories
2 - 8 Brakes
10 Gauge Wire

Product Specs:
Connector
Brake Controller Wiring
Wired to Brake Controller

more information
Product Page this Question was Asked From
Tekonsha Prodigy P2 Proportional Brake Controller with GM Adapter (1999-2002)





6 reviews
Retail: $180.50
Price: $139.94
Product Summary:
Custom Fit Wiring w Controller
Proportional

Product Specs:
2 - 8 Brakes
360 Degrees

more information
More Answers about Brake Controller with Wiring