Looking to Upgrade the Brake Controller On a 2004 Silverado 1500 for Towing a 2010 Outback Trailer
Question:
I have a 2010 268RB Outback TT and a 2004 1500 silverado, I am using a Energizer III brake controller, I am not really happy with the performance of this controller, It works Okay, but could be better, Too confusing to operate, No matter how I set the controller, It either works too slow, or too fast causing a jerking motion, I have used this product for about 5 months and maybe about 450 miles, I want to find something EASY to use and a little smoother stopping, Looking to change over to a Tekonsha Prodigy P-3 unit
asked by: Jim V
Expert Reply:
The Prodigy P-3, item # 90195, is definitely an upgrade from the Hayes-Lemmerz Energize III Electric Trailer Brake Controller, item # 81741B. You would definitely see an improvement in the braking performance and a reduction in the delay you are experiencing with the Energizer controller.

The P-3 uses an accelerometer to detect how fast the vehicle is slowing and apply the correct amount of power, based on user settings, to the trailer brake magnets. This system is almost seamless with the vehicle brakes if the controller is set up correctly, the wiring is correct and the trailer brakes are in good condition.

One note I would like to point out, is that the only complaints that I have seen with the P-3 controller is that it is a bit too high tech and harder to understand and setup. If you are looking for an easier brake controller to setup and use, you may want to take a look at the Tekonsha Prodigy P2 Brake Controller, item # 90885. This controller uses the same accelerometer technology and many of the same features as the P-3 but has a more user friendly interface for set up and ongoing adjustments with different trailer weights.
expert reply by: Bob G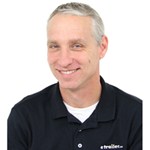 Have a question for the experts? click here.
Products Referenced in This Question
Tekonsha Prodigy P3 Trailer Brake Controller - 1 to 4 Axles - Proportional





475 reviews
Retail: $195.16
Price: $144.15
Product Summary:
Proportional Controller
Electric
Electric over Hydraulic
Digital Display
Vehicle Mount

Product Specs:
Automatic Leveling
2 - 8 Brakes
360 Degrees

more information
Tekonsha Prodigy P2 Trailer Brake Controller - 1 to 4 Axles - Proportional





466 reviews
Retail: $167.24
Price: $124.95
Product Summary:
Proportional Controller
Electric
Electric over Hydraulic
Digital Display
Vehicle Mount

Product Specs:
Automatic Leveling
2 - 8 Brakes
360 Degrees

more information
Product Page this Question was Asked From
Tekonsha PowerTrac Electronic Brake Controller - 1 to 2 Axles - Time Delayed





77 reviews
Retail: $66.78
Price: $59.95
Product Summary:
Time Delayed Controller
Electric
Indicator Light
Vehicle Mount

Product Specs:
Automatic Leveling
2 - 4 Brakes
360 Degrees

more information
More Answers about Brake Controller