Is A Taller 2 Inch Hitch Ball Available For A Class I Hitch
Question:
I found your part, #63802. It appears taller than a normal ball. How tall is it above the tongue. My hitch is a Class I and it is not a receiver hitch. I use 2 for everything so I do not need the interchangeable ball. Do you have any others similar in height?
asked by: Mike
Have a question for the experts? click here.
Products Referenced in This Question
Tow Ready Interchangeable Hitch Ball Set with 1-7/8" and 2" Hitch Balls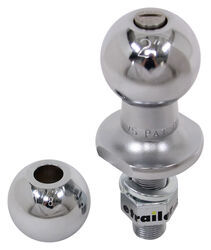 Balls
Hitch Ball
Interchangeable Ball Set
Chrome-Plated Steel
1-7/8 Inch Diameter Ball
2 Inch Diameter Ball
2-3/8 Inch Shank Length
3/4 Inch Diameter Shank
5000 lbs GTW
Class I
Class II
Tow Ready
more information >
2" Hitch Ball - 1" Rise - 1" Diameter x 2-1/8" Long Shank - 6,000 lbs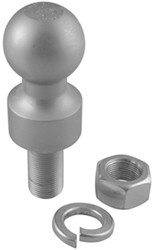 23 reviews
Code: C40033
Retail:$21.14
Price: $11.99
Balls
Hitch Ball
Standard Ball
Hi-Rise Ball
Chrome-Plated Steel
2 Inch Diameter Ball
2-1/8 Inch Shank Length
1 Inch Diameter Shank
6000 lbs GTW
Class III
Curt
more information >
2" Hitch Ball - 2" Rise - 1" Diameter x 2-1/8" Long Shank - 6,000 lbs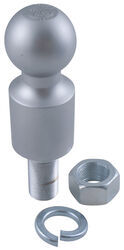 50 reviews
Code: C40034
Retail:$22.37
Price: $14.69
Balls
Hitch Ball
Standard Ball
Hi-Rise Ball
Chrome-Plated Steel
2 Inch Diameter Ball
2-1/8 Inch Shank Length
1 Inch Diameter Shank
6000 lbs GTW
Class III
Curt
more information >
Product Page this Question was Asked From
Tow Ready Interchangeable Hitch Ball Set with 1-7/8" and 2" Hitch Balls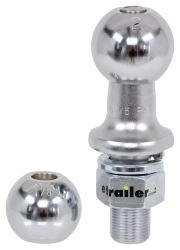 Balls
Hitch Ball
Interchangeable Ball Set
Chrome-Plated Steel
1-7/8 Inch Diameter Ball
2 Inch Diameter Ball
1 Inch Diameter Shank
8000 lbs GTW
Class III
Tow Ready
more information >
More Answers about Balls >