Can the Peak Wireless Backup System, # PK015737, be Installed on a 2010 Honda Ridgeline
Question:
I am looking at getting this camera. The more I read about it, the more complicated it seems. Apparently the video is wireless but the transmitter has to be mounted in the cab but wired to the camera on the back?. Will I be able to install this in a 2010 Honda Ridgeline. I am deciding whether Its even possible.
asked by: Connor
Expert Reply:
It is possible to install the Peak Wireless Backup Camera, # PK015737, on your 2010 Honda Ridgeline. You are correct, the camera portion is connected to the transmitter and to the reverse light wire. The transmitter sends the video to the monitor mounted in the cab.

The transmitter needs to be kept out of the elements, so it will need to either be in the cab of the vehicle or in the trunk compartment in the bed of your Ridgeline (as long as it can still transmit without too much interference. If installed in the cab, you will need to extend the wires from the transmitter to the camera and reverse light wire so that the transmitter can be mounted inside your Ridgeline. I have included a video installation of this camera below.

An easier installation, if your Ridgeline has a 4-Way trailer connector, is the Master Lock Wireless Backup Camera and Hitch Alignment System, # 4843DAT. This unit simply plugs into the 4-Way connector. The camera and transmitter with magnetic base can be mounted to a metal service. The transmitter is built to withstand the elements so it can be left in the trailer hitch, on the back of the tailgate, or anywhere you have it mounted. I have included a video demonstration of this camera below.
expert reply by: Michael H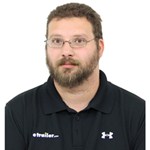 Have a question for the experts? click here.
Products Referenced in This Question
Master Lock Wireless Backup Camera and Hitch Alignment System





45 reviews
Retail: $263.74
Price: $172.95

Product Summary:
Back-Up Camera

Product Specs:
3-1/2 Inch Color Screen

more information
Video/Article/FAQ this Question was Asked From
Article or Video