Weight Distribution with Sway Control for a Trailer with 800 Pounds of Tongue Weight
Question:
if i need a 800lb weight dis. hitch and i buy a 1000lb one, how does this affect me?
asked by: David
Expert Reply:
You will need to choose a weight distribution system based on the tongue weight and gross weight of the trailer you plan to tow. If your tongue weight is 800 pounds, you will want a system that has a tongue weight capacity that can handle at least 800 pounds. If you choose a system that is too heavy for your needs, at the worst you will experience a stiff ride while towing. A higher capacity system would work, just do not go to a system that is too low.

I would look at systems that have a capacity range between 600 and 1,200 pounds. That way, your tongue weight is right in the middle of that range and that is where you want to be. In the 600 to 1,200 pound category we have systems that can handle 10,000 to 12,000 pounds of gross trailer weight.

I recommend the Reese Round Bar Strait-Line Hitch with Shank, # 66088. This system has a tongue weight capacity of 600 to 1,200 pounds and a gross trailer weight capacity of 12,000 pounds. It comes with built-in, dual-cam sway control that stops trailer sway before it starts. It comes with a shank so you would only need to add a ball like # A-90 (2 inch diameter) or # 19286 (2-5/16 inch diameter).

I have included a link to an FAQ article on weight distribution and sway control below that has a lot of useful information.
expert reply by: Michael H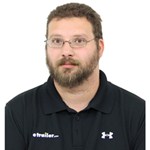 Have a question for the experts? click here.
Products Referenced in This Question
Hitch Ball with 2-5/16" Diameter and Medium Shank, 12,000 lbs GTW - Chrome





46 reviews
Retail: $17.13
Price: $12.49

Product Summary:
Hitch Ball
Standard Ball
12000 lbs GTW
Class IV
Chrome

Product Specs:
2-3/4 Inch Shank Length
2-5/16 Inch Diameter Ball
1-1/4 Inch Diameter Shank

more information
Hitch Ball with 2" Diameter and Medium Shank, 10,000 lbs GTW - Chrome





54 reviews
Retail: $18.20
Price: $10.92

Product Summary:
Hitch Ball
Standard Ball
10000 lbs GTW
Class IV
Chrome

Product Specs:
2-5/8 Inch Shank Length
2 Inch Diameter Ball
1-1/4 Inch Diameter Shank

more information
Strait-Line Weight Distribution System w Sway Control - Round Bar - 12,000 lbs GTW, 1,200 lbs TW





3 reviews
Retail: $929.22
Price: $574.95

Product Summary:
WD With Sway Control
Electric Brake Compatible
700 lbs
800 lbs
900 lbs
1000 lbs
1100 lbs
Dual Cam
Round Bars

Product Specs:
Fits 2 Inch Hitch
Includes Shank
Up to 12000 lbs GTW

more information
Product Page this Question was Asked From





7 reviews
Retail: $204.73
Price: $128.95

Product Summary:
Sway Control Only
Electric Brake Compatible
Bar-Style Friction

Product Specs:
Shank Not Included

more information
More Answers about Weight Distribution