Weight Distribution with Sway Control for a 2005 GMC Envoy Towing a Double Axle Cargo Trailer
Question:
I am purchasing a 7 by 14 double axle trailer to haul motorcycles and camping stull long distance the top of reciever on my 05 envoy and the trailer are both 18 inches so will this work since the rise on the shank is 6 inches? Tongue weight is 140 lbs, will be towing 5000 lbs so would apriciate advce on which weight distribution with sway control would be best and want shank would work since tongue height is same as hitch hieght. Thank you
asked by: richard b
Expert Reply:
For your 2005 GMC Envoy and new trailer, the High Performance Reese SC Weight Distribution System with Shank, # RP66151, is a good choice if you can keep the tongue weight under 600 pounds with the trailer fully loaded and ready to tow. Since you are looking at towing around 5,000 pounds, you will probably want to go with a higher capacity system.

I recommend going with High Performance Reese SC Weight Distribution System with Shank, # RP66153. This system has a tongue weight capacity of 400 to 800 pounds. When your trailer is fully loaded at 5,000 pounds, its tongue weight will be in the middle of that 400 to 800 range. I have included a link to the installation details below.

Since this system comes with a shank, you will just need a ball. Use hitch ball # A-90 (2 inch diameter) or # 19286 (2-5/16 inch diameter).

With the trailer loaded, it will put downward pressure on the tongue and the trailer will want to dip, so the shank that comes with it (1-1/4 inch drop or 6 inch rise) should be sufficient to compensate, even if the height of each receiver is equal. I have included a link to an FAQ article on weight distribution below.
expert reply by: Michael H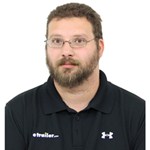 Have a question for the experts? click here.
Products Referenced in This Question
Hitch Ball with 2-5/16" Diameter and Medium Shank, 12,000 lbs GTW - Chrome





51 reviews
Retail: $17.13
Price: $12.49
Product Summary:
Hitch Ball
Standard Ball
12000 lbs GTW
Class IV
Chrome

Product Specs:
2-3/4 Inch Shank Length
2-5/16 Inch Diameter Ball
1-1/4 Inch Diameter Shank

more information
Hitch Ball with 2" Diameter and Medium Shank, 10,000 lbs GTW - Chrome





69 reviews
Retail: $18.20
Price: $10.92
Product Summary:
Hitch Ball
Standard Ball
10000 lbs GTW
Class IV
Chrome

Product Specs:
2-5/8 Inch Shank Length
2 Inch Diameter Ball
1-1/4 Inch Diameter Shank

more information
Reese SC Weight Distribution System w Sway Control - Trunnion - 10,000 lbs GTW, 800 lbs TW





3 reviews
Retail: $912.11
Price: $514.95
Product Summary:
WD With Sway Control
Electric Brake Compatible
Surge Brake Compatible
500 lbs
600 lbs
700 lbs
2-Point Friction
Trunnion-Style Bars

Product Specs:
Fits 2 Inch Hitch
Includes Shank
Up to 10000 lbs GTW

more information
Product Page this Question was Asked From
Reese SC Weight Distribution System w Sway Control - Trunnion - 10,000 lbs GTW, 600 lbs TW





4 reviews
Retail: $912.11
Price: $515.95
Product Summary:
WD With Sway Control
Electric Brake Compatible
Surge Brake Compatible
300 lbs
400 lbs
500 lbs
2-Point Friction
Trunnion-Style Bars

Product Specs:
Fits 2 Inch Hitch
Includes Shank
Up to 10000 lbs GTW

more information
More Answers about Weight Distribution