Anchoring E-Track to 3/8 Inch Plywood Side Walls of an Enclosed Cargo Trailer
Question:
What is the best method of anchoring the 5 ft. sections of E-Track to the sides of an enclosed cargo trailer with 3/8 thick plywood sides? Since there is less that 1 space between the back of the plywood and the outside skin of the trailer it appears any screw would have to be 1 or less in length. Would a 1/4 X 1 wood screw have sufficient holding power in plywood and what spacing should be used for the screws in the E-Track? Also, shouldnt the plywood sides be additionally anchored into the vertical steel frame supports of the trailer to keep the plywood from pulling loose? I have four anchor rings in the floor that are welded to the frame of the trailer, so the E-Track will be used mostly to strap items to the sides to keep them from shifting from side to side.
asked by: Tom C
Expert Reply:
Anchoring the E-Track Trailer Cargo Control, item # EM59150, is situational so there are no manufacturer recommendations. For your situation I would recommend securing the plywood to the trailer frame in as many points as possible. Before adding extra fasteners to secure the plywood I would remove the plywood from the areas that I plan on installing the E-Track and reinforce the back of the plywood with a mounting plate designed to work with the E-Track.

If you take the time to make reinforcement plates in advance you can install the reinforcement plate with anchor bolts protruding from the plywood into the interior of the trailer. I would use 3/16 inch plate for the reinforcement. This way you can just slide the E-Track over the bolts and bolt down the E-Track. I would build the reinforcement with bolts in position to mount in every third hole of the E-Track. This should supply plenty of strength for tying down cargo along the walls of your trailer.

With this installation you can use longer bolts and then use a cut off tool like a Dremel to shorten the bolts if needed, and you would not have to worry about the length of screws and piercing the side of the trailer.
expert reply by: Bob G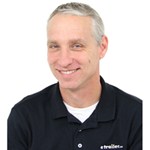 Have a question for the experts? click here.
Product Page this Question was Asked From
E-Track Trailer Cargo Control - 2' Horizontal





22 reviews
Price: $8.99
More Answers about Trailer Cargo Control