Top 20 Most Popular 2012 GMC Sierra Truck Bed Accessorieschange vehicle
2012 GMC Sierra Videos
Stromberg Carlson Tailgate Installation - 2012 GMC Sierra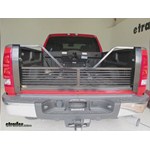 Today on our 2012 GMC Sierra, we'll be test fitting the Stromberg Carlson 100 Series 5th-Wheel Tailgate with open design part #VGM-07-100. This tailgate features an open design that improves your field of vision while driving and is custom fit to your vehicle. The cutout allows for easy towing of 5th-wheel and gooseneck trailers, and its aerodynamic design reduces drag. To begin our installation, we'll need to remove the factory tailgate. This truck is equipped with a backup camera. After the installation of the Stromberg Carlson tailgate, the factory backup camera will no longer be operational.
Husky Liners Tailgate Installation - 2012 GMC Sierra
Today, on our 2012 GMC Sierra, well be test-fitting the Husky Liners Premium 5th Wheel Louvered Tailgate with Locking Handle, part #HL15240. This custom-fit tailgate features a convenient cutout for towing your fifth-wheel or gooseneck trailer. Its lightweight construction and louvered design help boost your vehicles gas mileage. The factory hinge and latch points make it easier to install. To begin, well need to remove our factory tailgate. Underneath the truck here, right behind the rear license plate is the plug in for the rear backup camera.
Do you have a question?

Have a question about the best truck bed accessories for your 2012 GMC Sierra? click here.