All Other Bike Racks
What our customers are saying:
Great service! From selection of a bike rack in catalog on a Monday morning at 10:04, confirmation received at 10:19am, notice to ship at 11:28am, notice did ship at 6:13pm, all on same day. Pittsburgh, PA delivery on morning of Wednesday, same week, in good condition.
Ralph
Pittsburgh, PA
Thule Helium Aero Hitch Bike Rack Review - 2013 Jeep Wrangler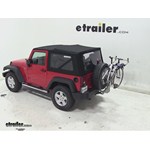 Today on our 2013 Jeep Wrangler we will be test fitting the Thule Helium Aero Hitch Minor 2 Bike Rack, part number TH9042. We will begin our test fit by sliding the shank of the bike rack in to the opening of the hitch. We will allow the integrated hinge pin to fall in to place and we will then turn the black hand knob to engage the anti rattle device. With the bike rack secured we will go over a few clearance measurements to see how they fit together. We have about 24 inches of ground clearance at the rear of the bike rack. Closet part of the bike rack to the closet part of the vehicle is about a quarter of an inch away here at the spare tire.