Hopkins Wiring - HMC20031
Quick Fix 4-Pole Flat Trailer End Only
Replaces damaged 4-wire flat
No external splices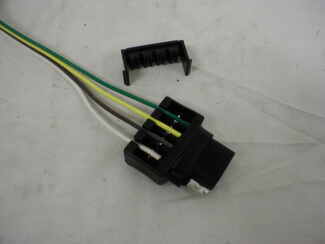 Picture of the Vehicle End.
Easy to use:
Remove damaged 4-wire flat (if necessary)
Insert wires into Quick-Fix 4-wire flat
Press on cap
Connect vehicle to trailer and go!
NOTE:
Ground (gd) is the white wire. Tail/marker lights (TM) is the brown wire. Left turn (LT) is the yellow wire. Right turn (RT) is the green wire.