Yakima Roof Cargo Carrier - Y07197
92" x 36" x 16". This aerodynamic cargo box is filled with features you will love, including a lid that opens from both sides and a latch security system that is second to none. Included cargo pad and net protect and manage your gear.
Features:
Ergonomic, reinforced lid with dual-side-opening capability

Provides easy access to your gear from either side of your vehicle
Opens effortlessly on spring-loaded hinges
3 Times stiffer than other Yakima roof-mounted boxes (EndoSkel technology)

Lessens vibration during transport
Promotes easy, one-handed operation

Offers easy-to-grab lid edge (Easy-Edge) for better grip in wet and cold conditions

Maximum safety for your cargo with SuperLatch security

Ensures that your cargo-carrier lid is latched and locked - key cannot be removed unless lid is closed properly
Includes 2 Same Key System (SKS) locks and 2 keys

Secures gear in box and locks box to roof-rack crossbars
SKS cores can be changed out to make all your Yakima locks keyed alike

Sleek, aerodynamic styling

Low-profile box shape reduces drag and cuts wind noise
Flat base allows for easy on-car adjustments
Undercut tail design permits generous hatch clearance

Adjustable clamps allow effortless installation - no assembly required

Slide forward and backward to accommodate your roof-rack configuration
Tighten around roof-rack crossbars with cam-action levers

Integrated track system for mounting and securing gear inside box

Comes with cargo pad and net

Durable ABS plastic construction with anti-scratch, automotive-grade, high-gloss black finish
Specs:
Capacity: 18 cu ft of storage

Holds up to 6 pairs of skis or 8 snowboards

Application: mounts on round, square and most factory crossbars

Fits crossbar spreads between 24" and 42"

Dimensions (outside): 92" long x 36" wide x 16" tall
Weight: 52 lbs
Lifetime warranty
This SkyBox Pro 18 from Yakima is so loaded with features, it's hard to imagine that there would be any room left over to hold your gear. In fact, it has 18 cubic feet of storage space. Couple that with all the great features and you have yourself a knockout storage system for the top of your vehicle.
The SkyBox features aerodynamic styling, engineered to reduce drag and wind noise, so it rides quietly and never becomes a distraction. The box has a flat base for easy on-car adjustment and an undercut tail that provides generous clearance for your hatchback.
The lid is where you'll find the majority of the SkyBox's features, including its ability to open from both sides. No matter where your box is mounted on the roof, the dual-sided opening allows easy access. And the lid sits on spring-loaded hinges, so opening it will never be a problem.
The lid is made three times stiffer than other Yakima cargo boxes, a feature that helps to reduce vibration associated with the road and that also makes it easier to open and close the box. Yakima's Easy-Edge on the lid provides a good handhold in wet and cold conditions.
SkyBox Pro boasts a top-of-the-line SuperLatch system on both sides of the hull. The latch system ensures that the lid is securely anchored to the base and that it seals tightly to keep the elements from infiltrating the box. Both security latches include Same Key System (SKS) locks, which can be switched out so that all your Yakima locks are keyed alike. The key cannot be removed from the lock unless all three interior latches are secured, preventing you from driving off with an open box. Turning the key does not open the box. To open the box, you must turn the latch.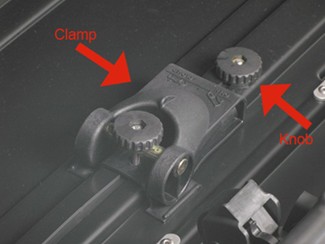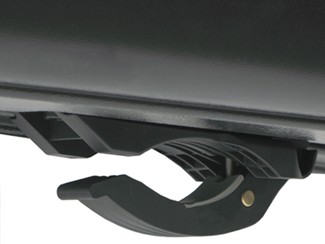 SkyBox Pro comes ready to go right out of the box, with no assembly required. The box clamps to your round, square or factory crossbars with integrated clamps that adjust and tighten with cam-action levers mounted inside the box. The clamps slide along tracks to adjust to your roof-rack configuration, and hand knobs operate the tightening action of the levers.
Also inside the box is an integrated track system for mounting your gear. This is especially handy with the SkyBox Pro because it comes with a cargo box pad and net. The pad installs on the floor of the box to cushion your gear, and the net anchors to the integrated rails to hold your cargo in place during transport.
SkyBox Pro has a premium, scratch-resistant, high-gloss black finish that keeps it looking great for years, and its durable ABS plastic construction prevents the box from warping, denting or cracking.
8007197 Yakima Sky Box Pro 18 - Onyx
Customers compare Y07197 to these similar products
Ask the Experts about this Yakima Roof Cargo Carrier



Do you have a question about this Roof Cargo Carrier?