Thule Accessories and Parts - TH588
No more having to keep track of multiple keys. Replace the lock cores on your Thule products with these keyed-alike cylinders so that all of your racks and accessories can be locked and unlocked with a single key.
Features:
8 Keyed-alike lock cylinders work with Thule racks, accessories and roof-rack feet

Add locks to your rack or carrier
Change out the cores on multiple accessories to make them all keyed alike

Included keys unlock all 8 cylinders
Universal control key lets you remove pre-installed Thule lock cores
Thule's One-Key System makes it easy to secure all of your Thule accessories with just one key. This kit includes eight keyed-alike lock cylinders that are designed to either mount in the empty lock core sockets of your Thule rack or replace your rack's existing cores.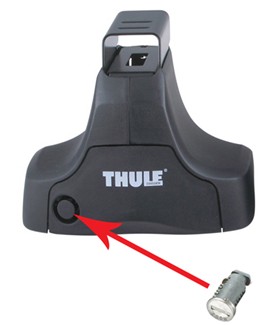 Thule foot packs for roof-rack systems come ready to accept One-Key System (OKS) cylinders. Each base has an area built in for mounting a lock core. Just install the core in the foot and pop out the plastic lock plug on the removable handle assembly.
Many Thule accessories come standard with locks. If you have a Thule ski carrier, for example, you must remove the existing lock cores so that you can install the new OKS cylinders to make all your Thule accessories keyed alike. To do this, unlock the cylinders on your rack. Then insert the universal control key included with the OKS cylinders into each unlocked core to remove it. You may have to wiggle the key a bit to work the core loose. Once the existing cores have been removed, pop in the new OKS ones and you're good to go.
If you have a new Thule accessory that you would like to have keyed to match your other Thule products and you would rather not switch out all your lock cores, then you can add a replacement lock cylinder (THLOCK - sold separately) instead. The replacement cylinder will be designed to accept the same key as your existing Thule products. Just provide the number that is imprinted on your existing cores when you purchase the replacement core, and Thule will make a cylinder to match.
588 Thule One Key System Lock Cores with Keys - 8 Pack
Customers compare TH588 to these similar products
Customers who look at this part also view
Customers Who Purchased This Accessories and Parts Also Bought...
Customer Reviews
Thule One-Key System Lock Cylinders - Qty 8 - TH588
Average Customer Rating:





5.0 out of 5 stars (2 Customer Reviews)
- TH588





by: Jason S.12/18/2012
Is this review helpful?
So glad I purchased 8 of these locks. I used four for my load bars to lock them to my rook and two right away for my peloton bike racks. I plan to purchase additional bike racks, so I have two additonal locks when that happens. They slip in easily and come in a great Thule Tin Case - nice touch Thule!61760
- TH588





by: Military - Cajun12/06/2012
Is this review helpful?
Great replacement set of locks so I don't have 4 different keys. I also came with a change key to remove the cores. 60806
Ask the Experts about this Thule Accessories and Parts


Do you have a question about this Accessories and Parts?