Thule Watersport Carriers - TH554XT
Simplicity is your thing, and that's why you use Thule's Hang Two surf carrier. With four oversize cradles and straps that wrap around the edges of your board, the Hang Two carrier secures your boards during transit without a lot of fuss.
Features:

Maximum board protection and lateral stability with soft, oversized cradle
Strong, easy to use straps provide board protection and transport stability
Universal mounting hardware for easy transfer of system from vehicle to vehicle

Mounting brackets clamp to existing load bars and roof racks
Specs:

Requires 24" bar spread for proper mounting
Holds up to 2 surfboards
Fits Thule standard, Rapid Aero, AeroBlade and Xsporter load bars; Yakima bars; and most factory installed luggage racks
This is an excellent solution for taking your surfboards with you wherever you go. Great for summer vacations and weekly trips to the beach, the Hang Two offers maximum mounting versatility, board protection, and stability.
Thule Hang2 Surfboard Carrier - Rooftop Mounting System
Customers compare TH554XT to these similar products
Customers Who Purchased This Watersport Carriers Also Bought...
Replacement parts available for this product
Customer Reviews
Thule Hang Two Surf Carrier - Rooftop Surfboard Carrier - TH554XT
Average Customer Rating:





5.0 out of 5 stars (2 Customer Reviews)
- TH554XT





by: Mark J08/12/2011
Is this review helpful?
Great product. Great website. Love e-t railer!!!!21721
- TH554XT





by: Jennifer Y.07/14/2011
Is this review helpful?
The photos attached show a set of Thule crossbars with a Thule surfboard rack mounted onto a 2008 Nissan Pathfinder!! 19414
Click to Enlarge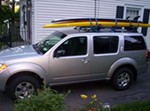 Click to Enlarge
Ask the Experts about this Thule Watersport Carriers


Do you have a question about this Watersport Carriers?