Reese Fifth Wheel King Pin - RP61421
This premium fifth-wheel pin box coupler replaces your trailer's king pin for worry-free turning with short-bed pickups. Now you can make up to 90-degree turns without having to exit the truck, throw a switch or push a button.
Features:
5th-Wheel trailer's pivot point is moved an extra 22" toward the rear of your tow vehicle so that you can easily make 90-degree turns, even with a short-bed pickup truck

No need to get out of your truck, throw a switch, push a button or mount a 5th-wheel slider
Trailer tracks more closely to the truck for better driveability

Sidewinder-and-turret assembly bolts onto your 5th-wheel trailer pin box
King pin connects to standard 5th-wheel trailer hitch and allows easy hookup and disconnect at any angle
Included locking wedge prevents king pin from rotating

Some 5th-wheel hitches may require custom wedge (sold separately)

1-Piece, streamlined construction
C-Channel design of the Sidewinder provides more stability and strength than standard pin box

Able to support heavier loads

Made in USA
Specs:
Designed for use with the following pin boxes:

Fabex 663 and 665
Lippert 0719, 1621 and 1621HD
M&M 663 and 665

Weight capacity: 19,000 lbs
Clearance: see formula below to ensure proper clearance
3-Year limited warranty
Clearance Formula
Use the formula below to ensure that there will be enough space between your truck cab and trailer when you are executing a 90-degree turn with the Sidewinder installed.
(A + B) - C = Clearance
A = Distance from center of 5th-wheel hitch jaw to truck cab in inches
B = Length of Sidewinder arm in inches (22")
C = Width of trailer in inches divided by 2
For example:
If you are using the 16,000-lb Sidewinder, then B = 22"
If the distance from the center of your hitch to your truck's cab is 36", then A = 36"
And if your fifth-wheel trailer is 102" wide, then C = 51"
102/2 = 51
Therefore,
(36 + 22) - 51 = 7" of clearance
The Sidewinder
The pivot point sits 22" behind the king pin.
The rotating turret attaches to the pin box on your trailer to provide the new pivot point.
The reversible, adjustable king pin locking wedge (not pictured) prevents pivot at the 5th-wheel hitch.
The king pin connects to the 5th-wheel trailer hitch in your truck bed.
The arm is rated at 19,000 lbs.
Up to 90-Degree Turning
It is now possible to turn your short-bed truck 90 degrees without having to worry that your trailer will collide with the cab of your truck. The universal king pin locking wedge included with this Sidewinder prevents your trailer from turning or pivoting at the fifth-wheel hitch. Instead, the rotating turret at the end of the Sidewinder allows turning and pivoting to take place an additional 22 inches away from the cab.
King Pin Locking Wedge Locations for Specific Hitches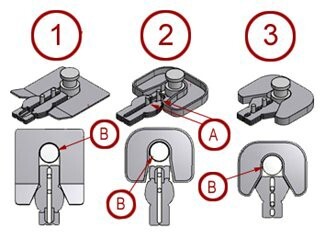 1. Draw-Tite, Hidden Hitch and Reese (15K, 16K and 20K Select Series); Husky; Owens; Valley; and similar units
2. Reese Signature Series, Elite Series and similar units
3. Holland and similar units
A. Bolt locations
B. King pin
Custom King Pin Locking Wedges: The included universal wedge prevents the king pin from rotating in most fifth-wheel trailer hitches. Certain hitches, however, require a custom wedge (sold separately).
Note: Do not use the Sidewinder with any of the following:
Curt Q-Series 5th-wheel trailer hitch
PullRite SuperGlide 5th-wheel trailer hitch
Reese Trail Boss 5th-wheel trailer hitch
B&W 5th-wheel trailer hitch
Colibert 208BW 5th-wheel trailer hitch
Blue Ox Hensley TrailerSaver TS3
Hi-Rise gooseneck-to-5th-wheel adapter by Draw-Tite, Hidden Hitch, Bulldog and Reese
Any other gooseneck-to-5th-wheel adapter
61421 (SW19K and 61300) Fifth Airborne Side Winder Fifth-Wheel Pin Box Coupler with Turret and Hardware
Replaces ST200-SW19K
Customers compare RP61421 to these similar products
Ask the Experts about this Reese Fifth Wheel King Pin


Do you have a question about this Fifth Wheel King Pin?


This Sidewinder Fifth Wheel King Pin with Rotating Turret by 5th Airborne, part # RP61421, will give you an additional 22 inches of clearance. This would be a great option for you. Your other option is to purchase a fifth wheel slider hitch, which will only give you at most an additional 5 inches of clearance. I would say you are better off with the Sidewinder. I have included a link to an FAQ on Sidewinders for you.
view full answer...