Edge Accessories and Parts - EP98602
One end of this starter kit cable connects to your Edge CS or CTS monitor. The other end can connect, daisy-chain style, to any variety of up to 8 accessories. Monitor temperature and pressure from any source. Install a turbo timer or EGT sensor.
Features:
Unique cable connects various accessories to your Edge CS or CTS monitor

Attach up to 8 accessories or as many as 16 sensors to monitor various parameters
Keep track of detailed data on your CS or CTS monitor

All Edge Accessory System (EAS) products require this cable
Endcap for cable system included
Made in USA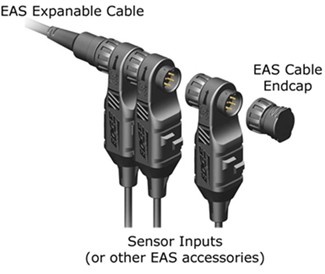 This cable provides the foundation for the Edge Accessory System. Simply plug one end into your CS or CTS monitor to relay data to your screen. The other end of the cable connects to an accessory or sensor input. Multiple devices can be connected in daisy-chain fashion so that you only need one cable for up to eight different accessories or inputs.
98602 Edge Accessory System Starter Kit Cable
Customers compare EP98602 to these similar products
Customers who look at this part also view
Ask the Experts about this Edge Accessories and Parts



Do you have a question about this Accessories and Parts?