Classic Accessories Covers - CA62005
Be prepared to protect your 3- or 4-wheel mobility scooter from sudden downpours with this water-resistant fabric cover. The included storage pack mounts to your steering column with adjustable straps so the cover is always within reach.
Features:
Heavy-duty, water-resistant polyester fabric protects the handles and seat of your mobility scooter from the elements

Keeps your scooter clean and dry when you leave it parked to run errands
Safeguards scooter against mud, dirt and debris to keep it looking new

Included fanny pack conveniently stores cover on steering column for quick retrieval

Quickly and securely mounts to front of steering column with adjustable tie-down straps and side-release buckles

Elastic bottom hem provides snug fit around scooter
Easy cleanup - just wipe down fabric with a damp cloth
Pearl gray shade looks good on any scooter
Specs:
Fits: 3- or 4-wheel mobility scooters

Maximum length from steering column to seatback: 46"
Maximum seat height: 20"

Storage pack dimensions: 8" long x 5" wide x 4" deep
Strap length: 35"
1-Year warranty
Don't let it rain on your parade. Use this Zippidy dash and seat cover by Classic Accessories to keep your scooter dry during sudden downpours. It's easy: Stuff the cover into the included fanny pack and mount the pack to your steering column so it is out of the way. When the first drops of rain hit, unzip the storage pack and drape the water-resistant cover over your scooter. Voilá! You can leave your scooter in the rain and run your errands without coming back to a wet seat.
The elastic bottom hem lets you quickly and easily pull the cover over your scooter and provides a snug fit on windy days.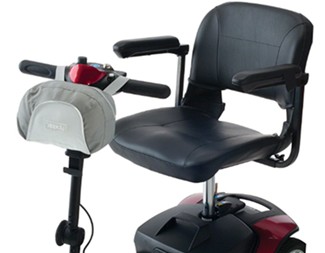 Adjustable straps and quick-release buckles on the included storage pack allow you to stow the cover on your scooter's handlebars. The straps tighten around your steering column to ensure that the pack will not fall off and under your scooter when it's in motion. And the quick-release buckles make for fast, easy installation and removal.
6200501100100 Classic Accessories Zippidy Quick-Fit Dash and Seat Cover for Three Wheel or Four Wheel Mobility Scooter - Pearl Grey