Redline Trailer Suspension - 28-1
Front hanger works with trailer suspension systems that have 2" slipper springs.
Features:
Configured as front hanger
Provides attachment point for leaf spring

Hanger suspends spring from trailer frame

Designed for trailers with 3,500-lb to 9,000-lb axles
Fits 2" wide slipper springs
Works with 9/16" diameter bolt (sold separately)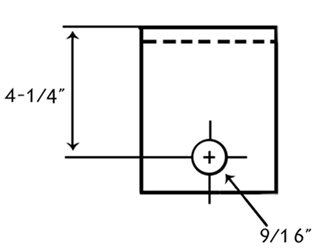 28-1 Front Hanger for 2" Slipper Springs - 4-1/4" Tall - 9/16" Bolt Hole
Customers compare 28-1 to these similar products
Customers Who Purchased This Trailer Suspension Also Bought...
Customer Reviews
Front Hanger for 2 - 28-1
Average Customer Rating:





5.0 out of 5 stars (3 Customer Reviews)
- 28-1





by: Jerry Z10/15/2012
Is this review helpful?
The order was shipped exactly as odered and in less than 7 days. The product was of high quality and exactly as expected57329
- 28-1





by: Charles B.08/03/2012
Is this review helpful?
good price, excellent product description, fair shipping cost and speedy delivery. will do business again. thanks!50422
- 28-1





by: Dewey J.06/08/2012
Is this review helpful?
Product is excellent quality with good price. It will serve my application very well with only a slight modification. Only disapoint-ment was that when I called to obtain the thickness dimension, I was advised that he didn't have it available and wouldn't speculate on it. I ordered the item assuming it was at least 1/4" thick and it is.43285
Ask the Experts about this Redline Trailer Suspension


Do you have a question about this Trailer Suspension?


Assuming your trailer suspension is in good condition and you have a 3 inch round axle you could use the Dexter Trailer Springs Over-Under Conversion Kit, part # K71-385-00. This kit will move your trailer axle from the bottom of your axle to the top of your axle and give you an additional 3 inches of height, without having to weld new spring seats to your axle. If you do not have a 3 inch round axle, you would need to buy 2 new spring seats, 4 U-bolts, 8 nuts and 2 U-Bolt plates, depending o
view full answer...