1997 Suzuki Swift Roof Rack by Thule
Roof Rack Includes:
Thule AeroBlade Load Bars - Aluminum - 43" - Qty 2
Thule Rapid Aero Roof Mounted Foot Pack (Qty 4)
Thule Roof Rack Fit Kit for Aero and Rapid Aero Foot Packs, # 2017


Part Numbers: THARB43, TH400XTR, THKIT2017
Retail:$449.85
Price:$440.85
Shipping Special
Thule AeroBlade Load Bars - Aluminum - 43" - Qty 2

part number:
THARB43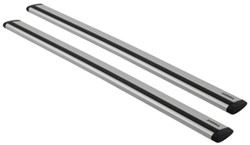 Attach these premium, aluminum bars to Thule roof-rack feet to create a sturdy, stylish, roof-mounted rack that is supremely quiet and aerodynamic. Pivoting endcaps let you easily slide on T-slot-mounted accessories.
Features:
AeroBlade design produces one of the quietest roof racks on the market
Load bars work with Thule Rapid foot packs to create a roof rack for mounting various accessories

Mount a cargo carrier, bike rack, kayak saddles, ski carrier and more

Unique, Kammback-like shape creates a supremely aerodynamic system with minimal drag
Integrated T-slots make it easy to slide T-track-mounted accessories onto the bars

SwingBlade endcaps pivot open to allow full access to T-slots for quick, simple mounting
Clamp-on accessories conveniently wrap around bars

Rubber stripping inside T-slots keeps out dirt and grime while also providing cushion for cargo

Textured surface disturbs airflow to dramatically reduce wind noise

Crossbar length can accommodate the following, depending on the types of carriers and accessories used:

1 - 4 Bikes
1 - 2 Kayaks
1 - 8 Pairs of skis
2 - 4 Surfboards
1 Cargo box (with enough room to fit 1 bike beside it)

Lightweight aluminum construction is durable and rust resistant and takes up only a fraction of your weight limit

BoxBeam extrusion process provides exceptional strength

Slight bow in center of each bar helps to ensure a sturdy, custom-fit rack
SmartSlide molded measuring strip eases installation and lines slots beneath each bar to further improve aerodynamics
Specs:
Dimensions: 43" long x 3-1/8" wide
Fits the following Thule foot packs:

Rapid Aero Crossroad (TH450R)
Rapid Aero (TH400XTR)
Rapid Tracker (TH430R)
Rapid Traverse (TH480R)
Rapid Podium (TH460R)

Weight: 5-1/4 lbs
Weight capacity: 165 lbs per pair
Quantity: 2 crossbars
Lifetime warranty
Shhhhhhhhhhh...
Thule's AeroBlade bars are designed to be among the quietest, strongest, most aerodynamic load bars on the road. The low-profile, arced shape of the bars couples with the unique WindDiffuser stripping to produce a bar that is so quiet you'll forget you even have a rack on your car. Many factory and aftermarket roof racks produce an annoying whistle that can only be quelled by adding a fairing to your system. Not only is a fairing unnecessary with the AeroBlade, but adding one would actually make it louder and less aerodynamic.
WindDiffuser Technology
A built-in T-track sits along the top of each bar, near the front. When no accessories are mounted, the included WindDiffuser rubber stripping covers the slot. (You can also cut the stripping so that it can be placed in the slot around any carriers or accessories that are mounted.) The rubber strip serves to keep dirt and grime out of the T-slot and provides a little scratch-resistant cushion for any mounted items.
The unique aspect of the WindDiffuser, which comes standard with the AeroBlade, is the ribbing. This textured surface disturbs the air flowing over the bar, tripping it to create turbulence. The result is less wind noise, little or no annoying whistle, and a more aerodynamic rack. In fact, the AeroBlade has been shown to produce 90 percent less sound energy than the elliptical Thule Aero bars, making them the quietest load bars in the industry.
Aerodynamic Design
Thule took a note from the manufacturers of high-performance cars, such as Ferrari and Maserati, and designed the AeroBlade with a Kammback (or Kamm-tail) style. This crossbar does not have a full-length teardrop-type tail; rather, it is cut off, leaving a square end at the rear of the bar. The aerodynamic effect is essentially the same as it would be if the bar continued into a full teardrop shape. Air continues to move over it in a streamlined fashion, flowing along the bar as it would if the tail were complete. Because there is no tail, though, the bar is smaller and weighs less.
Strong, Durable Construction
The Thule AeroBlade load bars are constructed of extruded aluminum to ensure an extra-sturdy roof-rack system. During the extrusion process, metal is shaped to form a complex design on the interior of each bar, as seen in the cross section of the AeroBlade. Each fold adds to the overall strength and rigidity of the bar. This process creates crossbars that are primarily hollow but still reinforced for added strength. The result is a bar that can withstand more than 800 pounds of force, yet weighs so little that it takes up only a slight portion of your load capacity.
Installation of Thule AeroBlade Crossbars
To install your crossbars, use the included SmartSlide measurement system. This molded material lines the bottom slots of each bar and is scored and numbered to directly correspond with the instructions included in your custom mounting kit. By covering the bottom slots, around the feet, the SmartSlide manages to further reduce noise and eliminate whistlingas well.
SwingBlade Endcaps
Mounting accessories on your roof-rack crossbars has never been easier. With the AeroBlade you can slide accessories into the T-slots without having to wrestle off an endcap. Just pop the SwingBlade up and swing it out for instant access to the top slot.
ARB43 Thule Aero Blade Aluminum Cross Bars - 43" Long
Thule Rapid Aero Roof Mounted Foot Pack (Qty 4)

part number:
TH400XTR
Get the perfect roof mount for hard-to-fit aero roof vehicles. These great looking steel adapters are long lasting and corrosion resistant.
Features:

Easy tool-free installation
Wide foot pads distrubute the load evenly for maximum stability
Long lasting, corrosion-resistant galvanized stamped steel construction
Thule Rapid Aero or AeroBlade aluminum load bars (sold separately) required
Thule vehicle-specific fit kit (sold separately) required
Optional One Key System locks available to secure Aero feet to your vehicle

Requires 4 lock cylinders

Quantity: 4 Feet
Thule Roof Rack Fit Kit for Aero and Rapid Aero Foot Packs, # 2017

part number:
THKIT2017
These kits fit specific vehicle's gutterless roof rack bases. This adapter reinforces the weight distribution of the Aero Foot Pack to stabilize your cargo while securing the foot to the vehicle's upper door sill. This kit is easy to install.
Features:
Custom designed pads and brackets follow the contours of your vehicle's roof profile

Designed for use with Thule's 400XT and 400XTR foot packs

Simple to install - no need to drill
Easily removable when not in use
PEBAX coated brackets
Thermoplastic footpads provide a firm hold and prevent damage to your vehicle's finish
Specs:
Set of 4 brackets and footpads
KIT2017 Thule Fit Kit for Gutterless Cars - Aero Foot Pack
Ask the Experts about this Roof Rack

Thule Carriers
Fit to this rack on your Suzuki Swift, 1997
THARB43
Info for these parts were:
At etrailer.com we provide the best information available about the products we sell. We take the quality of our information seriously so that you can get the right part the first time.
Customer Reviews
Thule AeroBlade Load Bars - Aluminum - 43" - Qty 2 - THARB43
Average Customer Rating:





4.9 out of 5 stars (58 Customer Reviews)
Attach these premium, aluminum bars to Thule roof-rack feet to create a sturdy, stylish, roof-mounted rack that is supremely quiet and aerodynamic. Pivoting endcaps let you easily slide on T-slot-mounted accessories.
Reviews for other AeroBlade Load Bars :
- THARB53





by: Jason S.12/18/2012
Follow correct assembly and you will have no issues! Unfortunately, that was not me and I learned by trial. Was it all my fault? Well some of it was, but the instructions at times were not as clear. For example, it was unclear where to measure 10 inches back (side or center) from my windshield as to how far the bars should sit. At first I measure from the center, but that was clearly incorrect as I reviewed videos on line of the bars being measured from the side. Then I heard howling and whistling and thought, hmmm, maybe I should install the rubber into the top and underside, even in the sliders -that did the trick! The instructions were not clear that I had to do that either. So, live and learn. Bottom line: if I went on-line and viewed videos of the installation first, I would have gotten it right the first time. I suggest you do! As per the quality of the item. It is truly top notch, light and sturdy and I am extremely pleased with my purchase! 61755
- THARB47





by: Roger M.07/09/2013
great quality and very stylish! really easy to install and love how Thule built in a measurement guide for the mounting feet. Thanks etrailer for great site and making it easy to find the right product for my car. love all the extras too, like videos, pictures, and documents to help with install! 88528
Comments
a year later and no complaints, great product!
Roger M. - 07/09/2014
5473
- tharb60





by: Kevin B - etrailer.com employee08/23/2013
The 60 inch Thule AeroBlades, or as I like to call them - The Adventure Makers - have been a great addition to my 2012 4Runner. My family enjoys outdoor activities such as biking, paddleboarding, kayaking, hiking and skiing. The longer bars let us take all the gear for our adventures. It also gets everything out of the car so we are not constantly climbing over and digging through stuff. Makes for a much easier drive. When the rack is not in use it is quiet, which is awesome, because car noise drives me crazy. I have tried round and square bars and could not handle the highway noise on long drives. Some people think the 60 inch bars are too much, but if we have to choose between biking and paddling, we choose both! The long bars makes it so I can take everything needed for proper adventure making fun. Happy family, happy me. 96583
- THARB60





by: Charlie08/21/2013
These aeroblade load bars are the first set of roof racks I've owned. I was worried about noise and gas mileage after reading other reviews but was surprised that they don't seem to make any noise at all and have not really affected my gas mileage. The silver and black of the bars and feet look good because my flex is black with a silver roof. The only thing to keep in mind when buying these, and I knew this ahead of time, is that the bars have an odd "tear drop" shape to make them aerodynamic which makes attaching other accessories difficult. My thule sidearm bike carrier fit on the bars but the clamps aren't able to "hug" the bars snuggly like you would like them to...but the carrier never moved once all the screws were tightened so its not a big deal. All-in-all I'm happy with the bars. 96148
- THARB47





by: Jim C.01/08/2012
Roof rack and bike fork mount carrier for BMW x3. Etrailer was exceptionally quick and accurate processing the order and keeping me informed of status. Web site was helpful ensuring I had the right parts for this car. Delivery better than expected--UPS also delivered to ensure product was not tampered with and so informed eTrailer who informed me. Very good keeping the customer informed. I've installed Thule and Yakima racks before on other vehicles. The secret is be patient and follow the instructions the best you can. The aero bars are superb. Definitely reduce wind noise. Otherwise, the installation was pretty straightforward. Looks good on the vehicle too. Quite plaseased so far with this purchase. Excellent price, customer service etc. Well done eTrailer. 29312
- THARB53





by: Alfredo C.07/27/2012
High quality of material and workmanship. Installed in less than 1 hr on my 2010 Volvo V70 XC with factory side rails. eTrailer proved to be a vendor I would not hesitate to recommend. I opted for free 5-7 day ground delivery ; however thew order was upgraded to 3-5 at no additional cost. 49562
- THARB53





by: Steve D05/22/2012
This is my first Thule roof rack. Very happy with the product, including ease of installation. The aeroblade bars are very quiet. I haven't noticed them yet. Also very happy with the overall shopping experience with etrailer.com. In addition to their prices being some of the lowest I could find for this product, the delivery of the product was very timely, and their communication via emails was outstanding. I will definitely be purchasing more products from etrailer.com 41363
- THARB53





by: Marco Delano12/22/2011
I Installed this on my 2009 GMC Sierra within 20-30 min tops. Lot's of you tube video's to walk you through it. The product can support my two 14' kayaks now on top of my truck. My bed is a 6'-1/2" bed, so they would have stuck out more then 7' out the back. Which these roof racks, it holds them secure in place. I ordered them from etrailer on the Tuesday before Christmas, and 2 days later they arrived in the mail UPS ! Great service, highly recommend them ! 28597
- THARB60





by: Curtis W.08/19/2013
Good product. It is functional, fairly easy to assemble (although the directions are crap. Pictures, no description), and it looks good. It came at a good price also. But what I really liked was the person I spoke to. I needed it quickly and was quite doubtful about their ability to deliver on time. Three days and it was on the porch. I appreciate a company that follows through on their committment. I'd buy from them again. 95770
- THARB53





by: Rob W.03/27/2012
Product arrived as specified. Manufacturer assembly instructions are not the easiest to follow. Used the rack this past weekend and everything worked excellent. These bars barely make any additional wind noise even at 70 mph. 35252
- THARB53





by: anthony c.09/24/2012
you guys shipped my order for the volvo crossbars in record time. I thank you for the quick turn around time. The rack is as great as your promo described it. I was able to install on my car in less than 30 mins without any tools except my hands. It is the first silent set of bars I have ever owned, and I have had many of them for different vehicles over the years. Thank you again for the quick TAT. A. 55640
- THARB53





by: H. Kim03/29/2012
Recently I bought Thule roofrack system through etrailer. Not only they have the best price on the market but also provide fast/free shipping. They also notified me the status of order.. Not just under the name of "customer service", I did get emails from each person handling the stuff at their specific process points - receiving order, shipping etc. Nice addition to good product. Very satisfied 35489
- THARB53





by: Andrew12/27/2011
Best bars on the market!! Easy to attached to the towers due to the engineered slot on the bottom of the bars. I did not see a drop in my MPG after installing the bars, city or highway. There is no wind noise up to 55-65mph and the some wind noise after that range, nothing major though. The only time that wind noise is really noticable is when it is really windy before driving. 28742
- THARB60





by: Toby G.11/01/2013
I did receive the racks last night and installed them this morning. They're great, can't hear them while on the highway. Thanks for sending all the right parts and quickly! 105964
- THARB60





by: Luis09/30/2013
I was a little skeptical of how quiet the other reviews were. But after installing these (which were very easy) I took a test ride at 65mph. and couldn't tell they were even up there. Great product. 101985
Comments
For the Ram 1500 aero bar roof rack installation, are instructions, dimensions the same for a 2014 Ram 1500 crew cab........ as the 2009?
comment by: Rb - 12/21/2013
2441
Yes, the span (distance between feet) and the spread (distance from center of bar to center of bar) measurements are the same for 2014 and 2009 Ram 1500 Quad and Crew cabs. They both use the same fit kit from Thule, part THKIT1520.

Patrick B - 12/26/2013
- THARB47





by: Jake A.06/19/2012
AeroBlade Crossbars and Rapid Aero feet were exactly as advertised and arrived in great condition. Install on my 2003 Jeep Grand Cherokee Laredo with factory roof rails was no problem at all... only took about 15 min. Service and email notifications from etrailer.com were excellent and have me convinced I'll purchase from here again. 44786
- THARB47





by: Ryan N11/17/2011
Sleek! I love the rubber inserts, as they provide enough anti-slip to let me secure my belongings without the need of a cradle-like add-on. The bars, empty, are noisier at 50mph than I had expected, though it's easy to get used to. I will make sure all seals are properly covered with the provided materials. 27088
- THARB47





by: mummummer12/11/2012
Great product. Quick shipping. Thanks, etrailer! 61215
Comments
Im a 60 yr old woman that just bought a 2014 Mini Cooper Countryman S. Will thiss: Thule AeroBlade Load Bars - Aluminum - 47 fit into the rails that came with the vehicle? Do you think the instructions are easy enough for me to attach the crossbars by myself?
comment by: Cindy in Northlake - 05/27/2014
4450
There are a couple Thule AeroBlade kits that will work for your Mini Countryman S. I have linked to all the options that we have below. If you're comfortable with hand tools, particularly Allen wrenches, you should be good to go on the install. Of course if you run into trouble, we'll be more than happy to help.

Patrick B - 5/30/2014
- THARB53





by: Bob T08/24/2012
This product seems to be a great improvement over the standard Thule load bars. They are much quieter and the aluminum won't rust over time. The only reason that they don't get five stars is that aligning them is a little difficult due to the feet hanging up in the tracks when positioning them. 52795
- THARB60





by: Brian03/05/2013
great quality. works and looks incredible. very little noise if any noticeable. instructions need to have some actual directions. not just pictures. measurements specific to my truck (2013 F-250) were (in my opinion) not correct in instructions for best fit and finish. 68858
- THARB53





by: Bill W08/03/2012
I bought a set of Thule Aero Blade cross bars and bases for my 2002 Toyota Avalon. All parts arrived in only 3 days! The installation was very detailed and the Fit-Kit for my car was perfect. No issues with the installation following the instructions with the Fit-Kit! 50462
- THARB47





by: Dave W07/09/2014
Excellent product best customer service I have ever dealt with. 140291
- THARB47





by: Edgar F.11/21/2011
2003 Honda Accord Thule Rack with Snowboard Attachment. 27241
- THARB47





by: Tiffany L.02/10/2012
This product was exactly as describe with free shipping, and it works great, very quiet. You just have to make sure the accessories you buy with it are compatible. It was also very easy to put together and install after watching an online video about it. 31409
- THARB53





by: Edwin M03/11/2014
I use this blade for my honda accord 2008 I must say it is a fantastic blade I have no Trouble the rubber part will be hard to put In I recommend spraying windex on the blade Then slide the rubber in the blade it be Easier to do that 120241
- THARB47





by: Bob08/09/2012
Thule makes good racks that is a known fact. This one is no different . What makes the difference is the great customer service,good price and lightning fast delivery from etrailer. The rack and bars install in 30 minutes and perform great. 51083
- THARB47





by: Larry11/29/2012
Very, very, very easy to assemble. It took me only 37 minutes (I timed it) to assemble everthing and attach it to the roof of my car. Fits like a glove and look fantastic. etrailer shipped everything very well with no damage. 60246
- THARB47





by: Harlan D.05/07/2014
The Thule AeroBlade Load Bars - Aluminum - 47", were an excellent fit for my 2013 JSW. They don't stay on all of the time, just when I need to move items that don't fit into the car. Service with e-trailer was fantastic. 129472
- THARB53





by: no name01/24/2013
Nice bars, strong and I like the rubber inserts on the top which will do well to keep things such as plywood or other such items from slipping. Currently have a Yakima ski rack attached and everything seems to work well. 64081
- THARB53





by: MikeL09/15/2012
Excellent engineering, installation was very straight-forward. Once installed, the aero design had very little wind noise. I used it to carry our camping gear as it allowed us to use our new car to go camping. 54814
- THARB60





by: Steve F06/19/2014
The Racks and accessories were delivered on time and everything was as expected. The compnay also followed up to ensure delivery and satisfaction. I would do business with them again and reccomend 136554
- THARB47





by: Dan E.05/14/2014
Very quiet. I lose less than 0.5mpg at 60mph with just the load bars and Thule Traverse feet. The silver color does make all of the bugs that you slaughter visible. 130561
- THARB53





by: Scott P05/31/2013
Perfect fit on my '08 Prius. Easy to attach to feet and look great on the car. Only have one bike mount so far but will see what else I can attach. Thank etrailer! 82685
- THARB47





by: TS06/17/2014
nice design...too bad it wouldn't work with my existing parts, but a return and replacement for the correct parts was very easy and painless. Thanks 136158
- THARB53





by: Rachel06/24/2014
Love the new rack! Was delivered quickly, was in perfect condition and easy to install. Can't wait to go on our first trip. 137393
- THARB53





by: Daniel B.04/29/2014
Very impressive, strong but lightweight. The bars will be able to carry our kayaks with no problem. 127887
- THARB53





by: Jeff W.01/03/2014
These are very sturdy cross bars. Nearly twice the diameter of my seven year old Thule aerobars. 111842
- THARB53





by: Kara smith12/27/2012
Customer service is on point. And product is pretty good too!;) so glad I order from etrailer.com 62019
- THARB53





by: Eric B.06/03/2012
Excellent service and product from first order to final assembly. Class act all around. 42554
- THARB53





by: Robert C12/11/2012
Arrived at my door in three days.Esy to put together. I recommend you order the locks. 61198
- THARB53





by: Jeremy12/18/2013
Look great and are super steady. Is not noisy. Easy to put new attachments onto. 110328
- THARB47





by: Steve B06/12/2012
Looks very good, will be used on my 2012 Juke , mainly for carrying Kayaks. 43844
- THARB47





by: Mike L.09/17/2013
The Thule AeroBlade Load Bars are lightweight but strong and look great! 100343
- THARB47





by: Curt B.12/05/2011
The right parts arrived super promptly. Great service, great parts. 27760
- THARB53





by: Ed Schulz05/24/2013
The product was delivered on time and is of the highest quality. 81887
- THARB47





by: Thule Aero bars08/16/2012
Super delivery. Super price. As usual, zero complaints. 51947
- THARB47





by: Tom04/23/2013
Very streamlined Aeroblades. No obvious wind noise. 77414
- THARB53





by: Matthew K04/16/2012
Easy install, great product! 1-10 We rate it a 9.5! 37332
- THARB53





by: Lou K05/19/2012
Easy fit for my FJ Cruiser and they look great. 41018
- THARB53





by: Brian Campbell04/01/2014
Easy to install and no noise so far (Prius V) 123350
Show More Reviews
58
58
Suzuki Swift Accessories