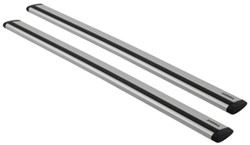 Attach these premium, aluminum bars to Thule roof-rack feet to create a sturdy, stylish, roof-mounted rack that is supremely quiet and aerodynamic. Pivoting endcaps let you easily slide on T-slot-mounted accessories.
Features:
AeroBlade design produces one of the quietest roof racks on the market
Load bars work with Thule Rapid foot packs to create a roof rack for mounting various accessories

Mount a cargo carrier, bike rack, kayak saddles, ski carrier and more

Unique, Kammback-like shape creates a supremely aerodynamic system with minimal drag
Integrated T-slots make it easy to slide T-track-mounted accessories onto the bars

SwingBlade endcaps pivot open to allow full access to T-slots for quick, simple mounting
Clamp-on accessories conveniently wrap around bars

Rubber stripping inside T-slots keeps out dirt and grime while also providing cushion for cargo

Textured surface disturbs airflow to dramatically reduce wind noise

Crossbar length can accommodate the following, depending on the types of carriers and accessories used:

1 - 4 Bikes
1 - 2 Kayaks
1 - 8 Pairs of skis
2 - 4 Surfboards
1 Cargo box (with enough room to fit 1 bike beside it)

Lightweight aluminum construction is durable and rust resistant and takes up only a fraction of your weight limit

BoxBeam extrusion process provides exceptional strength

Slight bow in center of each bar helps to ensure a sturdy, custom-fit rack
SmartSlide molded measuring strip eases installation and lines slots beneath each bar to further improve aerodynamics
Specs:
Dimensions: 43" long x 3-1/8" wide
Fits the following Thule foot packs:

Rapid Aero Crossroad (TH450R)
Rapid Aero (TH400XTR)
Rapid Tracker (TH430R)
Rapid Traverse (TH480R)
Rapid Podium (TH460R)

Weight: 5-1/4 lbs
Weight capacity: 165 lbs per pair
Quantity: 2 crossbars
Lifetime warranty
Shhhhhhhhhhh...
Thule's AeroBlade bars are designed to be among the quietest, strongest, most aerodynamic load bars on the road. The low-profile, arced shape of the bars couples with the unique WindDiffuser stripping to produce a bar that is so quiet you'll forget you even have a rack on your car. Many factory and aftermarket roof racks produce an annoying whistle that can only be quelled by adding a fairing to your system. Not only is a fairing unnecessary with the AeroBlade, but adding one would actually make it louder and less aerodynamic.
WindDiffuser Technology
A built-in T-track sits along the top of each bar, near the front. When no accessories are mounted, the included WindDiffuser rubber stripping covers the slot. (You can also cut the stripping so that it can be placed in the slot around any carriers or accessories that are mounted.) The rubber strip serves to keep dirt and grime out of the T-slot and provides a little scratch-resistant cushion for any mounted items.
The unique aspect of the WindDiffuser, which comes standard with the AeroBlade, is the ribbing. This textured surface disturbs the air flowing over the bar, tripping it to create turbulence. The result is less wind noise, little or no annoying whistle, and a more aerodynamic rack. In fact, the AeroBlade has been shown to produce 90 percent less sound energy than the elliptical Thule Aero bars, making them the quietest load bars in the industry.
Aerodynamic Design
Thule took a note from the manufacturers of high-performance cars, such as Ferrari and Maserati, and designed the AeroBlade with a Kammback (or Kamm-tail) style. This crossbar does not have a full-length teardrop-type tail; rather, it is cut off, leaving a square end at the rear of the bar. The aerodynamic effect is essentially the same as it would be if the bar continued into a full teardrop shape. Air continues to move over it in a streamlined fashion, flowing along the bar as it would if the tail were complete. Because there is no tail, though, the bar is smaller and weighs less.
Strong, Durable Construction
The Thule AeroBlade load bars are constructed of extruded aluminum to ensure an extra-sturdy roof-rack system. During the extrusion process, metal is shaped to form a complex design on the interior of each bar, as seen in the cross section of the AeroBlade. Each fold adds to the overall strength and rigidity of the bar. This process creates crossbars that are primarily hollow but still reinforced for added strength. The result is a bar that can withstand more than 800 pounds of force, yet weighs so little that it takes up only a slight portion of your load capacity.
Installation of Thule AeroBlade Crossbars
To install your crossbars, use the included SmartSlide measurement system. This molded material lines the bottom slots of each bar and is scored and numbered to directly correspond with the instructions included in your custom mounting kit. By covering the bottom slots, around the feet, the SmartSlide manages to further reduce noise and eliminate whistlingas well.
SwingBlade Endcaps
Mounting accessories on your roof-rack crossbars has never been easier. With the AeroBlade you can slide accessories into the T-slots without having to wrestle off an endcap. Just pop the SwingBlade up and swing it out for instant access to the top slot.
ARB43 Thule Aero Blade Aluminum Cross Bars - 43" Long