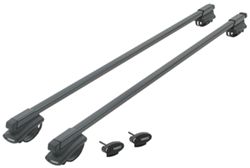 This load bar system is designed to be mounted directly onto your vehicle's factory installed raised side rails. 58" load bars and locks are included to complete the roof rack.
Thule Crossroad Roof Rack System with 58" Bar
Features:

Compatible with all Thule accessories
Install base onto factory installed raised side rails
Rubber coated, steel strap wraps around rail
Locks are included to secure system to the roof
Pre-assembled for easy installation
Specs:

System includes:
(4) Crossroad feet
(2) 58" Load bars
(4) Locks
Capacity: 165 lbs
Width of load bar accepts:

1-5 bikes
1-2 kayaks
1-10 pairs of skis
2-4 surf boards
1 box with 2 bikes

Lifetime warranty
Thule Crossroad adapters strap on to the factory roof rack.
The strap is tightened by turning a screw hidden behind a lockable door.
45058 Thule Complete Railing Carrier