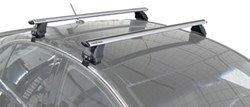 Silver, lightweight aluminum crossbars are paired with locking Rhino-Rack 2500 Series legs to create a roof rack for your naked roof. Elliptical bars are aerodynamic and feature built-in channels to accept slot-mounted and clamp-on accessories.
Features:
Roof-rack system for naked-roof vehicles without rain gutters

2 Silver, low-profile crossbars support bike racks, ski and kayak carriers, and other accessories

Elliptical, aerodynamic shape reduces drag and wind noise
Lightweight, structural-grade, extruded aluminum construction for strength, durability and maximum carrying capability
Carriers and accessories can be clamped around crossbars or mounted via the built-in channels

Locking endcaps (RAB-LEC; sold separately) secure channel-mounted accessories to your crossbars

4 Roof-rack legs mount to your roof with vehicle-specific clamp kit

Vehicle-specific clamp kit sold separately
Rounded tops on leg bases pivot to ensure that crossbars are level
Built-in locks secure the roof rack to your roof - 2 keys included
UV-resistant, glass-reinforced nylon construction

Versatile leg-and-crossbar system is easy to install and remove
Built-in security hardware deters theft - leg bolts require special tool (included) to loosen
Specs:
Weight capacity: 165 lbs

Off road use capacity: 110 lbs

Crossbar dimensions: 50" long x 3-1/2" wide x 1-1/2" tall
Rack height (top of roof to top of crossbar): 5-1/4"
Limited lifetime warranty
Designed specifically for vehicles without rain gutters, the Rhino-Rack 2500 Series is a great option for adding an aftermarket roof rack to your naked-roof vehicle.
The 2500 Series system includes a pair of silver, 50" long crossbars. The oval crossbars are aerodynamic to reduce drag and wind noise compared with standard square crossbars. And the extruded aluminum construction keeps the crossbars rust free and looking new.
A built-in channel on top of each crossbar provides a mounting point for your slot-mounted Rhino-Rack Sportz and Aero carriers and accessories. These channels also include rubber strips that help to cushion loads on the rack and provide slip resistance to keep your cargo from shifting during transport. The rubber strips can be cut to length to accommodate your bike, ski, kayak or other carrier. Locking endcaps (sold separately) are available to secure your channel-mounted accessories to your crossbars.
A channel on the bottom of each crossbar lets you mount the crossbars directly to your roof-rack legs. This channel includes handy rubber rulers that can also be cut to length, ensuring that the crossbars are properly centered on your roof.
Custom clamps (included with the vehicle-specific clamp kit) secure the rack system to the vehicle and mount to the roof-rack legs with theft-deterrent bolts. A special tool (included) is needed to tighten the bolts. Tightening the bolts secures the vehicle-specific clamps to the legs and the legs to your vehicle roof.
The custom molded pads (included with the vehicle-specific clamp kit) are designed to match your vehicle's roofline. Simply press them onto the bottoms of the legs to create a perfect-fitting rack while also protecting your vehicle's surface from scratches and abrasions.
The 2500 Series leg bases have rounded tops that pivot to ensure that the crossbars are level on your roof.
The roof-rack legs include plastic covers with built-in locks. The locks secure your roof rack to your vehicle. The covers protect the interior components of the legs from the elements and give the roof rack a finished look.
The 2500 Series roof rack is easy to install and remove from your roof. Once installed, the crossbar, legs and clamp kit stay together as one unit, which makes removing, storing, and reinstalling very easy. To remove, simply loosen the bolts inside the towers with the security tool. Stickers are supplied to mark leg locations during your initial setup so when you want to reinstall you know exactly where the system goes.
DA126 Rhino-Rack 2500 Series Roof Rack with Aero Crossbars - 50" Long - Silver