2012 Ford Escape Roof Rack by Rhino Rack
Roof Rack Includes:
Custom DK Clamps and Pads for Rhino-Rack 2500 Series Roof Rack System

Part Numbers: DK099
Retail:$79.00
Price:$71.10
Shipping Special
Custom DK Clamps and Pads for Rhino-Rack 2500 Series Roof Rack System

part number:
DK099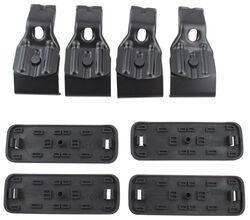 These custom-fit clamps and pads let you mount Rhino-Rack 2500 legs to your vehicle to create an aftermarket roof-rack system. Clamps mount to legs with bolts. Kit includes 4 clamps and 4 pads.
Features:
Custom-fit mounting pads and clamps work with Rhino-Rack 2500 Series roof-rack legs

Let you install an aftermarket roof rack on your naked-roof vehicle

Clamps are designed specifically to fit the curves of your door jambs

Mount to roof-rack legs with bolts

Molded pads are custom designed to fit the contours of your roof

Protect your roof surface from scratches and abrasions
Press onto the bottoms of your roof-rack legs
Specs:
Quantity: 4 clamps and 4 pads
Limited lifetime warranty
DK099 Rhino Rack DK Clamp Kit for 2500 Series Roof Racks
Ask the Experts about this Roof Rack


Do you have a question about this Roof Rack?
Rhino Rack Carriers
Fit to this rack on your 2012 Escape by Ford
Info for this part was:
At etrailer.com we provide the best information available about the products we sell. We take the quality of our information seriously so that you can get the right part the first time. Let us know if anything is missing or if you have any questions.
Customer Reviews
Custom DK Clamps and Pads for Rhino-Rack 2500 Series Roof Rack System - DK099
Average Customer Rating:





4.8 out of 5 stars (76 Customer Reviews)
These custom-fit clamps and pads let you mount Rhino-Rack 2500 legs to your vehicle to create an aftermarket roof-rack system. Clamps mount to legs with bolts. Kit includes 4 clamps and 4 pads.
- DK099





by: Phil K.06/21/2014
I ordered these racks for my 2011 Mazda Tribute w/ a naked roof. The quality and ease of assembly was remarkable. I use the racks for loading surfboards (longboards 9 ft to 10 ft.) and they are exactly what I needed!!! I would highly recommend this product. The helpful folks at etrailer.com were great. The product arrived on time with no hassles and the price was less than the factory system which was far less robust. Cheers. 136891
Reviews for other 2500 Series Roof Rack DK Clamps and Pads :
- DK341





by: Art S.03/07/2014
I have every Yakima roof rack and accessory for all my past and present cars. I have been using them since 1991. We recently bought a Lincoln MKT and to my surprise, Yakima nor Thule make a roof rack solution. The only one I found online is this one. Etrailer had it for less than the manufacturer website. At first, I was apprehensive since there were no reviews about this rack on my car and etrailer called me to tell me that they needed to wait for the clamps, since it was not in stock (must be because of the rarity of this car). The installation instructions was initially daunting, but after watching some videos online from the manufacturer website and figuring out the assembly, everything went smooth. After installation, I was amazed at the quality of this rack. Fit was ok, but for some reason the rear door feet are not split level like the front door feet, since the rear pad sits across a gap on the roof (hopefully this does not impact carrying capacity). Regardless, the rack appears solid and does not scratch or dent the car in anyway, nor impede the function of the large panoramic roof. I'll report back if I have any issues after I load it up with some standup paddleboards. Overall, pretty happy with purchase. 119866
- DK289





by: SheriM.03/12/2014
I received THREE different sets of instructions for the 2500, plus the PDF I was prompted to download...REALLY confusing. I have put together all kinds of furniture, including a 3' x 6' armoire (I am a 5' tall woman), installed paneling and flooring, including carpet in my van, installed bathroom tiles, built closet storage 'out of my head' and from plans, pulled and installed a car radiator/brake and clutch pedals assembly/starter assembly during the course of my 56 years on this earth...but I have never, never, never had such a difficult time making sense of 'too much information'...please go over the instructions and combine what needs to be combined and separate the info for the different vehicles!!! I am pleased with the outcome as far as the overall sturdiness of the product and I look forward to making use of this system. Besides the assembly instruction difficulties, I am disappointed in the fact that I bought the lock sets for each crossbar, only to see that the insides of each of the legs is exposed... ??? Please consider that in future design 'tweaks'. 120419
- DK146





by: Joe T.07/12/2012
I want to let you know that I really appreciate the help, speed and quality of service you provided to me. Actually you saved the day for me, I was struggling with other web suppliers to order the roof rack, they were either not knowledgeable to know the correct configuration for my car or they did not have the part in stock and needed a long lead time. My time was very short as I am moving in a few days, I called Rhino roof rack manufacturer and asked them who is their top dealer and they referred me to you. I am very grateful for your help and the shipping the roof rack the same day I called! 47676
- DK226





by: Robert Dames07/26/2013
When I first opened the box there were two screws and bolts that are critical to the fastnening of the feet assembly that were simply rolling around in the box. Had these components rolled out of the box, I would have been pretty well stuck. Also the "DK" measuring chart was NOT included with the directions. I would have been unable to properly place the rack on the roof without it. However, I called E-Trailer and explained my circumstance. Nicki quickly resolved this dillemma by e-mailing me the needed info. I then completed the assembly and mounted the Rhino rack on the car roof. I am pleased with the rack; it assembled relatively easily and fits the car well. However, E=Trailer should contact the vendor and make Rhino Rack aware of the faults I noted. Thanks E-trailer for the superior customer support. I will return for future purchases as needed. Sincerely, Bob Dames 7-26-13 91669
- DK061





by: Janet05/05/2013
Great service from etrailer, quick, free delivery. Rack was easy to install...very good instructions. 79078
Comments
Everything has been fine using the rack.
Janet - 06/05/2014
4683
- DK357





by: Michael G.01/30/2014
Fits my 2013 Ford C-Max Energi perfectly and seems quite sturdy and durable. Installation was a bit confusing because some of the markings on the parts were extremely faint and difficult to see. But once I figured out what each part was, the process was pretty straightforward. All in all this is an exceptional deal for a product that more than adequately replaces what the big name brands (T***e or Y****a) have to offer and and a much more affordable price. Also, etrailer.com was a great company to do business with. The price was right, the shipping was extremely fast, and the customer service was absolutely the best. 115264
- DK307





by: Paul H07/27/2013
I received the rack in an efficient manner. When I went to finally assemble it, I was missing a crucial part. Fear not, their customer service was good. Tamara got the part shipped to me. Then, myself and a surgeon (practically) tirelessly figured out how to assemble it. Terrible directions... Literally 2 hours later, it was done! Like magic... but not ;-) Proud to of got it done. Pixs included 91910
- DK055





by: Richard03/26/2013
The Rhino Rack is excellent: high quality and fits perfectly. About eTrailer: If you want personal service even when you don't need it, clear guides so you know you are getting the *right* gear for your vehicle, and prompt shipment and reliable delivery then eTrailer seems to be the place. I came here because they spent the time building a site that didn't leave me wondering. Excellent! 72689
- DK170





by: AJ05/13/2012
I recently purchased the Rhino Rack 2500 multi-fit rack w/DK170 kit. The system came complete and well made. etrailer processed my purchase promptly and I received it within a matter of days. only problem I had was when it came down to fitting the rack for my vehicles spec's .. the manual suggested I use my owners manual or the DK spec list...I went to youtube and found an installation video there ( which was very helpful) and found out the DK spec sheet was shipped in the DK170 kit box... I assembled the rack.... fitted it to my vehicle and everything is great and looks sharp.. 40230
- DK154





by: TMJamison05/21/2013
I ordered this package along with the Rhino Roof Rack with Aero Crossbars; the specs provided by eTrailer made assembly completely trouble-free. Mounting the rack on my particular vehicle (Honda FIT) for the first time took precision; but future mounting will be completely effortless with the markings. What's more, delivery of my purchase was FAST and FREE. I placed my order on a Wednesday; it was shipped on Thursday and I had my order by Monday (particularly important in my case - since I was going camping that following weekend). Very happy with purchase. 81351
- DK307





by: Alaska09/03/2013
Fit was excellent and quality of components were tops too. A tad complex to install but not difficult - you just need to take your time and read everything several times. For example, there's actually 4 different rubber pads - each corner is different! Makes for a more difficult install but there's no denying that it's a custom fit! Also, all measurements were metric, so make sure you have a metric tape measure. Delivery was in two short days. Amazing! 97948
- DK360





by: Lindsey N.07/21/2014
We installed our Vortex Aero rack on a 2013 Santa Fe Sport. The instructions were easy to understand, and it took me and my husband about an hour to install. The rack looks great on our car. The etrailer customer service has been a great help. There is never any wait when calling them, and they are always helpful. We are very happy with the roof rack and with the etrailer team. 142490
- DK172





by: Joseph Mitchell06/15/2013
Great product. Everything was nearly placed in box with nothing missing. Very fast shipping thanks to etrailer.com. The product looks great on my car and I couldn't be happier! Thanks! 84811
- DK327





by: Robert G.07/30/2014
All expectations were met for the rack quality, clarity of assembly instructions, and ease of installation. The rack will be used primarily to carry a variety of kayaks. 143353
- DK079





by: Lionel H11/01/2013
As said on your web page, setting proposed on the dk are wrong. I estimate myself to fit the crewmax roof. Rest looks ok. Pad fix are cheap but i will try soon. 105975
- DK146





by: Dana02/06/2014
Thanks for the free expedited shipping. I have installed the roof racks and I am very pleased. I am attaching a photo of the installed racks. Thanks 115909
- DK114





by: Paul G07/16/2013
I received everything on time, it was properly packaged and had no damage. The Rhino Roof Rack is easy to install, the directions are easy to follow. The Thule J Bars are also easy to install and the video on how to install /use them make it a breeze. I already have recommended etrailer.com to another person and would do so without hesitation. 89773
- DK061





by: Christian Scraire01/24/2014
je suis content du materiel et il est arriver avec une rapidite incroyable 4 jours d attente seulement j aurais seulement une recommendation a faire pour la Rhino-Rack ,il y avait 4 vis 4 washer et 4 pecer lousse dans la boite serais plus pratique d etre dans un sac car j ai chercher longtemps pour trouver la deniere vis merci 114613
- DK004





by: Bill S07/23/2013
The pads have held very well.. I was somewhat skeptical at first, simply due to the amount of fishing poles I was going to be mounting on top of the entire system.(up to 7 poles, ranging from 7 up to 13 foot surf rods, with reels) However, I was very impressed and still am. Great holding power with no damage to paint at all!! 91146
- DK228





by: Mike K.05/30/2013
The Rhino-Rack 2500 series rough rack has turned out to be a perfect luggage storage solution for my Ford Edge Sport which has the all-glass panavista roof. I'm stationed with the US Army in Vicenza, Italy and they just don't have flexible solutions like this over here. Thanks again for shipping to APO addresses. 82647
- DK207





by: Stephen03/06/2013
The Rhino Rack was delivered quickly and as promised. I saved $50 to boot! I am very happy with eTrailer.com. 69299
- DK285





by: Thom D.07/18/2014
All items arrived in perfect order with some duplicate items which were not required. Instructions were abit fuzzy but installation only took about 1.5 hours. Customer service with Zack and Tamara was great. Emails were answered sometimes within minutes and product arrived right on time. 142140
- DK030





by: Sean07/08/2014
I have now purchased multiple items on three individual orders through etrailer.com and I have been extremely satisfied. The products are high quality and the delivery/service has been outstanding. I look forward to meeting all of my aftermarket transport needs through etrailer.com 139955
- DK226





by: Bill06/20/2014
I needed a product that I could trust with my kayak and this one works perfect for me, I received it fast and it didn't take long at all to install. One problem was the sizing chart for my car , it was in MM and i just went on line to change it over to inches. 136783
- DK126





by: Peter aka Brooklyn P09/02/2013
Great rack, stronger than I expected, overall a good buy 97845
- DK114





by: Joe F.06/22/2014
The Rhino roof rack I purchased is wonderful and carries my two kayaks on my Toyota Camry great. My experience with etrailer was fantastic , my purchase arrived sooner than promised and was exactly as advertised. I will definitely use etrailer again. 136954
- DK082





by: Miasha06/21/2014
I purchased the Rhino rack and I love it. 136917
- DK010





by: Mark S06/22/2014
Everything as advertised, fast response and fast free delivery. I really liked the descriptions and specs on the website. It was a good guide in making the right selection for the equipment I was trying to match to my vehicle. 136986
- DK030





by: Roger P.04/06/2014
The rack seems sturdy and was relatively easy to assemble. It looks good on my Accord. Because the bars are relatively thick, I need to adapt my kayak carriers which were on another set of cross bars. I wasn't expecting that. 123949
- DK307





by: Robert04/14/2013
Great looking roof rack. Quite ride strong and durable. Directions were ok but as soon as we started putting this together it only took about an hour. It looks great and the online service that I received was terrific. 75911
- DK151





by: Daryl.C07/18/2013
This is a great product. The pieces were easy to assemble and fit great on my 2008 Honda Accord Coupe. A very sturdy and stable rack. The customer service, order process, and delivery was great, quick and efficient. 90150
- DK323





by: Chris B.05/28/2014
Products were a perfect fit for my 2014 Passat! The instructions were easy to follow. I used the racks to transport a nine foot longboard over to the beach for a week. They worked great! 133207
- DK307





by: Sean N03/11/2014
Great product overall. Assembly can be intimidating, the instructions make it seem much more complicated to put together and install than it actually is. Other than that, no complaints. 120171
- DK237





by: Rhino-Rack05/29/2014
Purchased this item as a present for my grandson's Kia Soul.I was amazed by the rapid shipping, The product is excellent and fits the car as advertised. My grandson is happy with it. 133234
- DK152





by: Buller06/03/2013
This product fit my 2013 Toyota perfectly. Not a fan of the instructions but some of the hardware was already put together for ease. Took about 30 minutes to install. Fit great!! 83162
- DK200





by: Kirkwood Bee Man07/03/2014
Great product! And far too easy to install. It only took 2 beers and I was hoping/planning on it taking longer! Instructions were clear, parts are solid. I'm very happy! 138952
- DK225





by: Larry E07/17/2013
The Rhino Rack fit like I was hoping it would. Installation a little slow on the first bar getting it to fit snug. After that the second bar is a snap. J rack's fit very well. 90045
- DK292





by: John Rob03/29/2014
The directions for assembling is slightly difficult to understand with pictures and little wording. However, the second set of directions with the product was more helpful. 122808
- DK211





by: Jeff04/15/2014
Instructions were a little tricky but assembled without too much problem. Quality seems very good and fit is excellent. Better price than the other carriers I looked at. 125191
- DK150





by: Thomas03/21/2013
Wow! Thanks for the fast delivery! I haven't installed the rack yet, but, they look to be well packaged and of excellent quality. Thanks for the fast service. Tom 71776
- DK260





by: Brent M.04/09/2014
Easy install. Came with all the necessary tools and fittings, took me and a buddy a little over 30 mins to attach. Looks great! I attached this solely for aesthetics. 124403
- DK195





by: Mike H10/19/2013
These were used to install the Rhino rack and seem to look like they will do the trick. Will tell you more after we get back from Baja California next year. 104393
- DK179





by: Jason02/14/2013
Very Pleased with the service. Product was not in stock but i recieved email updates to let me know where it was right up till it arrived. I would buy again. 66260
- DK338





by: Hoffers03/22/2014
Rack feels very sturdy and was easy to assemble and install. Since I've just installed this rack, time and usage will determine my overall satisfaction. 121728
- DK237





by: pamela04/03/2013
Awesome !!!! Looks great..easy to install. I highly recommend etrailer!! They are great. Bought a tow package for my Kia soul as well and love it. 74039
- DK150





by: Glenn04/04/2013
Item was exactly as described and arrived quickly with tracking numbers. Ordered via phone. Customer service was excellent! Thanks once again. 74168
- DK289





by: Roger Maniego04/22/2014
Thank you very much, I received my order in good order and condition. This items will be ship to the Philippines because my cx5 is over there. 126703
- DK093





by: Michael Moore11/18/2011
Great roof rack. Fastest shipping I have ever received from any online company I've ever dealt with. I will be doing business with them again. 27157
- DK064





by: Ashkan Fahar11/18/2013
I really like these racks. They're very durable and clamp to the car well. Great customer service too. Very satisfied 107723
Show More Reviews
77
77