view cart
Carr M-Profile Light Bar - Polished Stainless Steel

Part Numbers: CARR210702
Retail:$179.52
Price:$119.95
Shipping Special
Carr M-Profile Light Bar - Polished Stainless Steel

part number:
CARR210702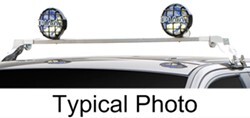 Medium-profile light bar lends an off-road appearance to your vehicle without being overpowering. Mount up to 4 lights (sold separately) to the sturdy steel crossbar to complete the look. Installs on your rain gutters.
Features:
Stylish bar lets you mount up to 4 standard, off-road lights (sold separately) on top of your vehicle
Easy, rain-gutter-mount installation

Cast aluminum mounting brackets included
Custom gutterless mount kit available for applications without rain gutters

Sturdy stainless steel crossbar has multiple mounting holes for lights
XM3 Xtreme polished finish adds stunning style and won't rust, crack or peel
Made in USA
Specs:
Weight capacity: 4 lbs
Light mounting hole diameter: 1/2"
Limited lifetime warranty
210702 CARR M-Profile Light Bar - XM3 Polished Finish
Ask the Experts about this


Do you have a question about this ?
Info for this part was:
At etrailer.com we provide the best information available about the products we sell. We take the quality of our information seriously so that you can get the right part the first time.Let us know if anything is missing or if you have any questions.