customer service
|
view cart
Carr Low-Profile Light Bar - Black Powder Coated Steel
Gutterless Mount Kit for Carr Light Bars

Part Numbers: CARR210501, CARR220542
Retail:$199.88
Price:$133.90
Shipping Special
Carr Low-Profile Light Bar - Black Powder Coated Steel

part number:
CARR210501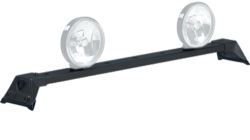 Mount up to 4 off-road lights (sold separately) to your vehicle with this stylish, low-profile bar that mounts to your rain gutters. Black powder coat resists corrosion, scratches and UV damage.
Features:
Stylish bar lets you mount up to 4 standard, off-road lights (sold separately) on top of your vehicle
Low-profile design offers a subtle, clean look
Easy, rain-gutter-mount installation

Cast aluminum mounting brackets included
Custom gutterless mount kit available for applications without rain gutters

Sturdy steel crossbar has multiple mounting holes for lights
XP3 Xtreme black powder coat finish resists chipping, peeling and fading

Lightly textured, matte black appearance complements most applications

Made in USA
Specs:
Weight capacity: 4 lbs
Light mounting hole diameter: 1/2"
Limited lifetime warranty
210501 CARR Low Profile Light Bar - XP3 Black Powder Coat
Gutterless Mount Kit for Carr Light Bars

part number:
CARR220542

Use this bracket kit to install your Carr Deluxe, Deluxe Rota, M-Profile or Low-Profile light bar on your vehicle's roof. Designed for applications without external rain gutters.
Features:
Lets you mount your Carr light bar to your vehicle's roof

Works with Carr Deluxe, Deluxe Rota, M-Profile and Low-Profile bars

Customized for your vehicle to ensure stability and a precise fit
Clamps around interior door jambs
Includes stainless steel brackets (1 for driver's side and 1 for passenger's side) and installation hardware
Made in USA
220542 CARR Gutter-Less Mount Kit
Ask the Experts about this


Do you have a question about this ?
Chevrolet Avalanche Accessories