Curt Discovery Trailer Brake Controller - 1 to 4 Axles - Time Delayed
Curt Custom Wiring Adapter for Trailer Brake Controllers - Dual Plug In

Part Numbers: C51120, C51451
Retail:$108.28
Price:$65.44
Shipping Special
Curt Discovery Trailer Brake Controller - 1 to 4 Axles - Time Delayed

part number:
C51120
Electronic controller activates electric trailer brakes with a preset intensity when you apply the brakes in your vehicle. Power output and braking aggressiveness are easily adjustable. Includes easy-to-read digital display and manual override.
Features:
Brake controller activates trailer brakes with preset intensity

Signal is sent to trailer brakes when tow

vehicle's

brakes are activated

Adjustable, thumbwheel power output control lets you determine the amount of braking force

Set to maximum when you travel through hilly terrain with a fully loaded trailer
Back off the power output when you tow a lightweight trailer

Sync setting lets you adjust the aggressiveness with which the brakes are activated

Get full power output faster by moving slide-bar switch forward to increase activation speed
Achieve smoother braking by moving switch in opposite direction to supply power gradually

Easy-to-read digital display communicates brake force output, sync setting, and error codes
Self-diagnostics function monitors trailer connection and checks for shorts
Built-in, slide-bar manual override
Quick and easy installation

No need to mount level like proportional brake controllers
Mounting bracket and hardware included
Plug-in,

vehicle

-specific brake control adapter (sold separately) can be used for certain applications to reduce installation time
Specs:
Application: trailers with up to 4 axles (8 brake assemblies)

Designed for use with electric brakes only

Limited lifetime warranty
Time-Delayed Braking
The Discovery applies your trailer's brakes when the brake pedal in your tow vehicle is engaged. Every time you apply the brakes in your vehicle, a signal is sent - via the brake switch - to the Discovery. The controller then sends power out to your trailer brakes to activate them with an intensity set by you, at a rate determined by you. Both the amount of braking power (output) and rate of application (sync) can be adjusted to suit your preference, the road conditions, type of trailer, and size of the load. To determine which levels are best for your application, you must test out your towing setup and choose what feels best.
A time-delay controller is so named because there is a delay between the time that you initially apply the brakes in your tow vehicle and the time that the controller reaches maximum power output. Unlike a proportional brake controller, which activates your trailer's brakes based on the deceleration of your tow vehicle, the Discovery sends power out in the same way, with the same gradual delay, no matter the braking situation. Although this delay always exists, it can be adjusted by changing the sync setting.
Built-In Controls for Adjustable Power
The above diagram shows the controls and components of the Curt Discovery trailer brake controller.
Digital display
Power output control
Sync control
Slide-bar manual override
Output Control
During the initial setup process, use the thumbwheel control on top of the Discovery to adjust the output. The output control lets you set the maximum amount of power that will be applied to your trailer's brakes. Typically, the output is only readjusted when you experience changing road conditions or if you switch over from a heavy, loaded trailer to a much lighter, empty trailer, or vice versa. To get more power to your brakes, rotate the switch to the right. To decrease the power output, move it to the left. The output setting will appear on the digital display when you press the brake pedal or activate the manual override. This setting ranges from 0 to 10, with 10 indicating maximum output.
Sync Setting
To adjust the aggressiveness of your trailer's braking action, use the slide-bar control on the side of the Discovery to change the sync setting. If you want to reach maximum power output faster, move the switch forward. To get smoother braking action, slide the switch backward, thus supplying power to the trailer brakes more gradually. You can alter the sync setting to suit your driving preferences or to improve handling based on changing road conditions or varied trailer loads. The digital display will only show the sync setting as you adjust it.
Quick, Simple Installation
Because inertia plays no role in the functioning of this controller, you do not have to mount the unit at any particular angle. As a result, mounting options are limitless, so long as you can still easily access the controller.
Installation of the Discovery requires that you either purchase a custom wiring adapter designed to plug into the controller or that you hardwire the controller directly into your vehicle. To hardwire the Discovery, you must remove the plug at the end of the integrated wiring harness.
Installation Accessories
For easier installation, a vehicle-specific wiring adapter (sold separately) is available for most newer trucks and SUVs. One end of the custom adapter plugs into your vehicle, and the other end plugs into the controller - no hardwiring required.
Note: If a custom brake control wiring adapter is not available for your vehicle, one of the following will be required:
20-Amp circuit breaker (9506P - sold separately) for 2- to 4-brake applications
30-Amp circuit breaker (38630 - sold separately) for 6- to 8-brake applications
See also etrailer.com's exclusive 7- and 4-way brake control installation kit (ETBC7 - sold separately) if you don't already have a 7-way plug at the back of your vehicle.
51120 Curt Discovery Time Delay Trailer Brake Control
Curt Custom Wiring Adapter for Trailer Brake Controllers - Dual Plug In

part number:
C51451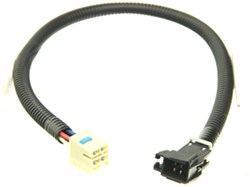 Install your Curt electric trailer brake controller quickly and easily with this custom wiring adapter. Simply plug one end of the adapter into your controller and then plug the other end into the built-in port beneath your vehicle's dash.
Features:
Plug-in wiring adapter allows for quick, simple installation of your electric trailer brake controller
No cutting or splicing required

Custom connector end plugs into the built-in port beneath the dash of your vehicle
Other end plugs into the back of your electric brake controller

Compatible with time-delayed and proportional brake controllers from Curt

Brake controller must have built-in plug for adapter to connect - will not work on controllers with pigtail wiring harnesses

2' Long, 12-gauge wires have protective covering to deter damage
Limited 1-year warranty
Installation of Curt Brake Controller Adapter
To install your Curt electric brake controller, you need to connect the wiring of the controller to your vehicle. Certain auto manufacturers offer pre-wired options, typically known as tow packages, wherein wiring is run for you from the dash to the trailer connector on the back of your vehicle. When this is done, a port is installed at your dash so that you can easily plug in a brake controller.
This adapter plugs into the port on your vehicle's built-in brake control wiring harness. The port is located in the wiring panel underneath the dash, to the left of the steering column, near the emergency brake pedal.
No hardwiring is required to install this adapter. After you plug it into the factory port, you simply plug the other end of the adapter directly into your electric trailer brake controller. Because there are no wires to connect, installation is not permanent. You can unplug and remove your brake controller at any time to transfer it to another vehicle or securely stow it away.
51451 Curt Quick Plug Brake Control Adaptor Harness
Ask the Experts about this Brake Controller


Do you have a question about this Brake Controller?
Info for these parts were:
At etrailer.com we provide the best information available about the products we sell. We take the quality of our information seriously so that you can get the right part the first time. Let us know if anything is missing or if you have any questions.
Customer Reviews
Curt Discovery Trailer Brake Controller - 1 to 4 Axles - Time Delayed - C51120
Average Customer Rating:





4.9 out of 5 stars (44 Customer Reviews)
Electronic controller activates electric trailer brakes with a preset intensity when you apply the brakes in your vehicle. Power output and braking aggressiveness are easily adjustable. Includes easy-to-read digital display and manual override.
- C51120





by: J.C. from Bay City02/24/2014
Ordered a brake control and an inline circuit breaker on Feb 11th and shipped the same day. I chose the least expensive shipping option (my bad). A combination of UPS/US Post Office, or so I was told after calling to find out where my shipment was. Tracking info said delivery by the 15th. When it didn't show I called etrailer and was told the post office had it and it was out for delivery...2 days later I finally received it (Feb 20th). I ordered a hitch a couple of weeks prior and received it in 2 days. A 49lb hitch vs a 1lb (maybe) package. Not etrailers fault but I can see why the post office is going broke with service like that! 117375
- C51120





by: Bill12/30/2013
This is a very small brake controller unit. I had to find the right spot to mount so my knees didn't bump it when I got in and out of the truck. Once the perfect spot was found, the installation was a snap. I used the correct wiring harness to make installation easy. Just snap into back of controller and then into the truck's brake controller wiring harness in the back of dash. It was the simplest install I have ever used. Thanks!!!! 111474
- C51120





by: Randy G01/04/2014
This is an outstanding product - exactly as described. I installed it into my 2005 Ford F150 XLT Extended Cab. Took longer for me to decide where to put it than the actual installation, which took about 3 minutes. My truck had the tow package so the harness - which was included - was an exact match to my truck's harness plug on the right side of the dash in the driver's area. Extremely satisfied. 111895
- C51120





by: Dustin09/18/2013
I purchased this item with the premade connection wire for my 2010 Dodge Ram with 7 way trailer wiring adapter. I had this installed in less than 12 minutes! Plug the harness in and mount it you are done! Shipping was super fast had my item in 3 days. The best part is I can remove this when I am not towing my RV so that I keep the stock appearance of my truck. Best online buying experience ever! 100495
- C51120





by: Rock W.07/29/2013
I chose this brake controller because it was like one I had before so no learning curve needed. Plus I didn't want to mess with extra install concerns of the proportional type controllers. With the video install tips the shade tree mechanic is back in action. With the yr/make/model suggested cable, hook up was a breeze. Ready to do some camping. Thanks etrailer 92116
- C51120





by: e whitestone12/03/2013
Much, Much better than the proportional type I had before. The proportional types have to be mounted level. This Curt solid-state digital never needs to be level, in fact it could be mounted upside down and still work. No problem finding a place to mount, since it doesn't have to be level. A great price at etrailer makes it that much better. 109008
- C51120





by: David C.05/17/2014
I purchased this controller for a 2006 4 horse stock trailer & a 2006 Dodge Ram 2500 pick-up truck. The installation video from etrailer was very informative & the instruction from the product was very through. I was able to attached the controller & tested it within one hour. I've towed with the trailer since then & it's working great. 131087
- C51120





by: Dave C04/09/2014
With the factory adapter the total installation took 5 minutes including a fight with a tangled extension cord. Worked awesome. Towed a 8500lb load up and down the Appalachian range without any worries. Thanks again for the fast shipping, awesome product and great customer service. 124394
- C51120





by: Andrew12/26/2013
I just received my Curt new brake controller and Etrailer truck brake harness. The package arrived promptly - earlier than expected. The harness kit has everything I need and looks like it is well made. Can't wait to get it all installed and try it out. 111247
- C51120





by: Erik O.08/05/2013
So far so good. Product seems well made. Installation was a breeze. 5-10 mins. Ordering was simple. My Order was upgraded to faster shipping at no additional charge! Fantastic company! Will be ordering from etrailer.com in the future! 93288
- C51120





by: Jared H.06/25/2013
Great product for the price. This was my first brake controller and it was very easy to setup and mount. I bought the adapter cable for my truck as well and it made it even easier. For the price you cannot go wrong with this. 86013
- C51120





by: David Williams02/05/2014
I was able to install the brake control in about 15 minutes using the wiring adapter that matched my truck. Have not had a chance as of yet to try out the controller pulling my trailer. 115860
- C51120





by: Fabio W08/07/2013
Order it on Friday got it on Wednesday ! Fast service. Installed it in 5 minutes while cooking on the grill. Works very good for price! Will buy again when I get a new truck 93826
- C51120





by: Bill C04/10/2014
Everything was easy to install thanks to the Etrailer video on Youtube. I got it all done in about 20 minutes and it all works great. I highly recommend this company. 124478
- C51120





by: gerryh03/11/2014
online instructions for finding factory plug location was excellent, Easy and quick installation and the included manual and card allowed a quick set up. 120166
- C51120





by: Ronne - Texas09/09/2013
Very quick shipping. Everything I needed to complete the job. Installed and everything worked the first time. Great product and service. 99044
- C51120





by: Todd B.04/23/2014
Great brake controller and simple to install in a 2012 Tacoma using C51362 adapter. No splicing needed and took less than 30 min total. 126986
- C51120





by: Larry C08/02/2013
fair price,fast shipping,great product,easy to follow instructions,mounted easily and works great.thanks for the free how to videos. 92919
- C51120





by: Chewy07/01/2014
Bought this with the adapter and it works great. Didn't have to cut any wires - easy adjusting levels and bright digital display. 138479
- C51120





by: Kevin D.06/06/2013
Simple, fast, Perfect deal. Easy install, my 9 year old could have done it. Very fast shipping, HIGHLY satisfied. Thanks!! 83549
- C51120





by: Steve F.05/15/2014
Great product, service and fast delivery! Very easy hook up (one plug) and easy to read/understand directions included. 130858
- C51120





by: Todd11/04/2013
Great product for a fraction of the cost of other name brands! I would not hesitate to purchase this product again. 106186
- C51120





by: David M.09/08/2013
Very happy with brake controller. Took 5 minutes to install in my Frontier truck. Very easy. Thanks 98869
- C51120





by: patrick12/29/2013
installed easily, instructions to adjust settings very easy to understand worked great. 111420
- C51120





by: Patrick T.01/23/2014
This controller work great in my 2008 Tundra, and is very easy to set up and adjust. 114575
- C51120





by: Mark Mason03/19/2014
I always get excellent products and advice from Etrailer will keep comming back 121339
- C51120





by: DIETER S.07/14/2014
Just what the doctor ordered, easy installation, and works the way I had hoped. 141158
- C51120





by: tom s07/08/2014
have not installed looking to do in a week or so. should not be 2 bad 140044
- C51120





by: Pete R.05/22/2014
Easy to install. works great! wallet instruction card is great idea. 131966
- C51120





by: Jeff H.06/16/2014
Great product....easy to install.....great service and follow up. 135764
- C51120





by: Jimmy C02/17/2014
Quick delivery and great product that was easy to mount. 116700
- C51120





by: Keagan P.07/26/2013
Excellent brake controller. Works perfe ctly. 91756
- C51120





by: Dan05/27/2014
Installed in 2 seconds. works like a c harm 132543
- C51120





by: Ron H04/23/2014
Great product and price. fast shipping. 126755
- C51120





by: Chris L.09/19/2013
Easy install. Works just like it should. 100557
- C51120





by: Gerry G.06/09/2013
Excellent product. Very user friendly. 83872
- C51120





by: D.T.10/19/2013
Worked just as advertised! Very easy! 104414
- C51120





by: paul cooley10/17/2013
agin easy as pie thanks agin rose... 104112
- C51120





by: david n02/04/2014
Excellent service.great Product 115743
- C51120





by: Scott R.06/30/2014
Fast and easy install love it 138396
- C51120





by: andre mac04/23/2014
great product works great 126853
- C51120





by: ken h06/23/2013
good product 85636
- C51120





by: rich k05/29/2014
works great 133243
- C51120





by: kevin06/21/2013
good 85484
44
44
Chevrolet Silverado Accessories