Heavy-duty fifth-wheel trailer hitch has a dual jaw and color-coded lock indicator for superb safety and security. Self-aligning, pivoting head and included lube plate make hookup a snap. Rails and universal installation kit sold separately.
Features:
2-Jaw locking system provides 360-degree jaw-to-king-pin contact

Less rattle and more security than slide-bar models

3-Point indicator system - color coding tells you if hitch is ready to uncouple, couple or tow

Lock indicators visible from cab

Unique spherical axial bearing allows easy pivoting of hitch head

Smooth, 360-degree movement - not just front-to-back and side-to-side tilting
Built-in cushioning absorbs road shock

Lockable handle lets you easily secure trailer to hitch with padlock (sold separately)

Short-throw, single-handle operation

Self-aligning head pivots for simple hookup
3 Lube points with easy-to-access grease fittings
2-Pin head removal makes it easy for one person to remove hitch
Included plastic lube plate lets king pin glide smoothly into hitch during hookup
4" Height adjustment
Base rails and installation kit sold separately

Works with industry-standard rails - Curt, Draw-Tite, Hidden Hitch, Pro Series, Reese and Valley
Simplify installation with a vehicle-specific bracket kit (not available for all applications)

Sturdy steel construction with durable, carbide powder coat finish
Made in USA
Specs:
Gross towing weight: 24,000 lbs
Vertical load limit: 6,000 lbs
Height adjustment: 13" - 17"
10-Year warranty
Note: Due to the size of this item it ships via truck freight. Additional fees apply. From the drop down list above, please select if the item will be shipped to a residential or business address. Item ships to the contiguous 48 states only.
Secure, Two-Piece Jaw
Unlike slide-bar models, the rounded, two-piece jaw on this fifth-wheel trailer hitch inhibits rattle and movement by securely wrapping around your trailer's king pin, resulting in easier hookup and a safer, quieter ride.
Three-Point Indicator System
Get peace of mind with Curt's color-coded lock indicator. Just look at the indicator - either the one on the handle or the one on the hitch itself - to determine whether the jaw is in the correct position to uncouple (red), couple (yellow) or tow (green).
360-Degree Pivot
Curt's unique spherical axial bearing provides a durable pivot point that allows easy, 360-degree movement of the hitch head. This ball joint is designed for smooth, quiet operation with less clunking and chucking.
Note: Curt Q-Series fifth-wheel hitches are not compatible with Sidewinder or Revolution king pins. The extra movement of these cushioned hitches keeps the Sidewinder from functioning properly.
16245 Curt Q24 Fifth-Wheel Trailer Hitch - 24,000 lbs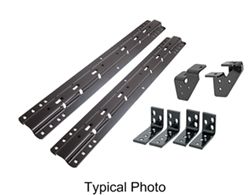 Install your fifth wheel trailer hitch quickly and easily with this complete installation kit. Includes base rails, semi-custom and universal brackets and necessary hardware.
Features:
Semi-custom brackets mount beneath your truck bed to provide attachment points for 5th wheel rails
Base rails sit in the truck bed and allow installation of your 5th wheel trailer hitch
Complete kit includes base rails, semi-custom and universal brackets and mounting hardware
Visible rails have carbide finish to match your Curt Q5 fifth wheel hitch
Some drilling is required
Compatible hitches - Curt, Draw-Tite, Hidden Hitch, Reese, Valley and Husky
Made in the USA
16301 & 16200 Curt Semi-Custom Fifth Wheel Installation Kit with Rails and Brackets - Carbide Finish