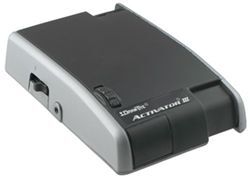 Electronic controller activates electric trailer brakes with a preset intensity when you apply the brakes in your vehicle. Digital display, manual override, and a simple, plug-in port included. Power output and braking aggressiveness are adjustable.
Features:
Brake controller activates trailer brakes with preset intensity

Signal is sent to trailer brakes when tow

vehicle's

brakes are activated

Adjustable output control lets you determine the amount of braking force

Set to maximum when you travel through hilly terrain with a fully loaded trailer
Back off the power output when you tow a lightweight trailer

Sync setting lets you adjust the aggressiveness with which the brakes are activated

Get full power output faster by moving switch forward to increase activation speed
Achieve smoother braking by moving switch in opposite direction to supply power gradually

Digital display is easy to read
Built-in, slide-bar manual override
Quick and easy installation

No need to mount level like proportional brake controllers
Mounting bracket, wiring harness and hardware included
Plug-in port makes it easy to connect to wiring harness

Plug-in,

vehicle

-specific brake-control adapter can be used for certain applications to reduce installation time
Specs:
Application: trailers with up to 4 axles (8 brake assemblies)

Designed for use with electric brakes only

Dimensions: 3-1/4" wide x 4-7/8" long x 1-1/8" tall
Limited lifetime warranty
Time-Delayed Braking
The Activator III applies your trailer's brakes when the brake pedal in your tow vehicle is engaged. Every time you apply the brakes in your vehicle, a signal is sent - via the brake switch - to the Activator. The controller then sends power out to your trailer brakes to activate them with an intensity set by you, at a rate determined by you. Both the amount of braking power (output) and rate of application (sync) can be adjusted to suit your preference, the road conditions, type of trailer and size of the load. To determine which levels are best for your application, you must test out your towing setup and choose what feels best.
A time-delay controller is so named because there is a delay between the time that you initially apply the brakes in your tow vehicle and the time that the controller reaches maximum power output. Unlike a proportional brake controller, which activates your trailer's brakes based on the deceleration of your tow vehicle, the Activator sends power out in the same way, with the same gradual delay, no matter the braking situation. Although this delay always exists, it can be adjusted by changing the sync setting.
Sync Settings
To adjust the aggressiveness of your trailer's braking action, use the slide control on the side of the Activator III to change the sync setting. If you want to reach maximum power output faster, move the switch forward. To get smoother braking action, move the switch backward, thus supplying power to the trailer brakes more gradually. You can alter the sync setting to suit your driving preferences or to improve handling based on changing road conditions or varied trailer loads.
Quick, Simple Installation
Because inertia plays no role in the functioning of this controller, you do not have to mount the unit at any particular angle. As a result, mounting options are limitless, so long as you can still easily access the controller. After mounting the unit, hardwire one end of the included pigtail harness directly into your vehicle. The other end plugs into the brake controller.
Installation Accessories
For even easier installation, a vehicle-specific wiring adapter is available for most newer trucks and SUVs. One end of the custom adapter plugs into your vehicle, and the other end plugs into the controller - no hardwiring required.
Note: If a custom brake-control wiring adapter is not available for your vehicle, one of the following will be required:
20-Amp circuit breaker (9506P - sold separately) for 2- to 4-brake applications
30-Amp circuit breaker (38630 - sold separately) for 6- to 8-brake applications
See also etrailer.com's exclusive 7- and 4-way brake-control installation kit (ETBC7 - sold separately) if you don't already have a 7-way plug at the back of your vehicle.
5520 Draw-Tite Act III Time-Delay Trailer Brake Control
Same as Reese Brakeman Ultra - 83520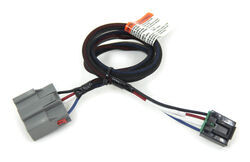 Install your electric brake controller quickly and easily with this custom wiring adapter. Simply plug one end of the adapter into your brake controller and then plug the other end into the built-in harness beneath your vehicle's dash.
Features:
Wiring adapter eases installation of your electric brake controller
Custom connector end plugs into the built-in port beneath the dash of your vehicle
Other end plugs into the back of your electric brake controller

Compatible time-delayed brake controllers: Draw-Tite Activator I (5100), Draw-Tite Activator II (5500), Draw-Tite Activator III (5520) and Tekonsha PowerTrac (39523)
Compatible proportional brake controllers: Tekonsha Prodigy (90185), Tekonsha P2 (90885), Tekonsha P3 (90195), Tekonsha Primus IQ (TK90160) and Tekonsha Voyager (39510)

Limited 1-year warranty
Installation of Tekonsha Brake Controller Adapter
This adapter plugs into the connector beneath your vehicle's dashboard. To reach the connector, first locate the notch in the access panel in the center of the dash, near the passenger side. Using a trim panel puller, carefully pry the panel out and undo the locking tabs to remove the panel. You will find the mating connector behind this portion of you dashboard.
To install your electric brake controller you need to connect the wiring of the controller to your vehicle. Certain manufacturers offer pre-wired options, typically known as tow packages, wherein these wires are run for you from the dash to the trailer connector on the back of your vehicle. Often, a brake controller wiring harness is included with your tow package. This harness plugs into a port beneath your dash and connects to the four wires of the brake controller. If, however, you have a brake controller with a plug in place of the four loose wires, you can use the Tekonsha adapter.
This adapter requires no hardwiring. It is designed to plug directly into your electric brake controller for the simplest installation possible. Because there are no wires to connect, installation is not permanent. You can unplug and remove your brake controller at any time and securely stow it away.
3034-P Tekonsha Brake Control Wiring Adapter with 2 Plugs