Equal-i-zer Weight Distribution - EQ37101ET
Steel-on-steel friction works to prevent and correct trailer sway in this unique weight-distribution system. Sway-control brackets ensure that your trailer stays in line with your tow vehicle. Shank sold separately.
Features:
Evenly distributes weight over axles of tow vehicle and trailer for stability and control

Creates a more level ride for both tow vehicle and trailer

Integrated 4-Point Sway Control limits side-to-side movement of trailer

Brackets keep spring bars in place for a rigid system that holds trailer in line

No lift chains - spring bars can't move freely
Steel-on-steel friction helps to minimize sway caused by winds, curvy roads or sudden maneuvers

Unique design makes system compatible with surge-type brake actuators
Spring bars flex appropriately over uneven terrain for a controlled, even ride without the bounce

Constructed of chromoly steel for superior dexterity and spring

No-drill, clamp-on brackets can be adjusted along the trailer frame to accommodate frame-mounted items such as gas tanks, toolboxes or generators
Desired tilt is achieved with traditional washer design

Add or remove washers from spacer rivet to tilt head up or down

Dipped steel construction is durable and corrosion resistant
Snap-up lever eases installation by reducing lifting required by trailer jack
System includes head assembly, spring bars, sway-control brackets, hitch ball, lift handle, and all necessary hardware

Adjustable shank sold separately
1-7/8" Thin walled socket (EQ70-00-4800 - sold separately) recommended for hitch ball installation

Made in the USA
Specs:
Maximum tongue weight: 1,000 lbs
Maximum gross towing weight: 10,000 lbs
Application: 2" x 2" trailer hitch receivers rated for use with weight-distribution systems
Sway-control bracket positioning: 27" - 32" back from center of coupler
Maximum trailer frame height: 6"
Spring-bar dimensions: 36" long x 1-3/8" wide
Limited lifetime warranty
Included w/ System
Required - Sold Separately
Optional Add-Ons

90-00-1001 Equal-i-zer Weight Distribution Hitch
Equal-i-zer 1,000-lb TW Weight Distribution Head
2-5/16" Equal-i-zer Chrome Hitch Ball - 10,000 lbs
(2) 14,000-lb GTW Equal-i-zer Sway-Control Brackets
(2) 10,000-lb GTW Equal-i-zer Spring Bars
Equal-i-zer Snap-up Lever
Spacer Rivet and Washers
Necessary Installation Hardware

Thin Walled Socket for Installation of Hitch Ball
Create a more stable ride for your tow vehicle and trailer with a weight-distribution hitch. Adding spring bars to your towing system applies leverage, which transfers the load that is pushing down on the rear of your vehicle to all the axles on both your tow vehicle and your trailer, resulting in an even distribution of weight throughout. The result is a smooth, level ride, as well as the ability to tow the maximum capacity of your hitch.
Selecting a Weight-Distribution System
The tongue weight rating is the most important factor in determining which size weight-distribution system you should use. If the bars of the system you choose are rated too high for your setup, they will create a rigid ride, which can result in a bouncing trailer. If, on the other hand, the bars are not rated high enough, the system will be unable to properly distribute the weight, rendering it virtually useless.
To determine the proper weight rating for a weight-distribution system, you must first determine your trailer's tongue weight. Then add to that the weight of the cargo behind the rear axle of your tow vehicle. These two measurements make up the tongue weight rating for a weight-distribution system.
Features of the Equal-i-zer
Head Tilt Adjustment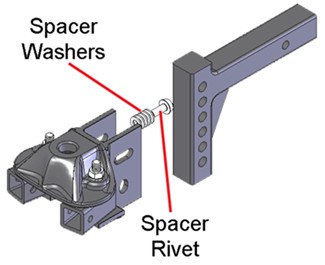 The Equal-i-zer weight-distribution system uses the traditional washer-style adjustment method to achieve the perfect tilt. Controlling the head tilt helps you to fine-tune the leverage on your entire system, making it easier to install and hook up the spring bars. To adjust the tilt, simply slide washers onto the spacer rivet and insert the rivet into the head assembly. To increase the angle, add a washer. To reduce the angle, remove a washer. Most setups take four to six washers to achieve the proper height. Once you get the desired tilt, insert the shank bolts to secure the head to the shank (sold separately) and then tighten it in place.
Construction of Spring Arms
The Equal-i-zer spring bars are not made of traditional spring steel. Rather, they are constructed of a chromium-molybdenum alloy steel. Chromoly steel has a high tensile strength for extreme durability. It also features excellent dexterity, which allows it to give as required and then return softly back to its original form. This pliability is important in minimizing trailer bounce while still ensuring that the weight of your rig is adequately distributed.
Fixed Sway-Control Brackets
The unique sway-control brackets of the Equal-i-zer are easy to install and simple to use. They clamp onto your trailer frame and conveniently adjust to a position anywhere between 27 inches and 32 inches back from the coupler. These brackets provide the attachment points for the weight-distribution spring bars. To position the spring bars during hookup, simply use the included snap-up lever to lift each bar into place on the L-shaped brackets. Then secure the bars in place with the included L-pins and clips.
Equal-i-zer Hitch 4-Point Sway Control
The Equal-i-zer weight-distribution system works to stop trailer sway before it begins. This is achieved through the rotational friction that is present in the weight-distribution hitch itself. Within the system head, the downward pressure that is placed on the hitch ball by the trailer is combatted by the upward pressure exerted by the spring bars that are mounted in the sockets. This upward force is placed on the spring bars on either side of the system, creating the rotational friction that, essentially, forces your trailer in line. This type of friction is responsible for two points - one on either side of the trailer - of the 4-Point Sway Control. To ensure that enough tension is present, make certain that the socket bolts in the head assembly are torqued to at least 45 foot-pounds.
The other two points of sway control are created by the steel-on-steel friction that occurs when the spring bars slide within the L-brackets that are mounted on the trailer tongue. Most traditional weight-distribution systems have spring bars that are suspended by chains. Although this ensures that the system is not so rigid as to create bounce in the trailer, it also allows a good deal of side-to-side play in the system. Letting the spring bars hang freely minimizes the rotational friction described earlier. It also eliminates your system's ability to create the type of direct friction that has been shown to be so effective in limiting trailer sway.
This direct friction that is applied to the spring bars in the Equal-i-zer system helps to stop sway once it has begun. The concept is similar to the way in which an add-on friction-sway-control device functions. When each spring bar moves forward or backward, or side to side, it rubs along the bracket, creating friction. The resistance created by this action limits the movement of the spring bar, thus preventing further side-to-side movement of the trailer.
Most add-on units feature some sort of friction material similar to that used in automotive brakes. But the Equal-i-zer uses direct steel-on-steel contact to create resistance. This is the same sort of friction that is used with locomotives that pull loaded railcars weighing tons. No additional materials are needed. The steel will outlast any of those other materials, providing an extremely durable, functional sway-control system.
EQ37101ET Equalizer Weight-Distribution Hitch with Hitch Ball, without Shank - 10K