MaxxTow Headache Rack - MT70234
Protect yourself and the cab of your truck from shifting cargo with this sturdy steel headache rack. The grid-style screen shields you without obstructing your view. Bottom adjusts from 64" to 74" to fit different truck bed widths.
Features:
Heavy-duty headache rack helps to protect the cab of your truck from shifting cargo

Prevents cargo in truck bed from crashing through rear window

Grid-style wire screen creates barrier without obstructing your view
Universal fit - bottom portion with mounting brackets adjusts to fit different truck bed widths
Uprights extend above screen to act as load stops

Lean ladders, lumber, or cargo against the rack

Commercial-grade steel construction
Rust-resistant black powder coat finish
Bolts to truck stake pockets, with two additional holes required one in each bed rail
Specs:
Distance from center of mounting hole to center of mounting hole: adjustable from 60-7/8" to 75-1/2"
Top width of the headache rack: 44"
Overall height: 28-1/2"
Frame tubing width: 2"
90-Day warranty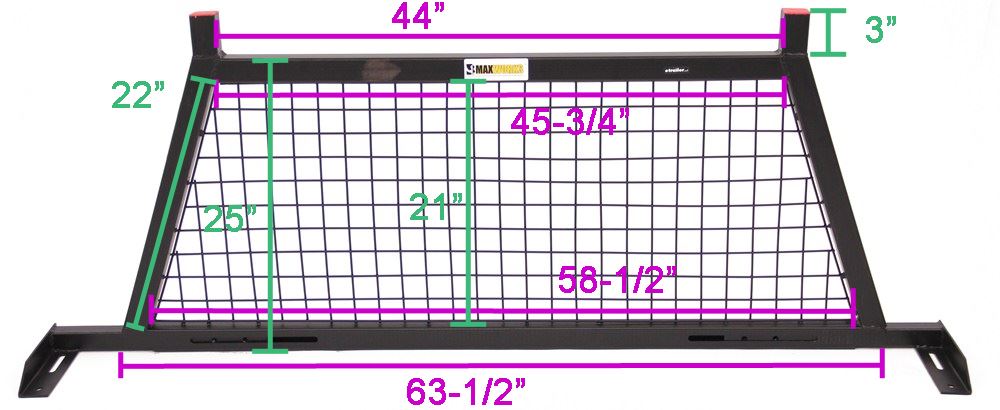 70234 Maxx Tow Heavy Duty Headache Steel Rack
Customer Reviews
MaxxTow Heavy Duty Headache Rack - Black Powder Coated Steel - MT70234
Average Customer Rating: 4.4 out of 5 stars (15 Customer Reviews)
Protect yourself and the cab of your truck from shifting cargo with this sturdy steel headache rack. The grid-style screen shields you without obstructing your view. Bottom adjusts from 64" to 74" to fit different truck bed widths.
- MT70234
by: Kelly B09/27/2015
For the price, a good value. The installation on my 2015 Ram 3500 was not smooth. I had to take two of the bed rail parts, the parts that go under the bed rail that help to tie the rack down, and cut them down with a torch to get them to fit. Also, the way that the front of the Ram bed/box is designed it was extremely difficult to position the parts in the stake holes, the bolts had to be put in from the bottom of the stake hole, meaning the nut & threads are exposed on the top. All said and done, it looks nice and will do the job that it was purchased for. Etrailer's shipping was super fast and their emails keep you posted at all times where your product is. Love Etrailer! 227947
- MT70234
by: rick s04/25/2015
its worth the money. it fits great and looks great. we will see how it preforms when i haul a big load of firewood. the only complaint i have is the mounting hardware there is no way to use any of it on a 2015 gmc 3500hd. but with a little welding of bolt and nuts to plates it mounted up nice. oh and the maxx tow sticker was on upside down so i scraped it off. no big deal. if you are looking for something fancy this aint it but something functional and looks good this is it. 188230
- MT70234
by: Ron06/25/2014
Very good value. Installation was not what I would call "easy" though. I hot glued the large washer plates to my stake pockets to hold them in place so I could start the nuts. I couldn't use the supplied washers as they wouldn't fit the small access hole. In retrospect, I guess I could have ground them down. Installation headaches aside, the rack looks great and seems strong enough to handle almost any job. 137676
- MT70234
by: John04/24/2015
It looks good but when I received it the box was destroyed and no hardware called and have been waiting two weeks for the hardware to mount it. This was my first etrailer purchase and probably my last 188053
Comments
I had the same problem and eTrailer sent a package of hardware straight away, after a few emails and a phone call.
comment by: Charlie H - 06/01/2015
12238
- MT70234
by: RWC06/12/2015
This is the second order of cab guards we have installed on our construction trucks. For the price these are great protection from things getting into the back window. 203029
- MT70234
by: Patrick G12/02/2013
I was amazed how quickly my product was sent to my home. All parts were there and in excellent shape. I will most certainly use etrailer.com again in the future. 108916
- MT70234
by: WindGuy11/08/2014
Fantastic Product. Parts are all there. We use these for construction trucks. They hold up great and fit Ford Dodge Chevy and are very easy to install. 159989
- MT70234
by: I.Schneider02/25/2014
This headache rack worth the cheap price,looking good on the truck.The seller is very fast,excellent! 117697
- MT70234
by: ALAN05/13/2015
Quality robust Product ,with great service from the Vendor ! Thank you. 192398
- MT70234
by: Warren08/13/2013
I got my package in good condition looks like an easy install Thanks 94873
- MT70234
by: Esther10/07/2013
Great product & fast shipping. Really happy with my purchase. 102884
- MT70234
by: karen W.07/02/2015
Everything came great and right to the door. 208858
- MT70234
by: Ken R12/03/2014
Fast shipping, decent for the small pri ce. 163178
- MT70234
by: Dan07/18/2015
Great was easy to install 212851
- MT70234
by: Dan C06/11/2014
ok like it. 135208
15
15
Why etrailer.com?
At etrailer.com we guarantee:
Highest quality headache rack for the best price.
Real product know-how.
We make sure that the products we sell are what we say they are, and that they work the way they are supposed to work. This helps you get the right product the first time.
Every day our teams test, review, assemble and install our products. Our modern installation facilities allow our expert installers and customer service representatives to actually install and use the items we sell, so you can get real advice, from a real person who has the knowledge and expertise needed to solve your problem.
Most detailed, accurate headache rack information available.
Because we take providing accurate product information seriously, we take our own detailed product photos, demo videos and installation videos, as well as verify measurements, instructions, and vehicle fit information.
Information for this part was:
Installations, made easy.
We love helping people.
We have the most highly trained customer service, hands-on experience, step by step videos and installation instructions. We are prepared to answer any question, give advice, or troubleshoot any problem you come across.
Fast shipping.
Personalized service for life.
We provide one-on-one, personalized service from the ordering process through the life of your product.
Trusted since 1946.
We've been serving customers since our parts store first opened in 1946 and continue to be recognized by our customers, our vendors and third parties for exceptional service.