Redline Trailer Suspension - 175668
This U-bolt, in conjunction with a U-bolt plate and an additional U-bolt, attaches your round, 7,500-lb axle to your leaf springs. Bolt is 7-3/4" long and has an inner width of 2-1/2".
Features:
Used with U-bolt plate to secure axle to leaf springs, which are mounted to the trailer frame
Attaches with a U-bolt plate (sold separately) and an additional U-bolt with same dimensions (sold separately)
Fits 7,500-lb, solid-bar, round trailer axles with 2-1/2" diameter
Includes 2 nuts
Specs:
Bolt diameter: 9/16"
Length: 7-3/4"
Width: 2-1/2"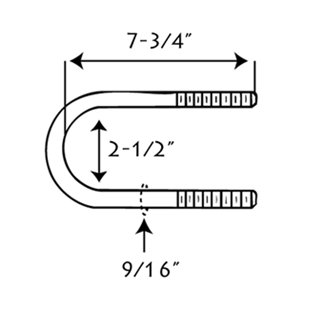 175668 U-Bolt for 7,500-lb Round Trailer Axles
Customers compare 175668 to these similar products
Customers Who Purchased This Trailer Suspension Also Bought...
Customer Reviews
Replacement U-Bolt w/Nuts for 7,500-lb, Round Trailer Axles - 9/16 - 175668
Average Customer Rating:





5.0 out of 5 stars (3 Customer Reviews)
- 175668





by: highwaydevil02/12/2012
Is this review helpful?
Quick shipper, clean threads-the nuts easily threaded on. 31664
- 175668





by: Mike H09/20/2011
Is this review helpful?
I had to replace the springs on my trailer because of a wheel coming off. Etrailer had exactly what I needed, shipped quickly, and made in the USA (which is important to me). Any other parts I need for trailers will be ordered through them. Go USA.24285
- 175668





by: Dennis C04/12/2011
Is this review helpful?
This is a great price for this product and it is as described. I was so please with e-trailer, I also ordered the plates from here. Thanks for the fast shipping11525
Ask the Experts about this Redline Trailer Suspension


Do you have a question about this Trailer Suspension?


The U-bolts on a trailer suspension are designed to attach the leaf springs to the axle of the trailer. The U-bolts will need to fit the diameter of your axle. I would recommend to measure the diameter of the axle. A 6,000-lb axle should have a diameter of 3 inches. The spindle that is attached to the axle will measure 2-1/4 inches in diameter. There is not a U-bolt available in a width of 2-1/4 inches. The Redline Replacement U-Bolt, part # 176500, is a U-bolt that is designed for 5,200-lb
view full answer...