2008 pontiac g6 - Draw-Tite Trailer Hitch Receiver - Custom Fit - Class II - 1-1/4"
This fully welded, corrosion-resistant pontiac g6 trailer hitch receiver is perfect for your light-duty towing needs. Draw-Tite's Tested Tough guarantee ensures that this hitch exceeds industry standards. Drawbar sold separately.
✔ Confirmed to fit your 2008 pontiac g6
Features:
Custom-fit trailer hitch lets you tow a trailer or carry a bike rack or cargo carrier with your pontiac g6
Computer-aided, fully welded steel construction ensures strength and durability
Tested Tough - safety and reliability criteria exceed industry standards
Bolt-on installation - no welding required

Complete hardware kit and installation instructions included

Lifetime technical support from the experts at etrailer.com
Black powder coat finish covers e-coat base for superior rust protection
Sturdy, square-tube design
Drawbar sold separately - pin and clip included
Specs:
Receiver opening: 1-1/4" x 1-1/4"
Rating: Class II

Maximum gross trailer weight: 3,500 lbs
Maximum tongue weight: 300 lbs

Limited lifetime warranty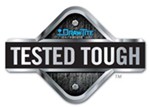 Draw-Tite Tested Tough
Draw-Tite's Tested Tough program provides testing standards far superior to those outlined by the Society of Automotive Engineers (SAE), the go-to source for engineering professionals.
Each Draw-Tite trailer hitch receiver undergoes extensive fatigue testing and static testing with the ball mount that is either supplied or recommended for use with that particular hitch, thus ensuring results that are applicable to real life use. Fatigue testing is also conducted on hitches rated for use with weight-distribution systems.
In addition, Draw-Tite performs static testing on a simulated automobile, as opposed to the rigid fixture used for SAE testing, resulting in a more true-to-life scenario.
etrailer.com Technical Support
At etrailer.com we're committed to the products we sell, and to our customers. Our experienced and knowledgeable staff are available via both phone and email to address your questions and concerns for the lifetime of your hitch. The technicians at etrailer perform hitch installations on a daily basis, making them a valuable resource for do-it-yourselfers. The one-on-one, personal service you'll receive comes straight from an expert in the towing and automotive field. We've installed it, we've wired it and we've towed with it, so whatever your question, we can answer it.
36426 Draw-Tite Class 2 Trailer Hitch Receiver
Customer Reviews
Draw-Tite Trailer Hitch Receiver - Custom Fit - Class II - 1-1/4" - 36426
Average Customer Rating: 4.7 out of 5 stars (9 Customer Reviews)
This fully welded, corrosion-resistant vehicle trailer hitch receiver is perfect for your light-duty towing needs. Draw-Tite's Tested Tough guarantee ensures that this hitch exceeds industry standards. Drawbar sold separately.
- 36426
by: Chuck01/01/2014
Fit was unbelievable, could not have been any deviation. Install was moderate due to need to "fish" components through frame but tools provided in kit worked well. We used mechanics wire, (mild steel wire) to extend length. I had somewhat unique application with dual exhaust but advice from E trailer expert was on the mark and the install went smoothly. I will be a returning customer and will again rely on the experts advice as I add to my towing/cargo capacities. Having the car on a lift makes this project go a lot easier but then again if I were younger it would have been doable working in the driveway. For a small donation and flexibility in install time, I was able to use my local mechanics lift. 111645
- 36426
by: TW05/10/2012
Everything arrived just fine along with easy to read instructions. I had also watched the e-trailer video prior to starting the project. For being a hitch that is supposed to match my vehicle it did not match very well. The hitch was about 5/8 narrower then my frame rails. Becasue of this the slotted holes were at their max when I was trying to pull the bolts through. They are at a bit of an angle, but they are secure. Once I got this far it was easy to drill the remaining holes and mount the hitch. 39824
- 36426
by: Jim R.03/30/2012
This is my third hitch from E-Trailer. We use them for mounting bike racks and pulling light trailers. Thanks for the great service. I tracked the shipment right up to my door. 35635
Click to Enlarge
- 36426
by: Wayne Belcher02/12/2012
Excellent hitch. My only complaint is about the instructions. When installing the bolts, you had better have a magnetic pickup handy! So that when the bolt gets stuck, you can retrieve it and try again. makes it a lot easier to install. 31608
- 36426
by: Josh J.06/04/2014
Great product. Straight forward install. The spacers that run from the hitch to the bumper back side should to be spot welded to the hitch at the factory. This would eliminate extra parts falling off during installation. 134201
- 36426
by: James N.03/29/2011
The product was received today well packaged in plastic. I received the hitch faster than expected. As described the install took about an hour. Fantastic product and great costumer service! 10633
- 36426
by: Albert S.02/11/2012
Custom made and custom fit as advertised. The installtion went very well and just as easy as the video described. 31589
- 36426
by: Fred Z05/29/2011
Nice product. Fits well. 15638
- 36426
by: Ted W08/08/2015
Great aaaaa plus thanks 217711
9
9
Why etrailer.com?
At etrailer.com we guarantee:
Highest quality trailer hitch for the best price.
Real product know-how.
We make sure that the products we sell are what we say they are, and that they work the way they are supposed to work. This helps you get the right product the first time.
Every day our teams test, review, assemble and install our products. Our modern installation facilities allow our expert installers and customer service representatives to actually install and use the items we sell, so you can get real advice, from a real person who has the knowledge and expertise needed to solve your problem.
Most detailed, accurate trailer hitch information available.
Because we take providing accurate product information seriously, we take our own detailed product photos, demo videos and installation videos, as well as verify measurements, instructions, and vehicle fit information.
Information for this part was:
Installations, made easy.
We love helping people.
We have the most highly trained customer service, hands-on experience, step by step videos and installation instructions. We are prepared to answer any question, give advice, or troubleshoot any problem you come across.
Fast shipping.
Personalized service for life.
We provide one-on-one, personalized service from the ordering process through the life of your product.
Trusted since 1946.
We've been serving customers since our parts store first opened in 1946 and continue to be recognized by our customers, our vendors and third parties for exceptional service.