Draw-Tite Sportframe Trailer Hitch Receiver - Custom Fit - Class I - 1-1/4" - 1993 Saturn S Series
This fully welded, corrosion-resistant Saturn S Series trailer hitch is perfect for your light-duty towing and hitch rack needs. Tested Tough guarantee ensures that this hitch exceeds industry strength standards. Drawbar, pin and clip sold separately.
Features:
Custom fit is designed specifically for your Saturn S Series
Computer-aided, fully welded steel construction ensures strength and durability
Tested Tough - safety and reliability criteria exceed industry standards
Bolt-on installation - no welding required

Complete hardware kit and installation instructions included

Lifetime technical support from the experts at etrailer.com
Black powder coat finish covers e-coat base for superior rust protection
Sturdy, square-tube design
Drawbar, pin and clip are sold separately
Made in USA
Specs:
Receiver opening: 1-1/4" x 1-1/4"
Rating: Class I

Maximum gross trailer weight: 2,000 lbs
Maximum tongue weight: 200 lbs

Limited lifetime warranty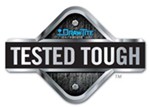 Draw-Tite Tested Tough
Draw-Tite's Tested Tough program provides testing standards far superior to those outlined by the Society of Automotive Engineers (SAE), the go-to source for engineering professionals.
Each Draw-Tite trailer hitch receiver undergoes extensive fatigue testing and static testing with the ball mount that is either supplied or recommended for use with that particular hitch, thus ensuring results that are applicable to real life use. Fatigue testing is also conducted on hitches rated for use with weight-distribution systems.
In addition, Draw-Tite performs static testing on a simulated automobile, as opposed to the rigid fixture used for SAE testing, resulting in a more true-to-life scenario.
etrailer.com Technical Support
At etrailer.com we're committed to the products we sell, and to our customers. Our experienced and knowledgeable staff are available via both phone and email to address your questions and concerns for the lifetime of your hitch. The technicians at etrailer perform hitch installations on a daily basis, making them a valuable resource for do-it-yourselfers. The one-on-one, personal service you'll receive comes straight from an expert in the towing and automotive field. We've installed it, we've wired it and we've towed with it, so whatever your question, we can answer it.
24620 Draw-Tite Class 1 Trailer Hitch Receiver - Sportframe
1993 Saturn S Series Owners Who Purchased This Trailer Hitch Also Bought...
Rubber Tube Cover 1-1/4"
$4.49
Customer Reviews
Draw-Tite Sportframe Trailer Hitch Receiver - Custom Fit - Class I - 1-1/4 - 24620
Average Customer Rating:





4.7 out of 5 stars (3 Customer Reviews)
- 24620





by: Paul Meulemans03/24/2011
Is this review helpful?
Good quality hitch, Offers plenty of strength considering the size of the vehicle. It is a bit of a hassle to install because it has to go behind the muffler, but it is designed to do that very well. Overall I am happy with the quality of hitch and installation took slightly less time than the prescribed hour given onlne.10234
- 24620





by: Joseph C.03/09/2011
Is this review helpful?
Very very good product. Fits like a glove! But be prepaired to drill some holes for an hour or two. Must step drill . Do yourself a favor and use some oil when drilling.Can barely see it under the car.I love it! And for my 97 Saturn SL2 a 5" raise ball mount was perfect. .8828
- 24620





by: Lauraflora07/26/2012
Is this review helpful?
This manufacturer's product was recommended to us by our usual mechanic, who also attached it to our car once we got it. His advice added to our confidence that this was a good product and a good on-line company, and a good price. (So this is a double recommendation from him and from us.) Delivery was quick, the hitch looked sturdy and good to me, and the mechanic had no problem putting it on. We have not purchased the trailer that we will be using to pull the canoe that we haven't purchased yet either. But we are confident that all will work together well. The hitch was the first thing to get and install.49459
Ask the Experts about this Draw-Tite Trailer Hitch


Do you have a question about this Trailer Hitch?
Weight Carrying Capacity
Gross Towing Weight (GTW):


2,000 lbs.
Tongue Weight (TW):


200 lbs.
Weight Distribution Capacity
Hitch does not allow
use of weight distribution
Trailer Hitch Installation Instructions

Tech Tip
Drilling required for installation, Trunk access required for hitch installation, Minor heat shield modification may be required, Exhaust must be temporarily lowered for installation
Recommended Wiring:
119175KIT
Recommended Ball Mount:
Draw-Tite recommends: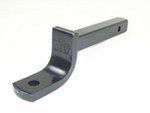 3592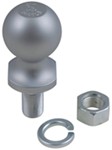 1-7/8" hitch ball - 19256

2" hitch ball - 19258
If you have any questions you can
contact
our customer service department.