Hidden Hitch Trailer Hitch Receiver with Drawbar - Custom Fit - Class I - 1-1/4" - 2008 Element by Honda
Specially designed for light-duty applications, this fully welded Honda Element trailer hitch receiver features a powder coat finish over an e-coat base to ensure superior corrosion resistance. Drawbar, pin and clip included.
Features:
Custom fit is designed specifically for your Honda Element
Computer-aided, fully welded steel construction ensures strength and durability
Easy, bolt-on installation - no welding required

Complete hardware kit and installation instructions included

Lifetime technical support from the experts at etrailer.com
Black powder coat finish covers e-coat base for superior rust protection
Sturdy, square-tube design
Drawbar, pin and clip included
Made in USA
Specs:
Receiver opening: 1-1/4" x 1-1/4"
Rating: Class I

Maximum gross trailer weight: 2,000 lbs
Maximum tongue weight: 200 lbs

Limited lifetime warranty
etrailer.com Technical Support
At etrailer.com we're committed to the products we sell, and to our customers. Our experienced and knowledgeable staff are available via both phone and email to address your questions and concerns for the lifetime of your hitch. The technicians at etrailer perform hitch installations on a daily basis, making them a valuable resource for do-it-yourselfers. The one-on-one, personal service you'll receive comes straight from an expert in the towing and automotive field. We've installed it, we've wired it and we've towed with it, so whatever your question, we can answer it.
60985 Hidden Hitch Class 1 Trailer Hitch Receiver
2008 Element by Honda Owners Who Purchased This Trailer Hitch Also Bought...
Rubber Tube Cover 1-1/4"
$4.49
Customer Reviews
Hidden Hitch Trailer Hitch Receiver with Drawbar - Custom Fit - Class I - 1-1/4 - 60985
Average Customer Rating:





5.0 out of 5 stars (5 Customer Reviews)
- 60985





by: Bob W.04/01/2011
Is this review helpful?
Took me about 15-20 minutes to install. Would have been even faster with a second set of hands and the right sockets. Very sturdy. Build quality excellent!10917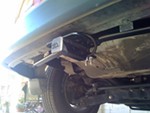 Click to Enlarge
- 60985





by: john03/26/2013
Is this review helpful?
Bolted write in to place with out a hitch, less than 20 mins. thank you.72662
- 60985





by: Dave P10/31/2011
Is this review helpful?
Quick shipping and easy installation. 26376
- 60985





by: Harold S.09/30/2011
Is this review helpful?
Unbelievable Service and Pricing!...My Honda Element Hitch and accessories arrived in 2 days to My door....That's Service...Free shipping Too!...Thank You So Much24913
- 60985





by: Julio05/23/2011
Is this review helpful?
Product arrived fast. Installed in less than 15 minutes. Looks good!15188
Ask the Experts about this Hidden Hitch Trailer Hitch

Weight Carrying Capacity
Gross Towing Weight (GTW):


2,000 lbs.
Tongue Weight (TW):


200 lbs.
Weight Distribution Capacity
Hitch does not allow
use of weight distribution
Trailer Hitch Installation Instructions

Tech Tip
Hitch will not fit SC models.No drilling required for installation
Recommended Wiring:
118465
Recommended Balls: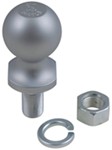 1-7/8" hitch ball - 19256

2" hitch ball -19258
If you have any questions you can
contact
our customer service department.