Hidden Hitch Trailer Hitch - 87408
This durable, fully welded vehicle trailer hitch receiver features a powder coat finish over an e-coat base to ensure superior corrosion resistance.
Features:
Custom fit is designed specifically for your vehicle
Computer-aided, fully welded steel construction ensures strength and durability
Easy, bolt-on installation - no welding required

Complete hardware kit and installation instructions included

Lifetime technical support from the experts at etrailer.com
Black powder coat finish covers e-coat base for superior rust protection
Sturdy, square-tube design
Ball mount, pin and clip sold separately
Made in USA
Specs:
Receiver opening: 2" x 2"
Rating: Class III

Maximum gross trailer weight: 3,500 lbs

Maximum GTW when used with weight distribution: 6,000 lbs

Maximum tongue weight: 350 lbs

Maximum TW when used with weight distribution: 600 lbs

Limited lifetime warranty
etrailer.com Technical Support
At etrailer.com we're committed to the products we sell, and to our customers. Our experienced and knowledgeable staff are available via both phone and email to address your questions and concerns for the lifetime of your hitch. The technicians at etrailer perform hitch installations on a daily basis, making them a valuable resource for do-it-yourselfers. The one-on-one, personal service you'll receive comes straight from an expert in the towing and automotive field. We've installed it, we've wired it and we've towed with it, so whatever your question, we can answer it.
87408 Hidden Hitch Class 3 Trailer Hitch Receiver
This Product Fits The Following Vehicles
1992 - 2010 Ford Crown Victoria
1992 - 2011 Mercury Grand Marquis
1980 - 2010 Lincoln Town Car
1983 - 1991 Mercury Grand Marquis excluding Wagon
1983 - 1991 Ford LTD Crown Victoria excluding Wagon
Customer Reviews
Hidden Hitch Trailer Hitch Receiver - Custom Fit - Class III - 2 - 87408
Average Customer Rating:





5.0 out of 5 stars (1 Customer Reviews)
- 87408





by: Chris R05/12/2012
Is this review helpful?
Installation was as easy as i could imagine. This hitch is very heavy duty.The car most likely wont tow the amount of weight needed to break this hitch. The only thing that i dislike is that it is so high that the bumper rests on it. Not a huge problem but just something that i noticed. . Overall i am very happy with the hitch, Great quality and easy installation. Etrailer shipped fast and before i knew it my hitch was at my door. 40188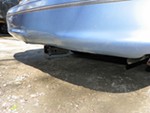 Click to Enlarge
Ask the Experts about this Hidden Hitch Trailer Hitch


Do you have a question about this Trailer Hitch?


By looking over the instructions for Hidden Hitch Trailer Hitch, # 87408, since the bracket already has to be rotated 180 degrees, also moving it to the outboard side of the frame rail may make it so that it will no longer be able to reach the exhaust that hangs from it. There may also be too much space between the hitch and frame with the hanger moved to the outboard side of the frame. I have included a link to the installation instructions for you to view to give you a better idea of everyt
view full answer...