Draw-Tite Trailer Hitch - 75078
Fully welded vehicle trailer hitch is strong and durable. Draw-Tite's Tested Tough guarantee ensures that this hitch exceeds industry standards. The combination of an e-coat base and a powder coat finish provides excellent rust protection.
Features:
Custom-fit trailer hitch lets you tow a trailer or carry a bike rack or cargo carrier with your vehicle
Computer-aided, fully welded steel construction ensures strength and durability
Tested Tough - safety and reliability criteria exceed industry standards
Easy, bolt-on installation - no welding required

Complete hardware kit and installation instructions included

Lifetime technical support from the experts at etrailer.com
Black powder coat finish covers e-coat base for superior rust protection
Sturdy, square-tube design
Ball mount, pin and clip sold separately
Specs:
Receiver opening: 2" x 2"
Rating: Class III

Maximum gross trailer weight: 5,000 lbs

Maximum GTW when used with weight distribution: 5,500 lbs

Maximum tongue weight: 500 lbs

Maximum TW when used with weight distribution: 550 lbs

Limited lifetime warranty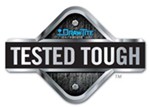 Draw-Tite Tested Tough
Draw-Tite's Tested Tough program provides testing standards far superior to those outlined by the Society of Automotive Engineers (SAE), the go-to source for engineering professionals.
Each Draw-Tite trailer hitch receiver undergoes extensive fatigue testing and static testing with the ball mount that is either supplied or recommended for use with that particular hitch, thus ensuring results that are applicable to real life use. Fatigue testing is also conducted on hitches rated for use with weight-distribution systems.
In addition, Draw-Tite performs static testing on a simulated automobile, as opposed to the rigid fixture used for SAE testing, resulting in a more true-to-life scenario.
etrailer.com Technical Support
At etrailer.com we're committed to the products we sell, and to our customers. Our experienced and knowledgeable staff are available via both phone and email to address your questions and concerns for the lifetime of your hitch. The technicians at etrailer perform hitch installations on a daily basis, making them a valuable resource for do-it-yourselfers. The one-on-one, personal service you'll receive comes straight from an expert in the towing and automotive field. We've installed it, we've wired it and we've towed with it, so whatever your question, we can answer it.
75078 Draw-Tite Class 3 Trailer Hitch Receiver - Max-Frame
87169 (87579) Hidden Hitch Class 3 Trailer Hitch Receiver
Installation Details

This Product Fits The Following Vehicles
1995 - 1997 Toyota Tacoma 2 Wheel Drive models
1995 - 1997 Toyota Tacoma 4 Wheel Drive models
1998 - 2004 Toyota Tacoma All Models
Customer Reviews
Draw-Tite Max-Frame Trailer Hitch Receiver - Custom Fit - Class III - 2" - 75078
Average Customer Rating: 4.8 out of 5 stars (66 Customer Reviews)
Fully welded vehicle trailer hitch is strong and durable. Draw-Tite's Tested Tough guarantee ensures that this hitch exceeds industry standards. The combination of an e-coat base and a powder coat finish provides excellent rust protection.
- 75078
by: Jeff McC04/30/2013
Install was a pretty straight forward. Without pneumatics you'll want a 2' break-over bar for this job and I'd PB Blaster the existing hardware the night before for easier removal. There are bolts in the holes for the forward-most mounts. The instructions show an empty hole. I wouldn't recommend even attempting to remove these with a standard 14mm socket & ratchet. Having tried and nearly rounding the heads I bought an Irwin Bolt Grip set ($33 at NAPA, be sure to get the one with the 14mm size) and they came out with considerable effort on the end of my 2' bar. Be sure to keep the socket square on the head and be patient. Once the unnecessary hardware was removed and the flanges installed at the back I put the hitch in place with all hardware loose to ensure clean threading of the forward bolts into the captured nut in the frame. Square things up to the bumper and tighten all the hardware (2 each: bumper mount nuts/bolts holding the flange, forward bolts into captured nut in frame, rear machine bolts/nuts mounting hitch to frame through the flanges). Three hours including the trip to NAPA, should have taken about half that time. Good luck! 78486
Comments
My hitch is working just like the day I installed it. I use it once a month for work and am glad to have it when I need it. It was a good deal, a good product and relatively easy install. Would absolutely recommend.

Jeff M - 05/09/2014
4032
- 75078
by: ROBERT S02/15/2013
The hitch was here very fast, and it went on the truck perfectly, all the holes were right on . I thought it was very easy to install but I think you need to drop the spare tire. On a 2001 Toyota Tacoma Prerunner you need a key that hooks on to the jack handel and than the tire drops very easy. I would tell everyone to buy your products, the hitch I bought for my 2001 Toyota Solar was just as good and I put it on with ease, so thanks again BW 66510
Comments
It is working as good as the day I put it on my truck and will last a long time because of the thought and workmanship that went into it, thanks so much ROBERT

ROBERT S - 08/16/2014
6290
- 75078
by: Rico10/17/2012
This service has been fantastic. Updates on shipping, upgrades for quicker shipping, checking in to make sure I got it once delivered. I haven't even opened the box yet but felt compelled to comment. Thanks so far! 57478
Comments
18 months after getting my hitch I must say I still appreciate it. I recall the install was smooth and uncomplicated even for me alone. My truck frame rusted out and was replaced by Toyota what a great warranty! and the hitch went with it. No problems with the transfer and it still works great. Thanks so much!

Rico - 04/17/2014
3618
- 75078
by: Geoff L10/06/2014
I am very pleased with the product and service provided by etrailer. Not only was it shipped and delivered when they said it was going to be, but the hitch was very easy to install (once all the rusted hardware was out.) I had no issue with the mounting the front brackets. A simple soak in solvent was all it needed. The rear set of 14mm bolts into the frame posed a much greater challenge. My biggest suggestion to anyone doing this on their own is to use heat, alot of it. Personally, a regular acetylene torch worked just fine. I put a small head on it (brazing tip) and was able to heat the top of the bolt where it threaded. Once cherry red the bolt came out fine. Once all the rusted hardware was out, it took less than 10 minutes to have the job completely done. I towed a 1000 lb trailer an hour later and it did it's job. Thanks etrailer! 154568
- 75078
by: PJ07/02/2011
Install was fairly easy. I made my mistake by following the video instead of the printed instructions. My install was on a 2004 Tacoma. Instead of the removing the bolts 16" from the back of the frame I removed the ones closest to the bumper (WRONG). I had to drop the hitch back out and remove the ones specified in the printed instructions as said earlier 16". The only other problem I ran into was positioning the hitch. I was doing it alone and after trying to man handle it into place, I decided it to drop the spare. After droping the spare it went right in. If you're working by yourself I'd advise droping the spare the extra room makes for a easier install. All holes lined up perfectly. I'm very happy with this product. Install, even with my minor problems, still only took 45 minutes. 18427
- 75078
by: Silverfoot06/27/2010
Nice Hitch The hitch was shipped in a rather flimsy box with no padding, so a little paint was worn off on a couple edges. A little touch-up spray paint and it was fine. The hitch itself seems to be built well. The welds look good. I mostly installed this myself and it took a bit over an hour. It was a bit of a pain. The rear bolt holes did not exactly line up with the truck. I had to use a neighbor and a ratchet strap to pull the ends of the hitch legs together to align the holes. Once it was aligned, it screwed together easy enough. As others have mentioned, drop the spare tire and push it out of the way (takes 2 min), else the hitch won't go in. 3178
- 75078
by: Tim J.03/23/2012
This is a great hitch, and arrived in time, and in good shape. The box was still intact as were all the pieces. It's really more hitch than I actually need, but will do me well for the future. I bought here instead of someplace else because the actual hitch looked to be built better, and it was. The other place also had complaints of people receiving it wrapped in bubble wrap, and/or damaged in transit. I'm also glad to have the video as reference as to how to install. One other thing: this one had only two of the really difficult bolts to undo, and I think the other one had four. Thanks, folks! 34944
- 75078
by: Eric08/23/2009
Perfect! Really as advertised. I have a 2004 Tacoma 4x4 extended cab. This hitch did fit perfectly. No drilling. The video were really informative. I installed this hitch with no help, may be for that reason I had to drop the spare tire. It made the installation with no help a lot easier. I recommend the product if your looking for an installation with no bad surprise. The job was done in 2 hours including opening the box, getting and putting tools away. I also installed the recommended harness.Thanks etrailer. 2295
- 75078
by: KramerGWT01/22/2011
Order came on time. Unlike others have reported, the box arrived completely intact and nothing was damaged or scuffed. Watch their video. It is THAT easy. Absolutely no need to remove the spare. Just jiggle the hitch around and you will be able to fish it into position in a few minutes. Everything lined up perfectly. Most of the the time was spent looking for misplaced tools. Otherwise, took about 30 or 40 minutes of actual installing. Nice beefy construction and barely visible from the back. 5927
- 75078
by: Martin Z05/02/2013
Received this hitch only a couple of days after placing my order. Fast shipping and received in great condition. VERY easy to install...installed it the same day I received it. Took me a little longer than I thought since I did it by myself. A second person would make it much easier. I had to lower the spare so I could get a good position using the breaker bar on the two bolts that are 16" from the rear. Breaker bar required for sure. The instructions and video were a great help. Thanks!! 78663
- 75078
by: Dan S.05/09/2012
The HIdden Hitch trailer hitch arrived in about a week by UPS. The hitch and other items I ordered were packaged well, and were in good shape when I opened the box. It took about an hour to install the hitch,and I removed the spare tire out of the way to facilitate the installation. It would have been handy to have another person to help me,but I managed the job alone. The hitch looks sturdy,and well made. I will be interested in testing it with a utility trailer soon. 39789
- 75078
by: Jim the Fool07/19/2008
Do Not Install this Alone! Hitch itself is great. Actually for a 4 banger like mine it's too good. I installed it on an 03 Tacoma regular cab. Getting this into position by yourself is a KILLER. Drop the spare and ply your buddies with a few beers, (after it's in!!) Once you get it into position it's a breeze. I only wish it went as fast as the video. HA! Light kit was a breeze... If you need a hitch, this is the one. 1081
- 75078
by: Gordon D.05/09/2013
This was easy to install (on my 2003 Tacoma TRD), and seems like a very heavy duty product for the price. The hardest part was figuring out how to get the spare tire off and out of the way (read the owner's manual). I also bought the custom wiring harness which just plugged right in--a lot better than trying to splice wires. It only took me about an hour to do the whole thing--after watching the installation videos. 79607
- 75078
by: todd c01/03/2012
great shipping, i placed my order on a wednesday and it showed up on friday. i was really surprised when i was backing out of the driveway and saw a big box sitting at the front door, i was expecting at least a week to get it. the hitch went on just like the video, it fit and looked great. it took me a couple hours to get it installed, i really wasnt in a big hurry. taking off the spare right at first is the way to go. 29055
- 75078
by: Joe S09/03/2016
Excellent customer service! Outstanding web site navigation! Flawless product!! Extremely happy with the fit, finish and look of the hitch! Would definitely recommend to anyone looking for a great product!!! 290933
Click to Enlarge
- 75078
by: Eric08/28/2009
Great hitch This hitch worked as advertised. I installed it on a 2004 Tacoma, extended cab. It fit perfectly and really no drilling required. I installed it alone and managed just fine. The only thing I had to do differently was dropping the spare tire to have full access. Gathering tools, installing hitch and wiring harness, packing up tools, took me a total of 2 hours. Watch the videos. Thanks etrailer. 2315
- 75078
by: Dan S.06/09/2012
Hitch is easy to install. Recommend dropping spare tire and using a floor jack to suuport weight of hitch. Extra pair of hands helps a bunch, too. Hardest part is figuring out right size wrenches/sockets and the best arrangement to get in there (clearance is an issue on the bolts above the leaf springs -- wrench fits no problem, but ratchet or impact are different story...). 43487
- 75078
by: Jim E.05/22/2012
Installed on my 2001 Tacoma with a little difficulty. The problem was 2 nuts that were hard to get off after 11 years. Liquid Wrench didn't work, but using a mini butane torch to heat and expand the nut worked well. After that the hitch installed easily. I did drop the spare tire to make access easier. I recommend this hitch. It really does seem hidden under the bumper. 41383
- 75078
by: Darrell G08/03/2012
excellent ,I have 2001 toyota tacoma, this hitch was so easy to put on it took me no more than 30, to45 min to install good heavy structure good welds love it, and it dose apper hiden. I would highly recamend this hitch out of all the ones I shopped for on line I will be useing this product for future vechicals.Take the spair tire off before installing. 50395
- 75078
by: George S09/19/2012
Great products for the money!!I Got the two Ball mounts,Hitch and wiring kit for my truck and everything went'without a hitch' from ordering, to shipping and assembly!!(No pun intended!) Keep up the great work and products EZ Trailer!!! I will tell my friends and certainly do business with your company in the future!! A happy,satisfied customer!!! 55147
- 75078
by: Steve A.01/12/2011
Great. I haven't put it on the Truck yet but it does not look too dificult. I think I will have to drop the tire down to take off the 14 mm bolt that you video describes. The other bolts are pretty easy to get to. The hitch looks great and I am looking forward to installing soon. Thanks again. Good price and free shipping. 5407
- 75078
by: S.Rodgers12/16/2010
Product fine - shipping awful Product is as promised, but arrived in a flimsy box torn almost to shreds. I imagine the product is difficult to ship as it is awkward and heavy, but there should be a way to deliver the product so it arrives without (minor) scratches and dents. 4259
- 75078
by: Mike08/10/2011
The hitch fit great and went on without a problem. One note, the bolts on the Toyota are crap. Had problems with a couple of them getting rounded off. Once I got past that, the installation was painless. Shipping from eTrailer was quick and free...what more can you ask for? 21551
- 75078
by: Bill k08/24/2012
Ordered the hitch on Tuesday am and received it Wednesday pm. Installation instructions were understandable and installation went well. Hitch was installed without any modifications or broken knuckles. Hitch works as advertised, no problems. All in all a good experience. 52900
- 75078
by: Donald T06/21/2013
Hitch was easy to mount and wiring harness was easy to install. Following the helpful videos my daughter and I had it all installed under an hour. Thank you again for great service and quick delivery. Etrailer.com once again rates 5 out of 5 stars! 85520
- 75078
by: Mark H.12/23/2009
wow what great service (GREAT SERVICE) you will never find service this fast anywhere else 23 hours after placing my order I had the hitch sitting in my garage floor from MO.to IN. very easy to install. what else can you say it's a hitchand it works 2605
- 75078
by: Yotaman04/01/2008
Perfect for my application I got this for my 99 Toyota Tacoma. I installed it with a friend and it took us approx 30-45 minutes. No problems. The hitch hides very well under the vehicle and is very strong. I would recommend this hitch to anyone. 719
- 75078
by: Jim C.06/25/2013
Very good product. Hitch fit very well, a little tight but better that way than loose. Installation was simple with good instructions. Shorter side plate on passenger side made some customizing of camper tie down necessary. Thanks 85909
- 75078
by: John S.05/24/2013
Packaging was a little rough when it arrived. A small amount of paint had chipped off two areas of the hitch and the instructions were pretty mulched destroyed. Other than it was shipped very fast and looks like a very heavy duty hitch! 81814
- 75078
by: Rob M04/18/2010
Excellent Hitch Took 1 hour to install by myself. Very easy just need wrenches. Needed to drop spare down and out of the way. I used 5 gallon buckets and some 2x4s to hold it up in place. Two people would take only 20 minutes to install. 2944
- 75078
by: Alan C.10/26/2012
The product fit well and will do the job. Finish is industry average at best. It is NOT "E-coated AND Powder Coated" as advertised and will rust just like every other hitch out there and i expect to be refinishing it in a year or two. 58159
- 75078
by: Rob06/01/2013
Easy ordering process, and great product. Bolted on as promised in less than an hour. I would recommend this to hitch anyone with a Tacoma that needs one. Very sturdy and well made. 4 bolts and done! Thanks etrailer! 82874
- 75078
by: John P.08/22/2011
Easy to install. Though not in instruction sheet, I found it much easier to lower the spare tire when placing the hitch against the truck frame. Having a helper was nice and made the job much easier. 22476
- 75078
by: John P.08/22/2011
Easy to install. Though not in instruction sheet, I found it much easier to lower the spare tire when placing the hitch against the truck frame. Having a helper was nice and made the job much easier. 22475
- 75078
by: Randy N.10/27/2015
The hitch was everything the ad said it was. Instructions were easy to follow hitch was easy to install. I was glad I had an impact wrench for the old bolts on truck. Very happy with etrailer. 230880
- 75078
by: Daniel F03/17/2011
Arrived quickly. LIke new. Would have been easy to install except I could not get a bolt out of my frame before it stripped. So I had to take it to an autobody place to have them finish the job. 9578
- 75078
by: Jerry - Running Springs,Ca11/16/2012
Great hitch! Bolted up fine, no need to drop spare (it was more in the way when tidying up the wiring). I love how the hitch is tucked under the truck, and free shipping was very cool. 59481
- 75078
by: Jim W.02/19/2017
Great product, fast delivery, and excellent value. Customer service is excellent. You'll save hundreds of dollars going with etrailer.com. Thank you etrailer. 343444
- 75078
by: Jason P08/03/2011
This hitch bolted on my 2004 tacoma in no time and it Was as easy as they showed in the video online. Also my order Came super fast within three days (awesome) 21055
- 75078
by: Ron Y.10/15/2010
Nice hitch! Hitch installed easily in my 1995.5 4WD Tacoma, but for sure get an extra pair of hands to help. It clears my stock 31x10.5x15 spare tire perfectly!! 3518
- 75078
by: george s.06/12/2013
Great product. Fit perfect. No problem putting it on. Heavy duty hitch. I thought it would arrive sooner then it did. But you can't have everything. 84329
- 75078
by: Phil R08/04/2012
Fast. on time delivery. Excellent fit and finish, all necessary parts and hardware included, easy install. Satisfied etrailer.com customer. 50533
- 75078
by: David c03/11/2012
Product deliveried quickly. Easy to install and instructions great help. We will definetly be doing business with you again. Thanks 33529
- 75078
by: karin.k02/11/2012
The product was immediately shipped after I ordered it. Four days later, my son and father had it installed on my 2002 Toyota Tacoma. 31466
- 75078
by: Greg S.04/23/2014
This hitch bolted up perfect. Ordering from e-trailer was easy and shipping was fast. I had my hitch in 2 days of placing my order, 126790
- 75078
by: David06/11/2014
Got a great price and super fast free shipping. Ordered trailer hitch on Sunday and arrived Tuesday. Easy installation. ThankYou. 135232
- 75078
by: Ronald Hancock09/26/2011
Excellent online video and printed instructions before purchase, solid well made product that looks good on the truck. 24607
- 75078
by: Jame W.07/11/2016
Installation was fast and simple, drop the spare tire and have a buddy give you a hand mounting it up to the frame ! 270828
- 75078
by: Noah02/17/2013
Arrived on time and was a cinch to install, as described. Two of us installed it on the driveway with no problems. 66652
- 75078
by: Vaughn04/29/2014
we had a bit of trouble getting a bolt out of the truck frame but the installation went great with no problems. 127930
50
66
Show More Reviews