Draw-Tite Trailer Hitch - 24856
This fully welded, corrosion-resistant vehicle trailer hitch is perfect for your light-duty towing and hitch rack needs. Tested Tough guarantee ensures that this hitch exceeds industry strength standards. Drawbar, pin and clip sold separately.
Features:
Custom fit is designed specifically for your vehicle
Computer-aided, fully welded steel construction ensures strength and durability
Tested Tough - safety and reliability criteria exceed industry standards
Bolt-on installation - no welding required

Complete hardware kit and installation instructions included

Lifetime technical support from the experts at etrailer.com
Black powder coat finish covers e-coat base for superior rust protection
Sturdy, square-tube design
Drawbar, pin and clip are sold separately
Made in USA
Specs:
Receiver opening: 1-1/4" x 1-1/4"
Rating: Class I

Maximum gross trailer weight: 2,000 lbs
Maximum tongue weight: 200 lbs

Limited lifetime warranty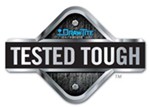 Draw-Tite Tested Tough
Draw-Tite's Tested Tough program provides testing standards far superior to those outlined by the Society of Automotive Engineers (SAE), the go-to source for engineering professionals.
Each Draw-Tite trailer hitch receiver undergoes extensive fatigue testing and static testing with the ball mount that is either supplied or recommended for use with that particular hitch, thus ensuring results that are applicable to real life use. Fatigue testing is also conducted on hitches rated for use with weight-distribution systems.
In addition, Draw-Tite performs static testing on a simulated automobile, as opposed to the rigid fixture used for SAE testing, resulting in a more true-to-life scenario.
etrailer.com Technical Support
At etrailer.com we're committed to the products we sell, and to our customers. Our experienced and knowledgeable staff are available via both phone and email to address your questions and concerns for the lifetime of your hitch. The technicians at etrailer perform hitch installations on a daily basis, making them a valuable resource for do-it-yourselfers. The one-on-one, personal service you'll receive comes straight from an expert in the towing and automotive field. We've installed it, we've wired it and we've towed with it, so whatever your question, we can answer it.
24856 Draw-Tite Class 1 Trailer Hitch Receiver - Sportframe
This Product Fits The Following Vehicles
2011 - 2013 Ford Fiesta Sedan
Customers Who Purchased This Trailer Hitch Also Bought...
Customer Reviews
Draw-Tite Sportframe Trailer Hitch Receiver - Custom Fit - Class I - 1-1/4 - 24856
Average Customer Rating:





5.0 out of 5 stars (1 Customer Reviews)
- 24856





by: Peter A.05/23/2012
Is this review helpful?
The product arrived quickly and exactly what i ordered. Etrailer staff wrote me emails to provide status of the shipments and were extremely friendly. I will definitely order my trailer products from them because the service and price was very good. Thank you. 41446
Ask the Experts about this Draw-Tite Trailer Hitch



Do you have a question about this Trailer Hitch?