2014 Chevrolet Equinox - Draw-Tite Max-Frame Trailer Hitch Receiver - Custom Fit - Class III - 2"
Fully welded Chevrolet Equinox trailer hitch is strong and durable. Draw-Tite's Tested Tough guarantee ensures that this hitch exceeds industry standards. The combination of an E-coat base and a powder coat finish provides excellent rust protection.
✔ Confirmed to fit your 2014 Chevrolet Equinox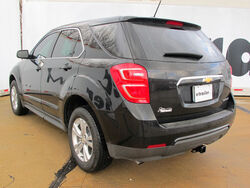 Features:
Custom-fit trailer hitch lets you tow a trailer or carry a bike rack or cargo carrier with your Chevrolet Equinox
Computer-aided, fully welded steel construction ensures strength and durability
Tested Tough - safety and reliability criteria exceed industry standards
Easy, bolt-on installation - no welding required

Complete hardware kit and installation instructions included

Lifetime technical support from the experts at etrailer.com
Black powder coat finish covers e-coat base for superior rust protection
Sturdy, square-tube design
Ball mount, pin and clip sold separately
Specs:
Receiver opening: 2" x 2"
Rating: Class III

Maximum gross trailer weight: 3,500 lbs

Maximum GTW when used with weight distribution: 4,000 lbs

Maximum tongue weight: 350 lbs

Maximum TW when used with weight distribution: 400 lbs

Limited lifetime warranty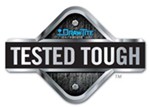 Draw-Tite Tested Tough
Draw-Tite's Tested Tough program provides testing standards far superior to those outlined by the Society of Automotive Engineers (SAE), the go-to source for engineering professionals.
Each Draw-Tite trailer hitch receiver undergoes extensive fatigue testing and static testing with the ball mount that is either supplied or recommended for use with that particular hitch, thus ensuring results that are applicable to real life use. Fatigue testing is also conducted on hitches rated for use with weight-distribution systems.
In addition, Draw-Tite performs static testing on a simulated automobile, as opposed to the rigid fixture used for SAE testing, resulting in a more true-to-life scenario.
etrailer.com Technical Support
At etrailer.com we're committed to the products we sell, and to our customers. Our experienced and knowledgeable staff are available via both phone and email to address your questions and concerns for the lifetime of your hitch. The technicians at etrailer perform hitch installations on a daily basis, making them a valuable resource for do-it-yourselfers. The one-on-one, personal service you'll receive comes straight from an expert in the towing and automotive field. We've installed it, we've wired it and we've towed with it, so whatever your question, we can answer it.
75681 Draw-Tite Class 3 Trailer Hitch Receiver - Max-Frame

Installation Details

Weight Carrying Capacity
Gross Towing Weight (GTW):


3,500 lbs.
Tongue Weight (TW):


350 lbs.
Weight Distribution Capacity
Gross Towing Weight (GTW):


4,000 lbs.
Tongue Weight (TW):


400 lbs.
Trailer Hitch Installation Instructions

Tech Tip
No drilling required for installation
Customer Reviews
Draw-Tite Max-Frame Trailer Hitch Receiver - Custom Fit - Class III - 2" - 75681
Average Customer Rating: 4.8 out of 5 stars (38 Customer Reviews)
Fully welded vehicle trailer hitch is strong and durable. Draw-Tite's Tested Tough guarantee ensures that this hitch exceeds industry standards. The combination of an E-coat base and a powder coat finish provides excellent rust protection.
- 75681
by: John H.08/15/2013
75681 seems to be a fine product. I really like the extra strength of the 75681. The only thing which I would suggest for consideration would be for the addition of 2 (two) more Pull Wires. The Pull Wires are a great idea and a real time and trouble saver. My installation required the use of the 2 (two) Carriage Bolts and the 2 (two) 1-1/2 x 2 (Small Blocks) for the Bumper Mounting Bracket. I did my installation on my driveway. A small hydraulic jack was very helpful in lifting the receiver socket towards the frame while installing the Bumper Mounting Bracket Hex Nuts and Conical Washers. The installation did require me more than 40 (forty) minutes. The online installation videotape was very informative and helpful. This was a very smooth project. Thank You! John M. Habak 95168
Comments
We use the trailer hitch for our bicycle rack. It has worked very well, looks good and we are pleased with it! You have a great product, I like its heft and I am glad that we purchased it! The quality is there! Thank You! John M. Habak

John H - 02/13/2015
9478
- 75681
by: James V.07/07/2014
The hitch came with all the necessary hardware and installed without difficulty. Looks awesome on the car. 139813
Click to Enlarge
Comments
Works perfectly and fits great. Tucked in nice and snug. Looks count too.

James V - 07/07/2015
13102
- 75681
by: Bud S.10/27/2014
I had no problem with the hitch or harness that I ordered. On the other hand, the Equinox had three weld nuts that were difficult to get the bolts threaded into. I tried multiple bolts and oiled them, but still they were slow going in all the way. 158131
Comments
Very happy.In fact I have purchased another and am just as happy with the second hitch.

Bud S - 10/27/2015
15702
- 75681
by: Robert M06/25/2013
I was really impressed that all the mounting holes (8) all lined up perfectly on my 2013 Equinox. The instructions were accurate and easy to follow if you take the time to read them which I didn't and paid the price. There are two styles of bolts, four of which are to be associated with the plates that are fed into the vehicle channels with the supplied feeder wires. I used the non carriage bolts by mistake and they were not fun fishing them out. Thank goodness I had flexible magnet. Also the video recommends to use 2 people. I managed by myself with a couple of jack stands and a bottle jack to position it in place while laying on my back. Took a one hour job and turned it into a four hour one. Again I give the product an A+ and the installer an F. 86036
- 75681
by: Pat L09/09/2013
Outstanding product! Online videos were very helpful, BUT my 2014 V-6 Equinox did not have nuts welded on the inside of the frame for the larger bolts, as described in the written instruction sheet - I needed the bolt leaders included with the kit. Hint: to put tension on the bolt as you attempt to thread on the nuts, thread the leader up onto the bolt (you've just installed using the leader) 3/4" or so, then bend it 90 degrees to the right. That allows you to exert a downward force on the bolt while installing the washer and nut on the clean threads. Tighten the nut as instructed, then clip off the exposed end of the leader. Also, the Class 3 hitch may require that you trim the plastic trim piece removed in Step 1 before it can be reinstalled. 99136
- 75681
by: Harty04/15/2016
1) Pricing was fantastic 2) Ease of ordering was great. Easy to find which vehicles for fit-up, installation procedures and affiliated wire harnesses 3) Excellent customer service. Order statuses were plentiful, and done personally 4) Product arrived WAY sooner than expected, so even though it was a heavy item, the FREE shipping arrived within days, not weeks. Due to the nature of my situation, timing was critical, as I have lots of stuff to trailer. Product was received yesterday, and installed same day. Installation was a breeze. I saved over $200 by installing myself, rather than going to a business. 244418
- 75681
by: Adrian M.03/12/2015
Phoned in order and received very professional attention and technical knowledge from Dana. The hitch arrived for our 2013 GMC Terrain three days after ordering with "free" shipping. I installed in about 30 minutes with the help of a floor jack. The hitch fit like a glove to the frame and all bolt holes lined up. The only issue was the bolt fishing (guide) wires supplied were a bit short. This was easily remedied by duct taping another piece of wire to the fishing wire end. This hitch is heavy duty and exceeded my expectations. I would recommend etrailer.com to all my friends. Thanks, Adrian 178017
- 75681
by: Keith W04/13/2016
Well built, great finish, heavy duty material. The instructions were pretty clear as how to install, I have never installed one before but the video on the website really helped and it took me less than an hour and I was done. It looks great on the Terrain too. Be sure and get all the hardware in place before you start to tighten any on them, I needed a rubber mallet to re-position a bit to get some of the bolts in place. We plan on using it for bike racks and accessory rack for additional storage when traveling. I think it will work great. 244041
- 75681
by: Eric07/09/2015
Overall, the installation was not too difficult. I installed on a 2015 Equinox. The pull wires used to snake the bolts through to the center bracket are too short, not even close. I had to extend them about 6-8 inches. The larger block the carriage bolts seat into didn't fit into the hole in the car frame. I had to grind off a little bit so it fit though the hole. The receiver lined up with the existing holes perfectly. I like the look after install. Good sturdy construction. 210439
- 75681
by: Rick S05/07/2013
Nice Draw-tight Hitch and wiring package. Generally I was pleased with it and I installed it relatively quickly. My only nit was the rectangular retainers which fit at the rear just above the hitch connector itself were 1/4 inch too big to fit into the oval slots adjacent to the bolt holes. I had to grind them down. Also had to grind the bolt heads slightly to fit in these same slots. Other than that it went easily. Wiring kit is especially easy to install. 79295
- 75681
by: Jim S.06/08/2012
I ordered a Draw-Tite receiver hitch, #75681, for my 2011 GMC Terrain on Tuesday. I received it on Thursday and installed it on Friday. The free shipping was great and much faster than I expected. Your price was the best I found on the internet. The hitch fit like a glove and was easy to install, even by myself. I could not be happier with etrailer's service and Draw-Tite. Thank you very much! 43340
- 75681
by: Tom K.07/12/2014
Just received the hitch and wiring harness the other day. Have yet to put them on. Shipping took about 5 days to philly area. Both parts were in the box along with hardware intact. Box had a few tears, but expected seeing the hitch has some weight to it. Etrailer was smart to shrink wrap the harness to the hitch as to not be lost in shipment. Update to follow on installation to a 2014 equinox. 141010
- 75681
by: Jon E09/15/2011
I know the product works, I was just miss led by the picture. I have a 05 equinox and was hoping it would fit in the hidden cut out space made by the factory for a hitch. If I knew it didn't fit up in there, like the picture, instead it sits below bumper, I would have bought a cheaper one to save me some money. But other than that it's a good product. 24030
- 75681
by: Michael M.06/25/2015
The installation was easy. The enclosed instructions and the on line installation videos were helpful. Everything matched up perfectly. The shipping company tried their best to remove the hitch assembly from the box prior to arrival as was evidenced by three holes in the box when received. The contents were intact and all accounted for though. 207072
- 75681
by: William H.04/17/2016
I would have like to give this product 5 stars but there is a small defect in the engineering. One of the big blocks turns when I tighten the nut making it impossible to apply the recommended torque. You need to put teeth on one side of the big blocks so they don't turn. The small blocks are okay because it is impossible for them to turn. 245732
- 75681
by: Jeremy W.06/18/2015
Product arrived quickly. Installation went as expected, though probably closer to 1+ hours (including a trip to the local hardware store to get the proper sized metric sockets). The installation video was incredibly helpful, and the finished product looks great. As always, a great experience buying from etrailer.com. 204211
- 75681
by: Bruce B04/11/2016
Hitch fits perfect on 2013 Chevy Equinox. If I didnt have to clean out weathered mounting nuts on frame probably be 45min to 1hr to mounting time. Very satisfied with hitch and should ?ork well pulling my 16ft Mirro craft boat. Also good correspondence on delivery date. Thank you Bruce 243860
- 75681
by: Jim F.03/15/2016
Took me about an hour to install. No problems, all holes lined up perfectly. Had to temporarily remove some bumper trim pieces to get hitch into place, but it went right in then. Hardest part was trying to get to specified torque numbers while lying on the ground under the vehicle, 240742
- 75681
by: Odis W.06/19/2014
Purchased item online. Product was displayed clearly. Video explaining how to attach hitch to my car was perfect. Follow-up emails were timely and helpful. Shipment and receipt of item was unbelievably fast!! I'm already looking to purchase another item that I need from etrailer.com. 136595
- 75681
by: Jan04/11/2016

Yes I have been pleased and still purchasing from etrailer.com on a regular basis. I sell mobility equipment and anytime I sell an Outside lift to someone who needs a hitch we use your company. Christy F generally is the person to purchase these in our office. Thank you, Jan 243813
- 75681
by: Jeff G02/15/2015
Hitch arrived in 2 days with the free shipping - excellent. Installation was straight forward after viewing the videos. Everything fit like a glove. Highly recommend etrailer for good price, fast shipping, and excellent user installation videos. 174855
- 75681
by: Mikey01/30/2010
Fits like a glove. Well designed and built. Easy bolt in installation (made real easy when the nut are already welding in the vehicle's frame). Only complaint is some of the powder caot paint was chipped due to poor handling in the warehouse. 2677
- 75681
by: Eric S.10/01/2015
Great hitch, would def get again, fits in just the right spot, build quality is great, and makes good use of the factory weld threads. video on etrailer.com is worth watching to figure out some of the eccentricities 228707
- 75681
by: Bob S.06/18/2012
Product arrived promptly. I installed it relatively easy. Of the 6 bolts 4 went smoothy and 2 needed some he-man cranking. Installed my bike rack and ready for some mountain biking in remote places! 44635
- 75681
by: Vince S.07/25/2013
I ordered a DrawTite trailer hitch for 2008 Equinox and it arrived timely with and all parts were there. Slight bend to mounting bracket but a little hit with sludge hammer and all was good. 91495
- 75681
by: Greg10/02/2014
Great hitch, used it on my 2015 Equinox, GM had it all setup with holes for bolts to pass and nuts welded to the frame all ready to go. Took me less then an hour to install. 154154
- 75681
by: Greg C04/15/2016

Very pleased with this product. Looks great and was easy to install. Just follow the video. Would definitely recommend etrailer. 245523
- 75681
by: Larry Halvorson05/29/2014
Very good service. Delivered in a timely manner and good quality. Installed very easy with instructions that were simple. 133396
- 75681
by: Rod Waters01/12/2015
Recieved my hitch in a timely manner and in great shape , now to install on the car , video will be very helpful ! 168626
- 75681
by: Terry02/23/2016
Great product and priced right! Fits perfect and easy to install. Well built hitch. Looks and functions perfect! 238548
- 75681
by: Doug W.02/28/2012
I found e-trailer to have the best quality products with excellent pricing. Plus, how can you beat free shipping. 32756
- 75681
by: Nick10/10/2014
Product showed up fast and in great condition - product installed in 90 minutes and looks great! Thanks! 155547
- 75681
by: MIKE H03/22/2016

VERY GOOD QUALITY HITCH, INSTRUCTIONS FOR INSTALLATION MADE IT A STRAIGHT FORWARD INSTALL 241320
- 75681
by: Steven L.08/26/2014
The installation was as easy as your video shows. Great Product 148743
- 75681
by: Tim B.08/19/2014
Looks like this is going to be a great fit. Thanks 147369
- 75681
by: roger j02/14/2012
it fit all the holes and was easy to in stall 31835
- 75681
by: Chris03/09/2016

Perfect Fit, Perfect Product 240394
- 75681
by: Metter4611/05/2015
Good Product. 231477
38
38
Why etrailer.com?
At etrailer.com we guarantee:
Highest quality trailer hitch for the best price.
Real product know-how.
We make sure that the products we sell are what we say they are, and that they work the way they are supposed to work. This helps you get the right product the first time.
Every day our teams test, review, assemble and install our products. Our modern installation facilities allow our expert installers and customer service representatives to actually install and use the items we sell, so you can get real advice, from a real person who has the knowledge and expertise needed to solve your problem.
Most detailed, accurate trailer hitch information available.
Because we take providing accurate product information seriously, we take our own detailed product photos, demo videos and installation videos, as well as verify measurements, instructions, and vehicle fit information.
Information for this part was:
Installations, made easy.
We love helping people.
We have the most highly trained customer service, hands-on experience, step by step videos and installation instructions. We are prepared to answer any question, give advice, or troubleshoot any problem you come across.
Fast shipping.
Personalized service for life.
We provide one-on-one, personalized service from the ordering process through the life of your product.
Trusted since 1946.
We've been serving customers since our parts store first opened in 1946 and continue to be recognized by our customers, our vendors and third parties for exceptional service.