Draw-Tite Trailer Hitch Receiver - Custom Fit - Class II - 1-1/4" - 1980 Chevrolet Caprice
This fully welded, corrosion-resistant Chevrolet Caprice trailer hitch is perfect for your light-duty towing and hitch rack needs. Tested Tough guarantee ensures that this hitch exceeds industry strength standards. Drawbar, pin and clip sold separately.
Features:
Custom fit is designed specifically for your Chevrolet Caprice
Computer-aided, fully welded steel construction ensures strength and durability
Tested Tough - safety and reliability criteria exceed industry standards
Bolt-on installation - no welding required

Complete hardware kit and installation instructions included

Lifetime technical support from the experts at etrailer.com
Black powder coat finish covers e-coat base for superior rust protection
Sturdy, square-tube design
Drawbar, pin and clip are sold separately
Made in USA
Specs:
Receiver opening: 1-1/4" x 1-1/4"
Rating: Class II

Maximum gross trailer weight: 3,500 lbs
Maximum tongue weight: 300 lbs

Limited lifetime warranty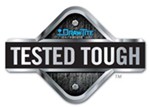 Draw-Tite Tested Tough
Draw-Tite's Tested Tough program provides testing standards far superior to those outlined by the Society of Automotive Engineers (SAE), the go-to source for engineering professionals.
Each Draw-Tite trailer hitch receiver undergoes extensive fatigue testing and static testing with the ball mount that is either supplied or recommended for use with that particular hitch, thus ensuring results that are applicable to real life use. Fatigue testing is also conducted on hitches rated for use with weight-distribution systems.
In addition, Draw-Tite performs static testing on a simulated automobile, as opposed to the rigid fixture used for SAE testing, resulting in a more true-to-life scenario.
etrailer.com Technical Support
At etrailer.com we're committed to the products we sell, and to our customers. Our experienced and knowledgeable staff are available via both phone and email to address your questions and concerns for the lifetime of your hitch. The technicians at etrailer perform hitch installations on a daily basis, making them a valuable resource for do-it-yourselfers. The one-on-one, personal service you'll receive comes straight from an expert in the towing and automotive field. We've installed it, we've wired it and we've towed with it, so whatever your question, we can answer it.
36122 Draw-Tite Class 2 Trailer Hitch Receiver
1980 Chevrolet Caprice Owners Who Purchased This Trailer Hitch Also Bought...
Rubber Tube Cover 1-1/4"
$4.49
Customer Reviews
Draw-Tite Trailer Hitch Receiver - Custom Fit - Class II - 1-1/4 - 36122
Average Customer Rating:





5.0 out of 5 stars (4 Customer Reviews)
- 36122





by: Robert P.05/19/2011
Is this review helpful?
EXCELLENT IN ALL EXTENSION. THANKS!! 14857
- 36122





by: Robert P.05/19/2011
Is this review helpful?
GREAT IN ALL EXTENSION. THANKS!! 14856
- 36122





by: Dave G03/23/2012
Is this review helpful?
Purchased custom Draw-tite hitch and Air/Lift suspension kit for my 1996 Roadmaster, three day free shipping @ 2/3s price! What else? Everything fit perfect!!! THANKS e-trailer.34938
- 36122





by: Charles M.10/16/2011
Is this review helpful?
After spending a fortune on renting cargo vans and paying delivery charges for DIY projects, I decided to get a hitch for an old beater that planned to get rid of for the past few years. The car had a relatively dependable big block in it which made it a perfect vehical for this purpose. My new hitch is awesome. It was everything etrailer.com said it would be and customer service & personal attention to my order won my continued patronage of this company. The hitch arrived in just a couple of days and installation is a snap for anyone with basic handyman skills and a few simple tools. I was initially unaware that bolt holes would have to be drilled, but using a jack to brace the hitch to guide my hole locations, everything went quickly and I was ready to pull 3500lbs. Because of the economical price I had some concerns about what the quality of the product would be. But, those concerns were put to rest upon reciept when, as a trained welder I immediately observed the thick gage steel and quality workmanship. I am thoroughly pleased with my purchase and proud to submit this product review. Don't send years wasting money on vans and delivery cost like I did. Buy this product!25647
Click to Enlarge
Ask the Experts about this Draw-Tite Trailer Hitch


Do you have a question about this Trailer Hitch?


Yes, you can order just the installation hardware for the Draw-Tite Trailer Hitch, # 36122. You will need part # RHK. On the product page for RHK, you will enter the hitch number in the specified box. Under that select Draw-Tite as the hitch manufacturer. Click the Add to Cart button and you will be done. I have included a link to the installation details for this hitch for you.
view full answer...