Rackem Trailer Cargo Control - RA-13
Features:
Shelf Kit is adjustable and has no obstructions from the bottom of the shelf to the floor
Lumber Not Included
Holds approximately 500 lbs
Shelf Kit includes 4 hanging rails with brackets to hold boards.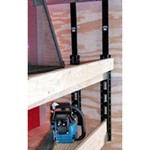 Front End Shelf Kit for Enclosed Cargo Trailers by Rack'em Manufacturing
Enclosed Trailer equipment racks feature a hook design at the top of the rack that allows them to hang from the metal frame runner at the top of the side walls on the trailer for added strength. They are predrilled so that they may be screwed securely to the wall. The unique and durable "Hammered" paint finish will last for many years. The Shelf kit has 4 braces that hang on the wall and includes 8 wood beam sockets that click into the braces at varying heights. The wood beam sockets hold the frame work for the shelves. You can also make the shelves as deep as you want. Works great as a bunk bed kit too!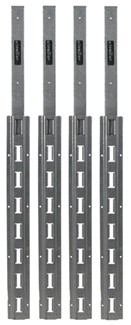 RA-13 Shelf Kit for Enclosed Trailers
Customer Reviews
Shelf Kit for Enclosed Trailers - RA-13
Average Customer Rating:





5.0 out of 5 stars (3 Customer Reviews)
- RA-13





by: Larry Laws01/07/2014
I recently recieved the RA-13 shelf systems and found the product ot be a better quality than expected. Also it was shipped in a pretty good package that helped protect the product. 112049
- RA-13





by: Wil Chanet05/04/2013
very easy to use and quite strong. they fit nicely in the front area of my new trailer. 78944
- RA-13





by: patrick b05/29/2014
very nice item only took 15 minutes to intall super fast shipping 133359
3
3